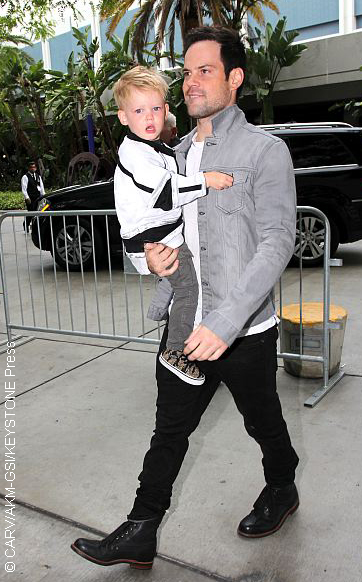 Hilary Duff's ex-husband, former NHL player Mike Comrie (pictured at left with their son Luca), has been accused of raping a woman in his Los Angeles home.
According to the New York Post, Comrie met the woman at a bar last weekend and took her back to his home. The woman, who has not been identified, alleges that Comrie raped her multiple times over the course of the evening.
Comrie, 36, claims the sex was consensual, though gossip site TMZ reports he has not yet spoken to authorities. It's alleged the woman later went to Cedars-Sinai Medical Centre to have a rape kit completed.
Making the situation more convoluted, TMZ cites sources that say Mike Comrie has known the alleged victim for "a long time," and that there was a second woman present during the sexual encounter. This woman, who has also not been identified, has yet to file any complaints with the local authorities.
Well known for his skill as a hockey player during his 13-year career on teams such as the Edmonton Oilers, New York Islanders, Phoenix Coyotes, Ottawa Senators, and Philadelphia Flyers, Mike married Lizzie McGuire star Hilary Duff in 2010. She gave birth to their son, Luca, in 2012.
In 2015 the couple separated, with Hilary saying the relationship had changed. Hilary later filed for divorce after Comrie was reported to have had a rowdy night at a restaurant in Beverly Hills. A source told Us Weekly the former NHL player was "aggressively hitting on" a waitress at the restaurant. He apparently also "drunkenly threw money at [another woman] and asked for sex." The divorce between the two was finalized one year later. ~Alexa Caruso