Hobbs & Shaw a wildly entertaining joyride – Blu-ray review
By Marriska Fernandes on November 5, 2019 | 1 Comment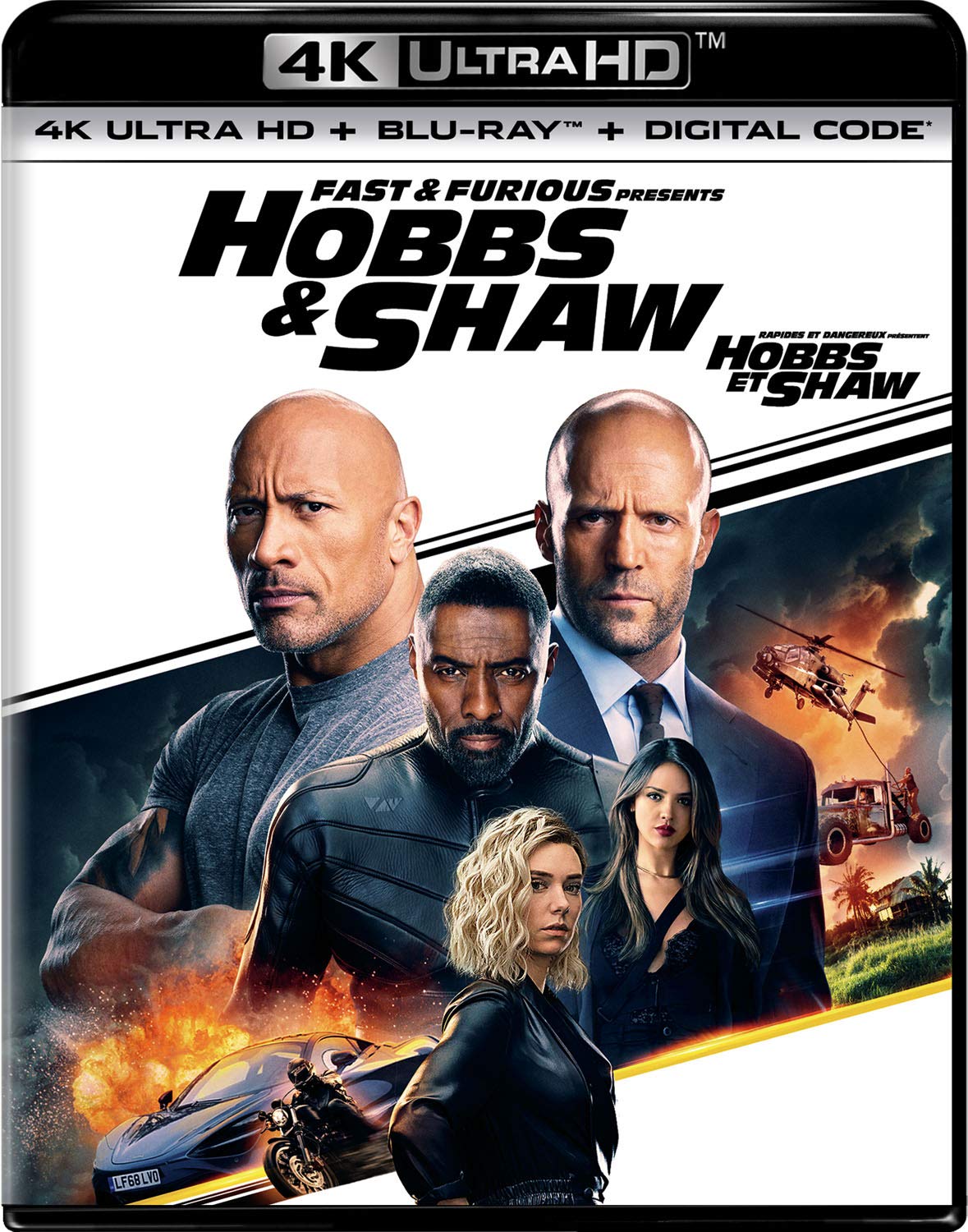 Fast & Furious Presents: Hobbs & Shaw is a spin-off of the beloved fan-favorite Fast & Furious franchise. The film is packed with all the right notes of adrenaline-pumping, car chasing scenes and jaw-dropping stunts that Fast fans adore, along with some laugh-out-loud smack-talk from Dwayne Johnson and Jason Statham.
The film takes place after the events of 2017's The Fate of the Furious. The opening scene follows Hattie Shaw (Vanessa Kirby) and her MI6 team, who have been tasked with securing a deadly virus. However, after obtaining the virus, they are ambushed by scientifically enhanced villain Brixton (Idris Elba), who quickly puts a stop to Hattie's task force. She is forced to inject the virus into herself, then goes on the run.
Believing Hattie has gone rogue, the CIA is left with no other option than to assign Luke Hobbs (Dwayne Johnson) and Deckard Shaw (Jason Statham) to team up in an effort to track Hattie down and contain the virus before anyone else gets to her. Not only do Hobbs and Shaw have to butt heads with the strong and powerful Brixton, but tolerating each other is a whole different (and entertaining) matter of its own.
Being a huge fan of the Fast & Furious franchise, and having watched all eight films, I was curious as to how the film would manage a spin-off. In order to stand on its own and separate itself from the Fast universe, it needed a unique spin. Hobbs & Shaw incorporates all the high-octane action and intense, edge-of-your-seat stunts from the Fast universe, and then successfully spins the film into a buddy comedy. Shifting gears and playing with the tone rounded out this film as a sleek, smart and striking flick.
Watching Dwayne and Jason spit insults at each other is nothing short of entertaining. Their witty wisecracks about each other's features and personality are just the tip of the iceberg. They feed off of each other's energies, and create a palpable dynamic — it's no wonder this film is strong enough to stand on its own.
David Leitch, who previously helmed Deadpool 2 and Atomic Blonde, brought his own flair to the film — incorporating drama and pizzazz into the elaborate stunt scenes and car chases, given his background as a stuntman. Even Vanessa was given hardcore hand-to-hand combat moves that made her look like a total badass! Idris Elba gave it his all as the enhanced villain Brixton — he brought his A-game as he went head-to-head with Hobbs and Shaw, being a formidable opponent to the style-savvy heroes. Click here to watch our interview with director David Leitch.
Hobbs & Shaw is gloriously packed with kicks and punches that will take you for a wild, wild ride. Fans of the Fast franchise will definitely enjoy the action, but even if you haven't seen the other films you will appreciate the buddy comedy for all that it is.
The grounded performances by the A-list cast, the visually stunning set pieces and the mind-blowing helicopter car chase scene, among others, simply establishes Hobbs & Shaw as a hilariously enjoyable film that is, hopefully, gearing up for a sequel. I also LOVED the cameos — Ryan Reynolds as Locke really deserves a permanent place in the film franchise. He did lock in a place in our hearts, for sure.
The Blu-ray has over 80 minutes of bonus features that any fan of the duo or the Fast franchise will adore. There are several very interesting features, especially the ones that reveal how the various stunts and action sequences were filmed. Click here to watch our fight sequence inspired by Hobbs (Dwayne Johnson) from the film. ~Marriska Fernandes
Here are the bonus features you'll be treated to on Blu-ray, so race on over and watch these.
Alternate Opening

Deleted/Extended/Alternate Scenes

Johnson & Statham: Hobbs & Shaw: This feature explains what it is about this dynamic duo that works so well on-and-off camera.

Progress of a fight scene with director David Leitch: This explains how a fight scene is constructed, from concept to execution.

Practical Action: This shows how each fight sequence was carefully choreographed and shot ahead of time for the actors.

The Bad Guy: It's all about Idris Elba's transformation into Brixton, the special effects for his cyber features and what makes him tick.

The Sister: This piece shows Vanessa Kirby taking on the role of Hattie Shaw — her stunt training is very interesting in this piece.

Hobbs' Family Tree: This feature reveals the extended family of the Hobbs heroes.

The Matriarch: A glimpse of Helen Mirren in her role as Mrs. Shaw.

New Friends: A fun look at the cameos featured in the film, showing some of the best moments from their days on set.

Elevator Action: Fans can actually see how the crazy stunt scene in the elevator was actually done.

Stunt Show and Tell: A look at some of the key sequences in the film and more details on the stunt routine.

Keeping it in the Family: A Conversation with Roman and Dwayne: Roman Reigns and Dwayne Johnson discuss their off-camera relationship, and their backgrounds, as they both come from a long lineage of wrestlers.

Blind Fury: Dwayne reveals the homage to his grandfather in this film.

Dwayne and Hobbs: Love at First Bite: Did you know Dwayne named his French Bulldog Hobbs? Aw. This cute feature gives us a little more insight on Dwayne and man's best friend.

Feature Commentary with Director David Leitch
Fast & Furious Presents: Hobbs & Shaw is now available on Blu-ray, DVD and Digital HD. If you have seen the movie and would like to rate/review it, click here.
---
---
---
---
Similar Articles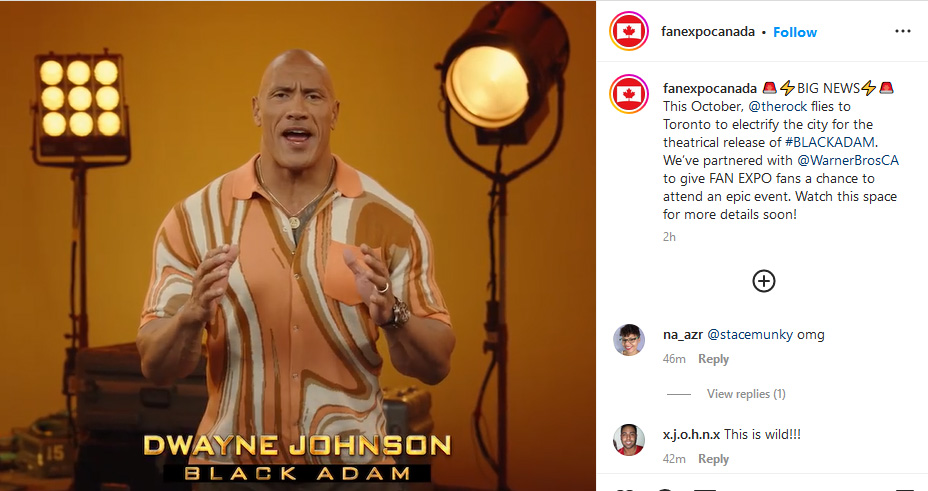 August 29, 2022 | Leave a Comment
Warner Bros. Pictures Canada announced that Dwayne Johnson will visit Toronto this October to celebrate the release of his upcoming DC film, 'Black Adam.'
---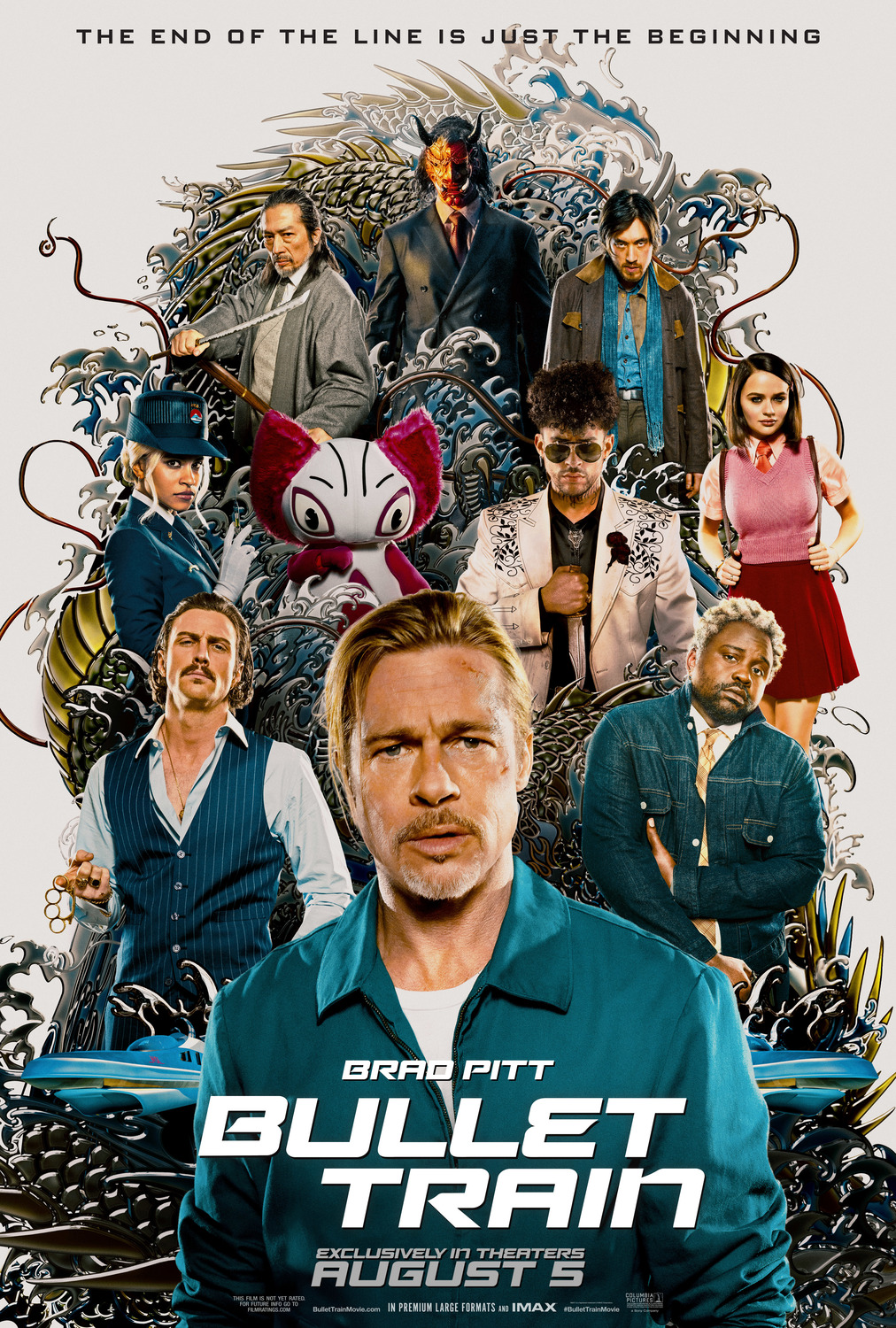 August 14, 2022 | Leave a Comment
Bullet Train pulled into the top spot at the box office for the second weekend in a row. Click to see which other movies finished in the top five this weekend.
---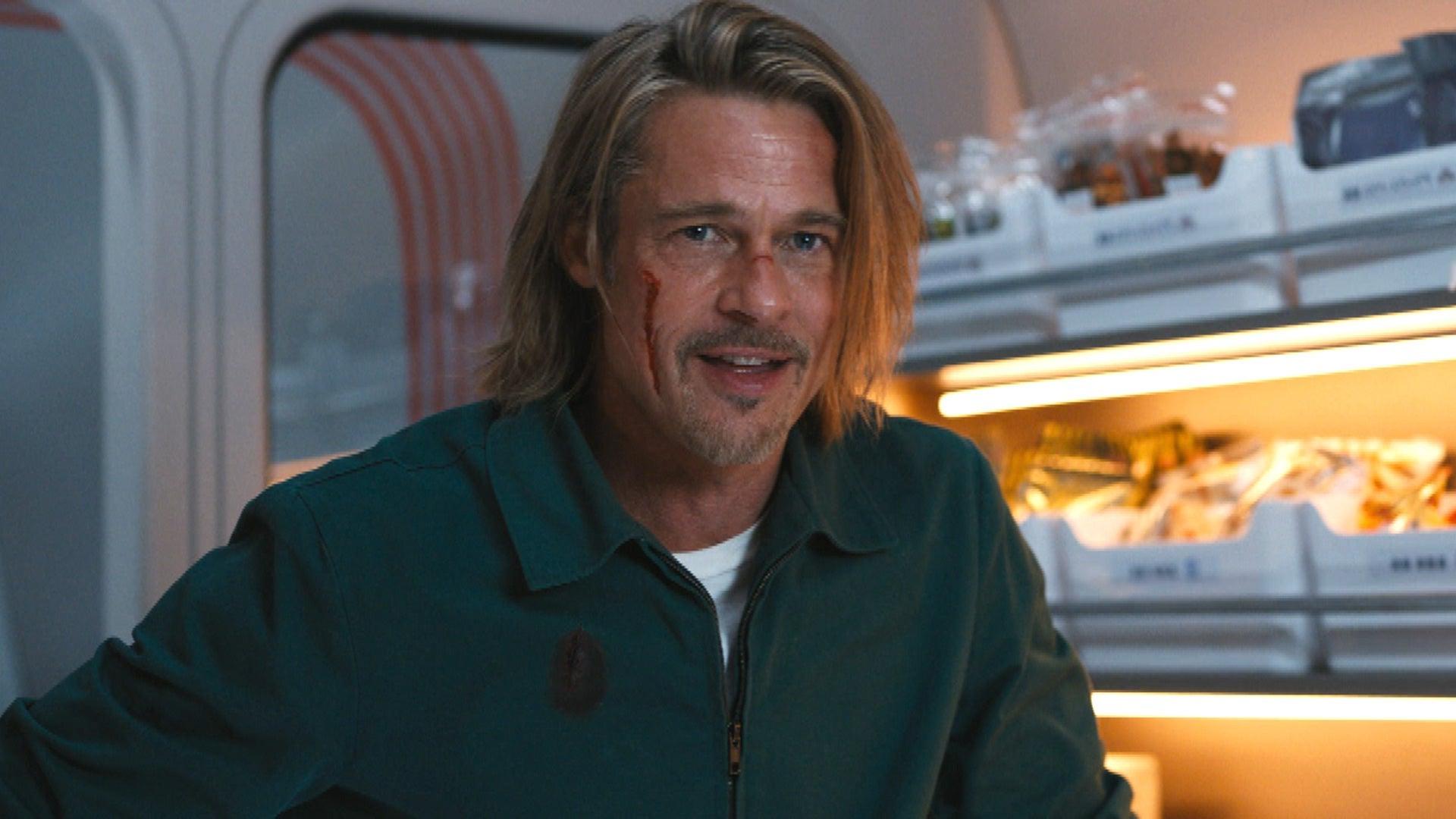 August 7, 2022 | 1 Comment
This weekend, Bullet Train starring Brad Pitt took the number one spot at the box office. DC League of Super-Pets takes second place and Nope slipped to third.
---