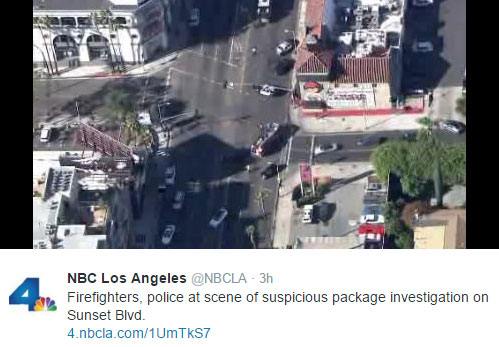 All major cities in the west have been on high alert since the Friday, November 13th terrorist attacks on Paris.
Wednesday morning in West Hollywood, the Los Angeles Police Department received a 911 call at 7:52 a.m. local time informing them a suspicious package was found on Sunset Boulevard in an open shopping center.
NBC Los Angeles reported the news, posting the photo seen here on Twitter as police responded by shutting down a stretch between Laurel Canyon and Crescent Heights in the 8000 block of Sunset Boulevard, just across the street from The Laugh Factory.
The police evacuated the plaza, located on the southeast corner of Sunset Boulevard and North Crescent Heights. The shopping center includes Starbucks, a Crunch Gym, a number of restaurants, the gourmet food emporium Trader Joe's and a movie theatre.
The bomb squad was sent out to investigate, including a bomb-squad robot. The mysterious package turned out to be a backpack found in a stairwell.
This was the second time in the last five months that the bomb squad has been sent to Sunset Blvd – they were out with the robot on July 17, when there was another suspicious package was left in a parking lot between Hammond Street and Doheny Drive. As it turned out, the package did not contain a bomb.
Thankfully, the backpack found yesterday was also determined to have no explosives in it and the evacuation was called off by noon. ~ Sharon Salsberg