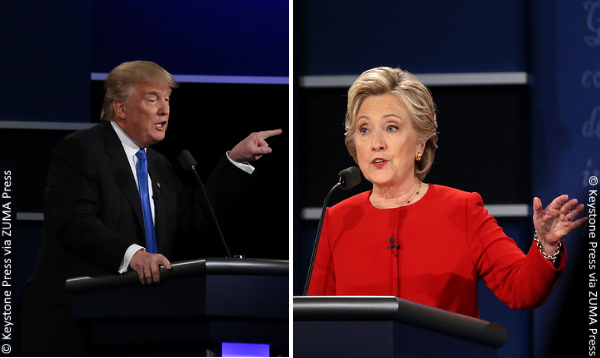 The stars of Hollywood are taking an active approach to the 2016 presidential race, and the first debate between Democratic nominee Hillary Clinton and Republican counterpart Donald Trump proves it.
Last night, the first of three presidential debates between the candidates unfolded at Hofstra University in Hempstead, New York. It was moderated by NBC Nightly News anchor Lester Holt and featured several talking points, ranging from immigration and national security to domestic terrorism and race relations. It was a heated evening, but before the impassioned face-off began, Hollywood staples were taking to Twitter in anticipation.
Octavia Spencer, Patton Oswalt and Ben Schwartz were a few of the celebrities to express themselves pre-debate, with Octavia posting the following Tweet: "I've bitten these gel nails to a nub waiting for this to begin! #ImWithHer #GoGetEmHill #ClintonKane2016."
But the Twittersphere action really erupted once the debate got underway, with several stars joining the discussion to offer their input. From Lena Dunham, Shonda Rhimes and Andy Cohen to Chelsea Handler, Oprah Winfrey and Jessica Chastain, there was no shortage of Hollywood insight.
Below, check out a slew of Tweets posted by the stars last night.
What did you think of the debate? Which celebrity Tweet most accurately reflects your stance? Let us know!
#debatenight i've bitten these gel nails to a nub waiting for this to begin! #ImWithHer #GoGetEmHil #ClintonKane2016

— octavia spencer (@octaviaspencer) 27 September 2016
Hillary, we got your back! #ImWithHer #DebateNight — Russell Simmons (@UncleRUSH) 27 September 2016
These three are gonna get me through this. Saving the Caduceus for last. #debatenight pic.twitter.com/6tqO8AAY6k

— Patton Oswalt (@pattonoswalt) 27 September 2016
Get ready to press play because supposedly tonight's debates sync up perfectly with Pink Floyd's Dark Side of the Moon. #debatenight — Ben Schwartz (@rejectedjokes) 27 September 2016
Trump is so mad at Mexico that I feel like he has a crush on it. It def. said no to 2nd base. #Debates2016

— Lena Dunham (@lenadunham) 27 September 2016
A very small loan?! If only I had started out with a "very small loan" of $2 million! #debates2016 — shonda rhimes (@shondarhimes) 27 September 2016
It took twenty minutes to turn into Housewives Reunion #Debates2016

— Andy Cohen (@Andy) 27 September 2016
Instead Hillary responds by plugging her book and website. Please, HRC, pull out the long knives. #debatenight — Michael Moore (@MMFlint) 27 September 2016
Stop yelling, we can hear you we just don't want to #debatenight #debates

— Constance Zimmer (@ConstanceZimmer) 27 September 2016
Somebody is going to get lucky tonight, and it's not Donald Trump. #Debates — Chelsea Handler (@chelseahandler) 27 September 2016
Yessss HRC talking about systematic racism #debatenight

— Gabrielle Union (@itsgabrielleu) 27 September 2016
"Just listen to what you heard" best advice of the night for our nation. Thank you @HillaryClinton #debatenight — Oprah Winfrey (@Oprah) 27 September 2016
Trump was making fun of Hillary's health but if he sniffs one more time i'm calling 911.

— Albert Brooks (@AlbertBrooks) 27 September 2016
Is he doing bumps? https://t.co/ViSPhXNGoa — John Leguizamo (@JohnLeguizamo) 27 September 2016
Trump's compassionate voice has a real "It puts the lotion in the basket" vibe

— Clea DuVall (@cleaduvall) 27 September 2016
#trumpedup #imwithher #firstpresidentialdebate2016 #imfuckinscared #HClookinbeauty #speakinbeauty #LOVE #VOTE #debates @HillaryClinton pic.twitter.com/f7bBIuBkSQ

— Miley Ray Cyrus (@MileyCyrus) 27 September 2016
Will someone blow baby's nose already? #Debates2016

— Sarah Silverman (@SarahKSilverman) 27 September 2016
Yes BAE!!!! @HillaryClinton you make me proud #Debates2016 https://t.co/0MPFycuh77

— Jessica Chastain (@jes_chastain) 27 September 2016
It's like the Super Bowl but for the apocalypse. #debates

— Zach Braff (@zachbraff) 26 September 2016
Trump is losing it. Keeps interrupting. #debates #tempermentallyunfit

— Debra Messing (@DebraMessing) 27 September 2016