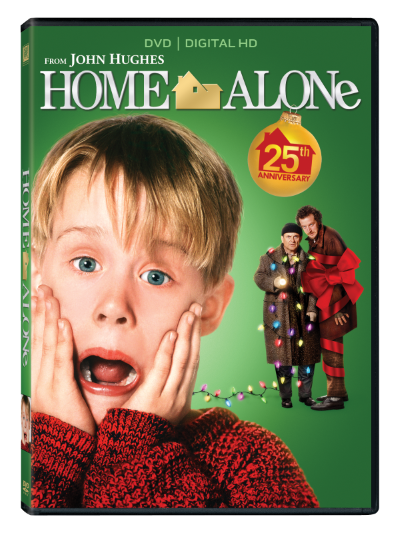 A Christmas classic is coming your way and 'tis the perfect gift for a longtime fan. It's the 25th anniversary of Home Alone, the live-action comedy that brings back memories as the holiday season springs around the corner.
The Home Alone: 25th Anniversary Ultimate Collector's Christmas Edition includes all five films packaged together in an adorable little paint can full of limited edition movie memorabilia, including a McCallister Christmas ornament, Kevin's battle plan for the Wet Bandits, a wanted poster of the thieves and a…tarantula. (That's right, you filthy animal!)
The franchise became a household name when young Macaulay Culkin stole our hearts as eight-year-old Kevin McCallister, who gets accidentally left behind by his family when they go on vacation in Home Alone. When two devious burglars decide to break in, that's when Kevin gets crafty and decks the halls with…right, booby traps!
Now available on Blu-ray and DVD, this classic Home Alone Anniversary Collection will be on everyone's Christmas wish list this year, thieves and kids alike. The collection includes:
– Home Alone with a beautiful 4K restoration on Blu-ray, DVD and Digital HD
– Home Alone 2: Lost in New York on Blu-ray, DVD and Digital HD
– Home Alone 3 on DVD

– Home Alone 4: Taking Back the House on DVD
– Home Alone 5: The Holiday Heist on DVD
Now you can watch this on Christmas Eve with the whole family and make it a memorable one!