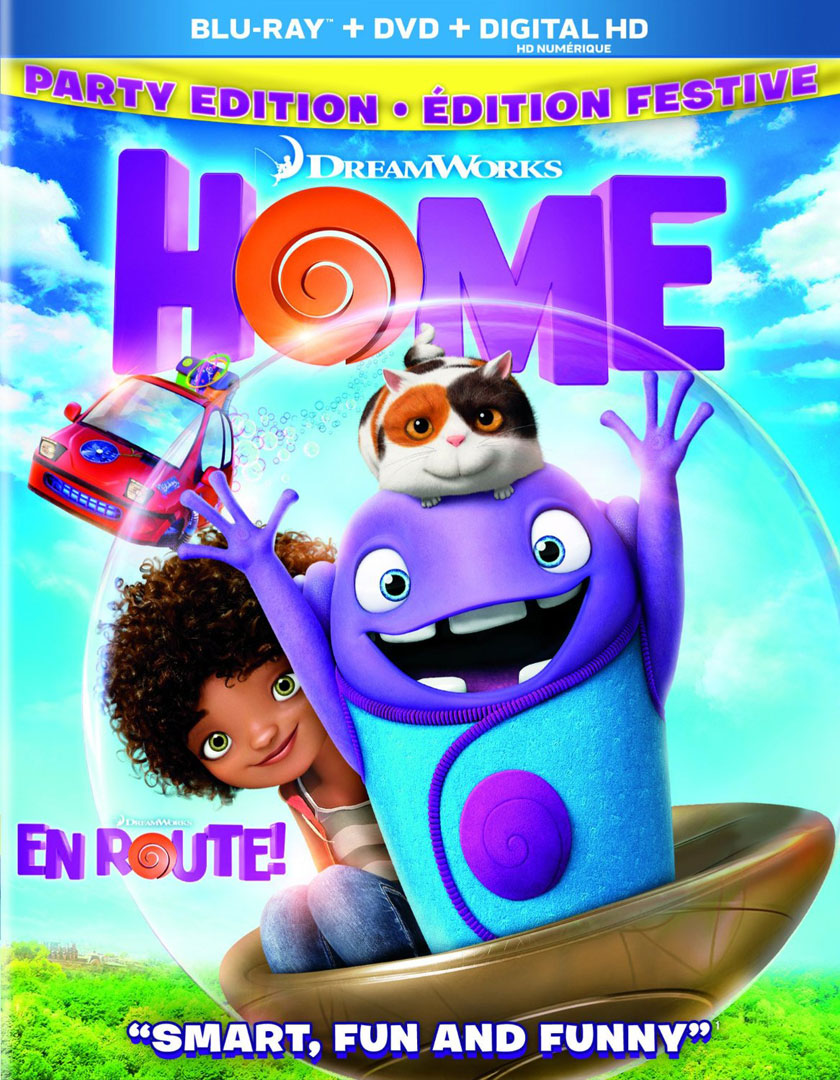 Oh (voiced by Jim Parsons) is an alien who comes from a species called the Boov. Together, as a group, they try to find a new home for themselves so they can avoid their enemy, the Gorg. Their leader is the selfish Captain Smek (voiced by Steve Martin) and he leads the Boov to relocate to planet Earth, forcing the humans move to different parts of the world while the Boov take their homes.
Oh is a friendly, upbeat and charismatic alien that none of the Boov take seriously. Upon their arrival on Earth, Oh decides to throw a party and invite all the Boov, but none of them attend. While walking around the city, he meets a young girl named Tip (voiced by Rihanna) and her cat Pig. Tip blames the Boov species for taking her mother when they came to invade Earth and expresses her hatred for them.
When they first meet at a convenience store, Tip locks Oh in the freezer. He convinces Tip that he can fix her car and take her to reunite with her mother (voiced by Jennifer Lopez). She agrees and Oh turns her car into a flying vehicle, filled with slushies as fuel.
Home is a good movie, however, it's not as good as some of Dreamworks' best works, such as Shrek or The Croods. The relationship between the two main characters is tense at first; they don't get along and don't want to help each other. But as they travel around the world, they understand each other's struggles and decide to help one another: Oh defeating the Gorg and Tip finding her mom. The value of their friendship is loyalty, trust, and teamwork. When they work as a team, they find they are better able to stand up against their individual struggles.
Special features on the Blu-ray and DVD include: Best Party Ever; Party Play All; Oh's Shake Your Boov Thing; "Feel the Light" by Jennifer Lopez music video; Oh's Boovy Jukebox with 16 songs from the movie, Oh's Party Planning Tips, Oh's Costume Party, Short Bovies (This is Being Boov; Almost Home – the story of the Boov before they landed on Earth; Testing Lab – the Boov test human items in their lab), Be an Artist (Draw Oh, Tip and Pig the Cat) and 25 minutes of Deleted Scenes. ~Maria-Josee Martinez
Home is now available on DVD and Blu-ray. Also releasing today are Clouds of Sils Maria, Corbo, Cymbeline, The Water Diviner and White God.
Watch the Trailers:
Clouds of Sils Maria 
Cymbeline
Home
The Water Diviner
White God