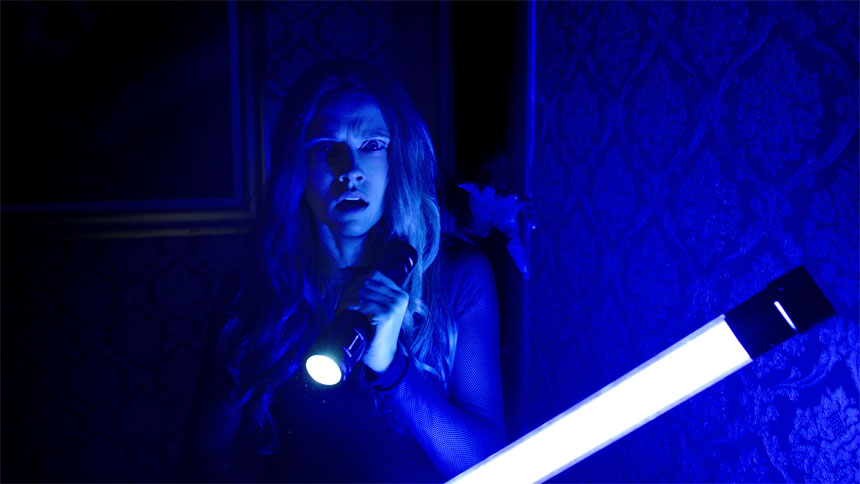 Lights Out is a treat for fans who enjoy the occasional scare without driving you sleepless for nights.
The story is about Rebecca (Teresa Palmer), a young woman with attachment issues. The scars from her past haunt her. She left home after her mother's (Maria Bello) mental illness started getting worse and since then, Rebecca hasn't kept in touch with her.
When Rebecca's young half-brother Martin (Gabriel Bateman) shows signs of exhaustion by falling asleep in class, the school calls Rebecca. When Martin tells Rebecca that their mother's friend Diana has been visiting, Rebecca reveals she used to see Diana as well.
That night, she has Martin stay over at her place, but Diana pays a visit and let's just say she isn't in the mood for a friendly chat. The family has to figure out why Diana is haunting their family.
Lights Out has the typical jump-scare moments that you'd expect (and like) from a horror movie. But it isn't one to haunt you after the final credits roll. So if you enjoy a light horror film, you'll probably like this one.
As someone who feeds on gory, hair-raising horror movies, I was wishing Lights Out didn't keep everything in the dark. I did feel there were a few plot holes that could have been better explained. Given that, I enjoyed the humor that was occasionally thrown in. It's a clear influence of veteran filmmaker James Wan, director of The Conjuring, who always inserts light moments in the film. Wan served as producer on this film and his name is a heavyweight in the world of horror flicks.
Lights Out is a slightly creepy movie with a good number of laughs. And if you're afraid of the dark, well, then hello sleepless nights.
If you have seen Lights Out, we would love to hear your thoughts on the film. Click here to review the movie.
~Marriska Fernandes