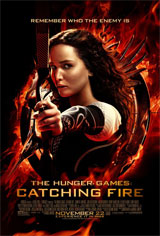 The Hunger Games: Catching Fire has been hotly anticipated by the many fans of the first movie in the series, The Hunger Games, and it will not disappoint. In this one, Katniss finds herself targeted by President Snow, who wants her eliminated. Because of her actions in the games, a rebellion has started within the districts of Panem. In an effort to quell the uprising, Snow orders a "Quarter Quell" edition of the Hunger Games in which a male and female tribute is chosen from each district, but the difference is that they're chosen only from past victors of previous games. Katniss, as the only female winner from District 12, is chosen, while Peeta volunteers himself, replacing Hamish.
Also opening today is Delivery Man, the American version of the hit French-Canadian movie Starbuck. The film stars Vince Vaughn as David Wozniak, a man who donated sperm years earlier only to find out he's the father of 533 children, many of whom now want to know their biological father. Ken Scott, who directed and co-wrote the original, wrote and directed Delivery Man and the movie captures all the pathos and comedy of the original.
Opening in limited release are Nebraska starring Bruce Dern and Will Forte, the Canadian film Empire of Dirt (Toronto, opens December 13 in Vancouver) and the French-Canadian movie Vic + Flo Saw a Bear (Toronto only).
.