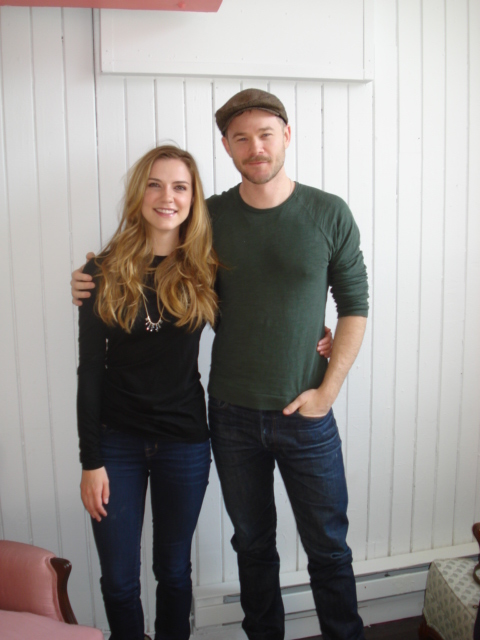 There is never a dull moment when it comes to celebrating Canadian talent and films. The Vampire Diaries' Sara Canning and Warehouse 13's Aaron Ashmore star in the darkly comedic romantic thriller I Put a Hit on You, which opened in Toronto January 9. Recently, I got to sit down with the down-to-earth duo who were more than happy to discuss the film and their careers – despite the below zero temps. Filmed in Toronto, I Put a Hit on You revolves around Harper and Ray. When Harper's marriage proposal to Ray is rejected, she gets really drunk and posts an ad online offering to trade her engagement ring for Ray's death. When someone replies to the ad, Harper rushes to save him. ~Marriska Fernandes
Congrats on your performances in the film. How did you get involved with the project?
Sara: Thank you! Dane [Clark] and Linsey [Stewart] the writer/producer/director team contacted us separately and sent us the scripts. I think they had watched a lot of our interviews and knew a bit about the work we had done but I think they looked a little bit at personalities when they were casting, as well. (Laughing) Not that we're big personalities or anything but it was really lovely to have a script sent to me because it's kind of unique to have a really awesome independent like that sent your way. I thought the story was so interesting and the characters had such an odd fascinating relationship. I was really excited to come on board with the project.
Aaron: I was sent a script for a short film based on that concept and I read it and I said, "Yeah, that's really cool, when you guys decide to make this I'd definitely be a part of it." I didn't hear anything for a few months and then all of a sudden it was like, "While we're still going to do the short but we also are going to make it a feature." So then I said, "Okay, wait what?" I read the feature and I was like, "Woah, this is great." Then I met Dane and Linsey and because it is based on two characters in one place, I wanted to talk to them about that and how they planned to achieve that. It was such a great experience meeting them and talking to them. They had so much confidence about what they wanted. Then I heard Sara was interested in doing it and I was like, "Let's do it. Let's do this thing."
Were you intimated? It's just the two of you throughout the entire movie.
Aaron: Yeah, and the other thing too is that what I was really worried about is that I had heard a lot about Sara but I hadn't met Sara. So I'd heard a lot of good things about Sara. Let me put it that way (laughing).
Sara: I heard a whole lot.
Aaron: No, lots of friends of mine had said she's great, she's super nice. So you hear that and that gives you confidence but you still don't know if you're really going to click. So until we really got into it and started working it a little bit, yeah there's a little bit of intimidation, like, "I hope that we can pull this off." I think we did at the end of the day and it's believable, but it's definitely scary to jump into something that just relies on the two of you.
Sara: Yeah, it was. And I had the same experience with Aaron. I didn't know Aaron at all but likewise had heard really great things. It's really reliant on two people, two people and their relationship. So it is daunting on day one to walk in and go, "Okay, we've been together for two years." (Laughing) And now this super dramatic thing happens and now we have to deal with it on day one of filming.
Where was the film shot?
Aaron: Avenue and Lawrence, so the north end of the city. There was an apartment building – a small sort of two or three story building.
Sara: We got to know some of the residents.
Aaron: It's strange because you're there for three weeks and there are people living all around you and they are so accommodating. The laundry room was right across from the apartment we were shooting in. So sometimes we would be outside or having to set up and people were coming through with their laundry and we would always be like, "Can you come back in like five minutes," and they were like, "Yeah yeah, absolutely no problem."
Sara: We'd shoot for 12 hours a day and sometimes really late so we were really in their space.
Aaron: They were incredibly accommodating. That's Toronto for you.
Sara: Thanks Avenue and Lawrence folks. (laughing)
You both have successful TV series – was it different to shoot an independent Canadian film?
Aaron: I think for us it's probably fairly similar in the sense that you're still acting and these are interesting great roles. We didn't have some of the things we normally have, like a trailer or those sort of things. When you're working really long days sometimes you just want to get away. Sometimes you need half an hour to yourself or you just want to go run your lines or whatever but in a situation like this where there's no way to get away from set.
Sara: Yeah, there was no private time anywhere. We were doing wardrobe and makeup and eating and hair and everything in the same room. And it was the production coordinator's bedroom. (Laughing) And I think it was also the fact that we carried the film together. So you just have to have a really strong concept of how frustrated are we with each other at this point in the film, how frustrated are we about the hit man and also with each other. It was just kind of really thinking of the blueprint. I actually made a blueprint.
Aaron: She's like a mad scientist.
So you must have been the one who drew the stick figure in the movie!
Sara: All the little stick figures.
Aaron: Yes, very talented artist.
Sara: I actually love that scene. I love that scene. It's one of my favorite scenes I think – them trying to come up with a plan.
It's really hilarious!
Aaron: It's such an idiotic plan. (Laughing)
That's what made it so hilarious! Speaking of which, you hire the hit man when you're drunk. So I want to know what is the craziest thing you've done while drunk?
Sara: I've never put a hit on someone and that's great. I'm just happy with that.
Aaron: The thing is when you're really drunk like that, if you do crazy things you thankfully don't always remember them. So I've probably done all sorts of stupid things, I just don't remember them. I do remember one thing but I'm not going to say it because I said it in an interview before and then I just regretted it so much. Because it was so embarrassing! So it's out there in the world somewhere but I'm not going to repeat it.
Aaron, you are well known for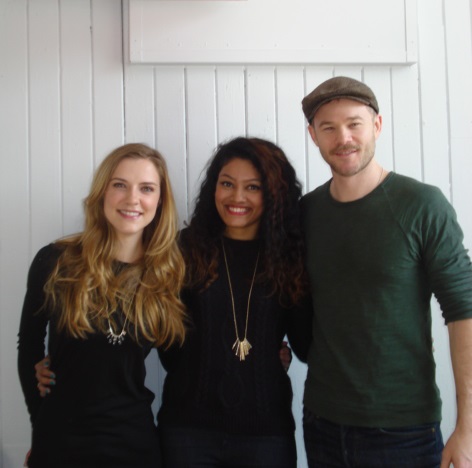 your television roles but after this film people may see you in a different light. Would you like to do more films?
Aaron: Yeah, I'd love to do more films. I love doing TV because there's a consistency to it and it's also you can stay with a character for a really long time. I did more films in my early twenties, smaller independent stuff and then I got more into TV, but I'd love to do more movies. I think there's something very rewarding about it. I think that TV is getting much better but movies are still my favorite. They're what inspire me the most.
Sara, is there a role you would have loved to have played?
Sara: I wanted to play Harley Quinn but Margot Robbie was cast as her in the new film Suicide Squad and I was like "That's perfect!" Now I'll just play the 17th Batman. Can I play Batman? Eventually, there will be a female Batman but we won't call her Batwoman. We'll still call her Batman, but it will be a woman. (Laughing). There's a character in a book that I would just bend over backwards to play. I know a director has tried to option the book – it's called Rules of Civility by Amor Towles and it's a stunning novel. I love the book and that would be a dream role but I hope they do something with it just because I would love to watch it.
Aaron: Or be in it.
Sara: Or be in it! Yeah, I would love to do more films as well. I love TV. I particularly love the role I'm playing right now on Remedy. She's a real piece of work to play (laughing). So I'm enjoying that. I love the experience of independent film though, I love how intense it can be. I did a dramatic film set in the 1870s about the life of Eadweard Muybridge, where I played his wife. It's just amazing to step into those different eras. She was just such a renaissance woman for her time but was squashed by society's conventions.
Aaron: Friggin' men!
Sara: Friggin' men and society! (Laughs) I had an amazing time doing that film and I would love to be fortunate enough to get more experiences like that. Just exploring women in different times and what they were fighting against and the sort of movement of where we're at now. I'm just really interested in where women are at now versus 200, 300, 50 years ago and I would love to get to do more of that.
Is that what you enjoy most? Because you've done rom-coms, medical dramas and sci-fi.
Sara: I enjoy all of it. I enjoy character pieces the most though. I like when there is room for really interesting interaction and flaws within the characters whatever the genre is. I love HBO for that reason because every single character on every HBO show is such a puzzle and I love watching that.
Remedy is one of my must-watch shows this year! What's next for season 2?
Sara: Cool! That's good. Oh, such shenanigans. This season is much edgier than the first season and the characters are all on a completely different journey, which is really interesting. Especially the Conners, they are all thrown out of their element in season 2.
Including your character?
Sara: Yeah, yeah, big time. It's been a really interesting season for me because I'm trying to keep some of the high strung anxiety, OCD stuff that Mel had been dealing with in season one. In the second season, her journey is about something much different than that. The storylines have been quite chaotic for a lot of characters. I think people who watched last season will enjoy this season even more because the stakes are much higher and I think it's edgier and sexier.
My final question is what's next for you, aside from Remedy?
Sara: Well I was just saying to Aaron yesterday I'd love to do some theatre. That Eadweard film I was talking about is going to come out later this year, which I'm excited about. I'm excited to do some writing and recalibrate once this season wraps. I did a recurring role on Hell on Wheels last year, so who knows what will happen with that. I just hope for the chance to do some other work on my hiatus as well, just to keep stretching.
What about you, Aaron? You have a new TV series Killjoys.
Aaron: Yes, we just finished doing the first season of that and we're waiting to see what's going to happen with that. I don't think they've set a date but it's in the summer. So we have a little while to wait to see if we get picked up again. But that was a lot of fun, really exciting. I also have a little movie called Big News from Grand Rock. I have a supporting role in it – it's coming out in February. And a movie called Regression that I really felt lucky to be a part of. It stars Ethan Hawke and Emma Watson and it's a psychological thriller that's coming out next summer as well.