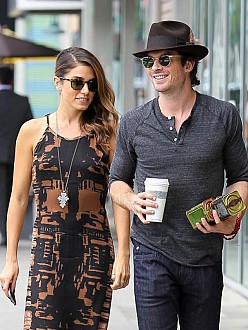 Ian Somerhalder thinks Nikki Reed is one "of the most beautiful ladies in the universe."
The 'Vampire Diaries' star gushed about the 'Twilight Saga' actress, whom he has been dating for five months, on Instagram on Wednesday (10.08.14), admitting he is amazed by the charity work she does with the American Society for the Prevention of Cruelty to Animals.
Alongside a photograph of them with two of their dogs, the 35-year-old actor wrote: "A day with 3 of the most beautiful ladies in the universe… Wow smiling is such a beautiful part of the human experience – I highly recommend it."
He added: "@iamnikkireed your recent work with Gilt benefiting the @aspca is truly truky extraordinary. Thank you for giving so much of your life and for being a strong voice for those whom can speak. My hat is off to you. You amaze me. Love, Ian [sic]"
The 26-year-old actress, who owns a rat, two horses, two German shepherds and five dogs, regularly provides temporary shelter for foster pets and recently admitted animals are her life.
The 'Murder of a Cat' star said: "My mom and I built a guest house on my property so that my mom could help me fostering animals. I do multiple fosters a month."