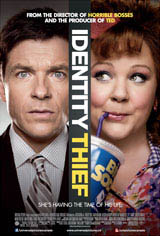 Identity Thief is a comedy about one man's extreme actions to regain his lost identity from a fraudster. Everything seems to be going right for Sandy Patterson (Jason Bateman) until he realizes that a woman has taken advantage of his unisex name and stolen his identity, putting his future and his family in jeopardy. In a desperate attempt to regain his livelihood, he travels across the country to find the con artist, Diana (Melissa McCarthy), and bring her back to Denver to clear his name. When they meet, an ill-fated road trip ensues – full of gun-toting antagonists,  numerous escape attempts by Diana, and plenty of off-the-wall events along the way.
The film has its moments and a promising cast, led by Academy Award nominee Melissa McCarthy. The best scenes in the movie are undoubtedly the exchanges between Bateman's conservative Sandy and McCarthy's hilariously-dressed Diana, especially when they're the only two sharing the screen. Diana's constant banter and Sandy's begrudging responses showcase Bateman and McCarthy's comedic chemistry.
However, it isn't as funny as you would expect. The script seems forced in parts and the excessively crude humor takes the shine away from the more enjoyable scenes. The talented supporting cast isn't given a chance to do much and the antagonists often seem like a second thought. The more charismatic of the baddies, Robert Patrick's skiptracer, deserved a larger role and would have been effective as a singular nemesis. However, fans of McCarthy and Bateman will enjoy their spurts of improv with each other and the rest of the cast.
Both the DVD and Blu-Ray feature two versions of the film: the theatrical and the extended. The special features for the DVD include a gag reel and a making-of featurette. If you want to see more of the funny business behind the movie, the Blu-ray includes alternate takes – which are quite enjoyable – Scene Stealing: Capturing the Humor of Identity Thief, and The Skiptracer's Van Tour, given by Robert Patrick. ~Cassie Jasinski