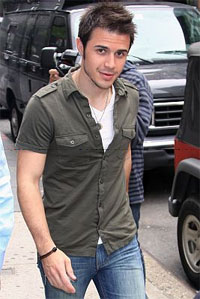 Reports are claiming that AT&T, one of the biggest corporate sponsors of American Idol, may have influenced the outcome of this year's competition by providing phones for free text-messaging services and lessons in casting blocks of votes at parties organized by fans of Kris Allen, the Arkansas singer who was the surprising winner of the show last week over runner up Adam Lambert.
Representatives of AT&T, whose mobile phone network is the only one that can be used to cast American Idol votes via text message, provided free text-messaging services at two parties held for Kris Allen in Arkansas after the final performance episode.
According to reports, reps for AT&T assisted Allen fans by giving them instructions on how to "power text" by sending 10 or more text messages at once using a single button, which has a greater impact than a single one.
Could this have swayed the winning votes? Even Kris Allen admitted he was shocked that he won over the favored Lambert.