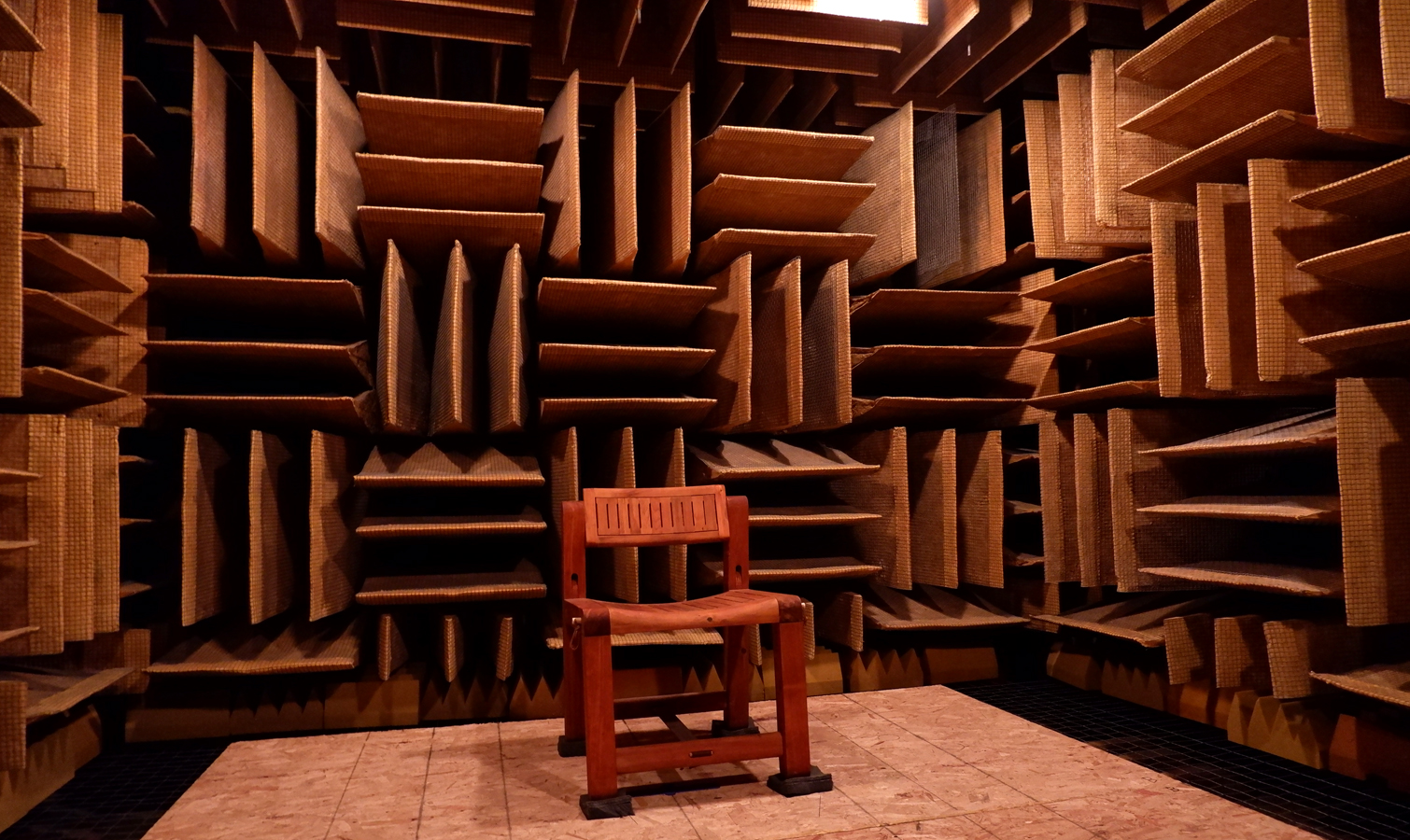 To celebrate the release of the hit movie A Quiet Place on DVD and Blu-ray today (July 10, 2018), we were invited to the "Quietest Place on Earth," which holds two Guinness World Records.
Orfield Laboratories in Minneapolis is the home of an anechoic chamber that is 99.99 percent sound free. During a tour with guide Michael Role, we learned that a number of visitors, as soon as they enter the chamber, ask to be let out, because the lack of sound is actually disconcerting for some. If requested, the lights can also be turned out, and it's been reported that the lack of sound and light causes some to buckle at the knees.
We also had the opportunity to talk to Millicent Simmonds, who stars as Regan in A Quiet Place; Supervising Sound Editors Ethan Van der Ryn and Erik Aadahl; and Steve Orfield, president of Orfield Laboratories.
Each media member was allowed 10 to 20 minutes in the anechoic chamber and I have to say I found it extremely peaceful. It was so quiet that the only sound I could hear was a hum from inside my own body. One of the most fascinating things I learned during the tour was that a pilot, who couldn't get the sound of jets out of his head for weeks, had the sound go away after spending 90 minutes in the chamber.
The lab is open for one to two hour public tours, which includes up to 20 minutes in the chamber and a copy of the Guinness Certificate.
Steve Orfield was on hand and we were able to ask him all about the chamber, including the effect on people with neurological disorders. Autistic children in particular usually have extremely positive experiences. I learned that not surprisingly, extroverts don't enjoy being all alone in a silent chamber quite as much as introverts.
During the tour, we were able to hear our guide clearly, until he turned away, at which time the sound level dropped so significantly we were barely able to make out what he was saying, as the sound was absorbed by the walls. When I was alone in the chamber, I tried clapping my hands once and it sounded like a normal clap, but the reverb was so high-pitched and deafening that I winced.
We also learned that the laboratories were originally the home of the first digital recording studio in the world, called Sound 80, with music luminaries such as Bob Dylan, Prince, Cat Stevens, and The Suburbs having recorded a number of classic albums on the premises.
Click here to watch our interviews with Millicent Simmonds, John Krasinski, Ethan Van der Ryn and Erik Aadahl for A Quiet Place and with Steve Orfield about Orfield Laboratories. Click here for more info on Orfield Laboratories, including tour options and click here to read our review of A Quiet Place. ~Photos and article by Alexandra Heilbron