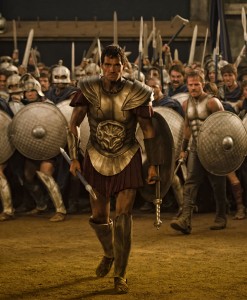 Immortals movie starring Henry Cavill, Mickey Rourke, Frieda Pinto and Kellan Lutz to be an epic Greek battle
—By Toni-Marie Ippolito
Before he dons the famous red cape and becomes Superman: Man of Steel, British actor Henry Cavill will get his feet wet starring as one of ancient Greek mythology's heroes, Theseus, in the upcoming movie Immortals.
"When I first met [director] Tarsem Singh (The Fall, The Cell), he showed me this world he was going to create and I was sold. I was honored to be a part of the project," Cavill said at Comic-Con about taking on the role.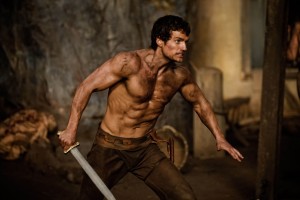 In Immortals, a brutal and bloodthirsty King Hyperion (Mickey Rourke) and his army are rampaging across Greece in search of the long lost Bow of Epirus. With the invincible Bow, the king will be able to overthrow the Gods of Olympus and become master of his world. As village after village is obliterated, a stonemason named Theseus (Cavill) vows to avenge the death of his mother in one of Hyperion's raids. When Theseus meets the Oracle, Phaedra (Freida Pinto), her disturbing visions of the young man's future convince her that he is the key to stopping the destruction. With her help, Theseus assembles a small band of followers and embraces his destiny in a final desperate battle for the future of humanity.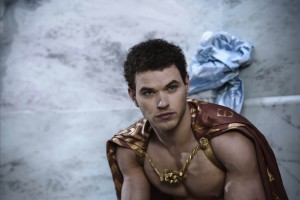 In order to look the part of a hero, massive training was needed in order to tackle the rigorous fight scenes. "At one point I was training from nine to five straight. But every time you do something like that you learn and there are ways of doing it," Cavill said. "It was incredibly hard work but very enjoyable and being in that kind of shape is something everyone should do once." Adds his co-star Kellan Lutz (Twilight) who plays Poseidon, "For the fight training, I did a lot of mixed martial arts. I also worked with the stunt trainers and we had a lot of fun kicking butt."
Careful not to choreograph and plan the fights scenes too much, director Singh said his approach was to just go in there and do it like it they were doing it for real. "It was physically difficult for them," Singh said. "So if they weren't in shape, nothing could have saved them!"
So what sets this film apart from other Greek myth films? "It's so different because they're young Gods in it," Lutz said. "If you're a young God wouldn't you want to be attractive? I don't know if long beards are that attractive!"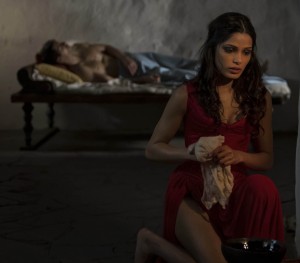 According to Pinto, shooting the movie in Montreal was a cool experience and said she was blown away by the footage she saw during Comic-Con. "I was shaking," she said. "It was phenomenal, especially to watch it with 3D glasses on." Luke Evans, who plays Zeus, said this movie will be something different than they've ever seen before in a Greek Mythology-type movie. "It's a re-imagining of a very old tale with incredible stunt fights, and it will be very unexpected."
Immortals opens on November 11 – watch the Immortals Trailer