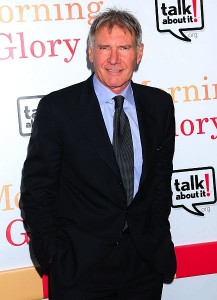 Indiana Jones 5 could be in the works, at least if Harrison Ford has a say in things.
Out to promote his new romantic comedy Morning Glory, Ford spoke with MTV News at the film's premiere, saying Indy series creator George Lucas could be getting the globe-trotting archaeologist back on the silver-screen."It's on George's plate, and I'm hoping he's working hard at it, because I'd look forward to doing it again if the three of us could get together – George, Steven Spielberg, myself – I'd love to do another."
At 68, Ford may be getting a little old to be cracking the whip (and hopefully not his back) as Indiana Jones, and with a luke-warm fan-response to 2008's Indiana Jones and the Kingdom of the Crystal Skull, will audiences continue to turn out for more? Hopefully if Indy does return we'll have a little less psychic aliens and vine-swinging Shia LaBeouf, and a lot more of the old-school adventure that made the originals so much fun.
Dan Blackwell