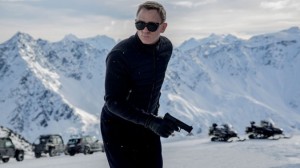 During filming of the new James Bond film on Tuesday, a camera truck veered off the road and crashed into a barn, causing injury to a crew member.
Terry Madden, whom The Hollywood Reporter named as the injured crew member, suffered multiple fractures in his leg. Madden has been a second unit assistant director on the last three Bond films – Skyfall, Quantum of Solace and Casino Royale. He also has worked on every Bond film stretching all the way back to 1981's For Your Eyes Only.
This is the second injury on set since the beginning of shooting, when Daniel Craig injured his leg performing a fighting stunt.
Spectre is the 24th James Bond film in the series and it is currently shooting in Austria. The film stars Daniel Craig, Lea Seydoux, Naomie Harris, Christoph Waltz and Ralph Fiennes. Sam Mendes returns to the helm as director and the film is set to release November 6, 2015. ~Andrew Siwik