Injustice 2 video game launch party features fave DC characters
By Tribute on May 15, 2017 | Leave a Comment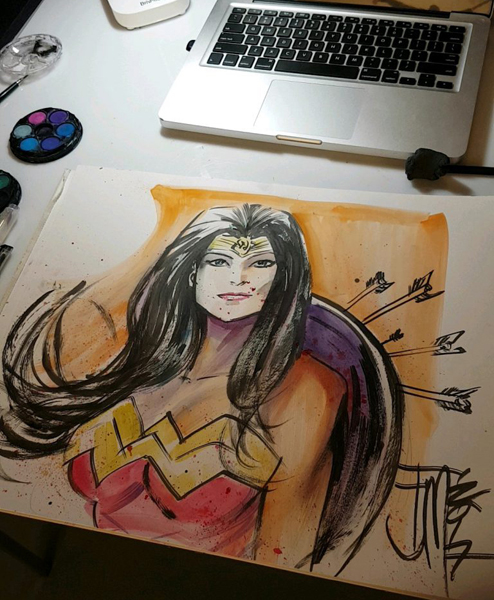 Injustice 2, the one-on-one style fighting game, will feature everyone's favorite DC characters pitted against each other.
We were invited to the launch party in Toronto for Injustice 2, where I got the chance to demo the game and enjoy an art gallery featuring one-of-a-kind pieces from DC artists. Francis Manapul from RAID studios drew several pieces in front of a crowd at the event, including the amazing image of Wonder Woman pictured at left.
The creative director behind the game, Ed Boone, was also available for a Q&A session. Here's what I learned about the upcoming game before its release on May 16.
The biggest difference gamers will experience while playing the sequel, Injustice 2, is having the opportunity to customize your character. Players will be able to make their own customized Superman, Batman, Flash, etc. for the first time in the Injustice series.
The video game's gear system is similar to RPGs such as Destiny and The Division, which is highly impressive considering this is a one-on-one fighting game. The gear will not only make your character look different, but also give players new abilities to use during matches.
The two main ways to collect gear will be through defeating opponents, or purchasing Mother Boxes with gold earned from matches. However, players will also be able to obtain limited release gear through special events in the game. Gear will be ranked in three categories (rare, epic, and common).
While not all the playable characters from the predecessor will return, gamers will be treated to a great list of new faces. The group of new fighters includes Deadshot, Poison Ivy, Swamp Thing, and the villain Brainiac, just to name a few. In total, there will be 53 fighters available to chose from (not including skins).
During my time with the game, I got to play as Flash and Superman. My first match was against Batman, and let's just say I was left highly impressed. When the time came to use my super move, Flash unleashed a skill that took him back in time with his enemy, and threw Batman around like a rag doll. In my second match, I guess you can say I wasn't as lucky. My opponent went with Green Lantern this time, and I went with Superman. I found his skills to be kind of limited, and he didn't really play like I thought his character would. That being said, I still had a great time playing the game, and I would recommend anyone who plays fighting games to give it a go.
After the release of Injustice: Gods Among Us, Ed Boone decided he wanted to do "something unexpected and long-term" for the franchise. The implementation of the new gear system is certainly a step in that direction. Another big change this year was DC Comics allowing the studio to really get creative with the direction of the game's plot.
"DC really loosened the reins in terms of letting us do things that help us tell our own story," Boone revealed. "Once we decided we're going to do this alternate universe, where Superman is the bad guy and Batman's his adversary, it gave us a lot of creative license to carve our own universe."
What I noticed during my short time with Injustice 2 is that it's not just another copy and paste from the first game. It definitely plays and feels like a richer experience than Injustice: Gods Among Us, which is refreshing if you're a fan of games like these. The best part about the Injustice series, in my eyes, definitely has to be the story line, which has been supported by the comic books based on the video game.
Fans are certainly excited about the game's story mode as well, as it was very popular in Injustice: Gods Among Us. Boone says they won't be left disappointed, claiming that the cut scenes play out like a movie: "It's cinematic; it almost feels as if you're watching a film. Everybody really wants to play that mode again, and see what happens after Superman's incarcerated. Our visuals have really taken a step up from the last Injustice game."
As far as the hidden codes and secrets we are accustomed to seeing in other games developed by Nether Realms Studios, Boone verified that we can expect some Easter eggs in Injustice 2, saying, "Absolutely, I think that's a Nether Realms Studio signature feature to put those hidden gems in our game."
The video game will be offered in three different packages, including Ultimate Edition and Digital Deluxe Edition. The Deluxe Edition will include characters like the already announced Sub-Zero from Mortal Kombat, Red Hood, and Starfire as downloadable characters. Players will also get a Premiere skin and an exclusive Gear Shader. The Deluxe Edition is available for $99.99.
The ultimate edition will include a total of nine downloadable players and three Premiere skins that will allow players to customize their superheroes into alternate characters with new looks. The Injustice 2 Ultimate Edition is available for $129.99.
Similar to the first game, a free-to-play mobile app based on Injustice 2 is now available for download on iOS and Android devices. Like its predecessor, the app will maintain several gameplay features from the original, including the swipe to fight mechanics and three-on-three battles against your opponent.
Are you excited for Injustice 2? Let us know in the comments which DC characters you would like to see in the game. ~Brenden Zerihun 
---
---
---
Similar Articles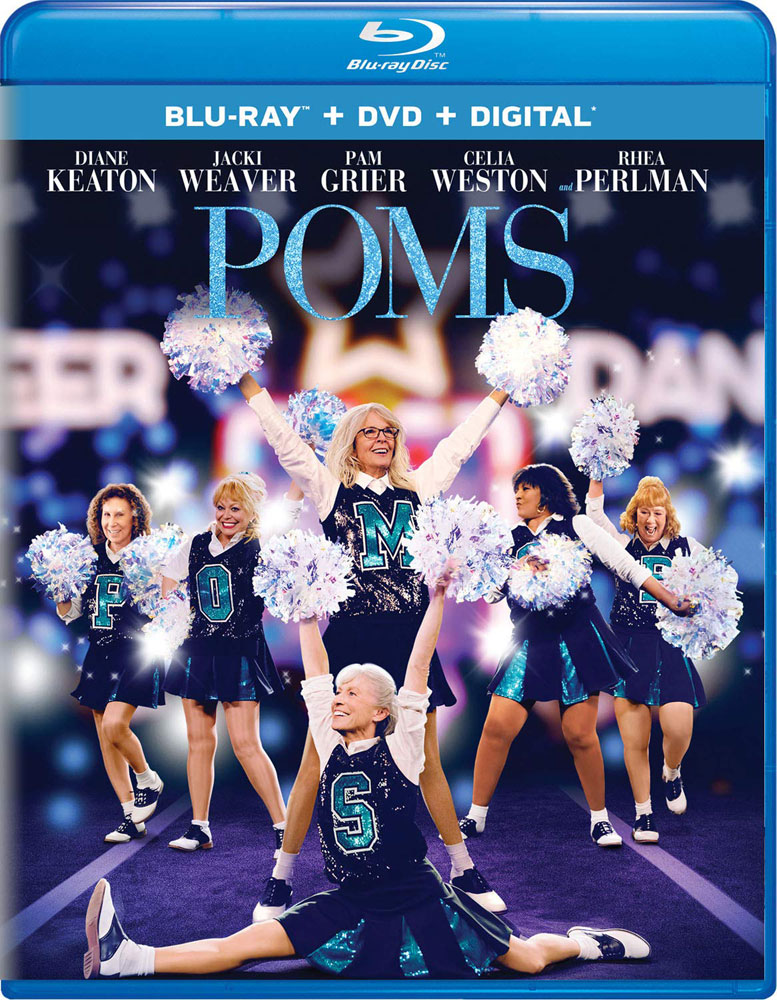 August 6, 2019 | Leave a Comment
This week there are plenty of movies coming out on DVD and Blu-ray, including the comedy Poms starring Diane Keaton and Pokémon: Detective Pikachu featuring the voice of Ryan Reynolds.
---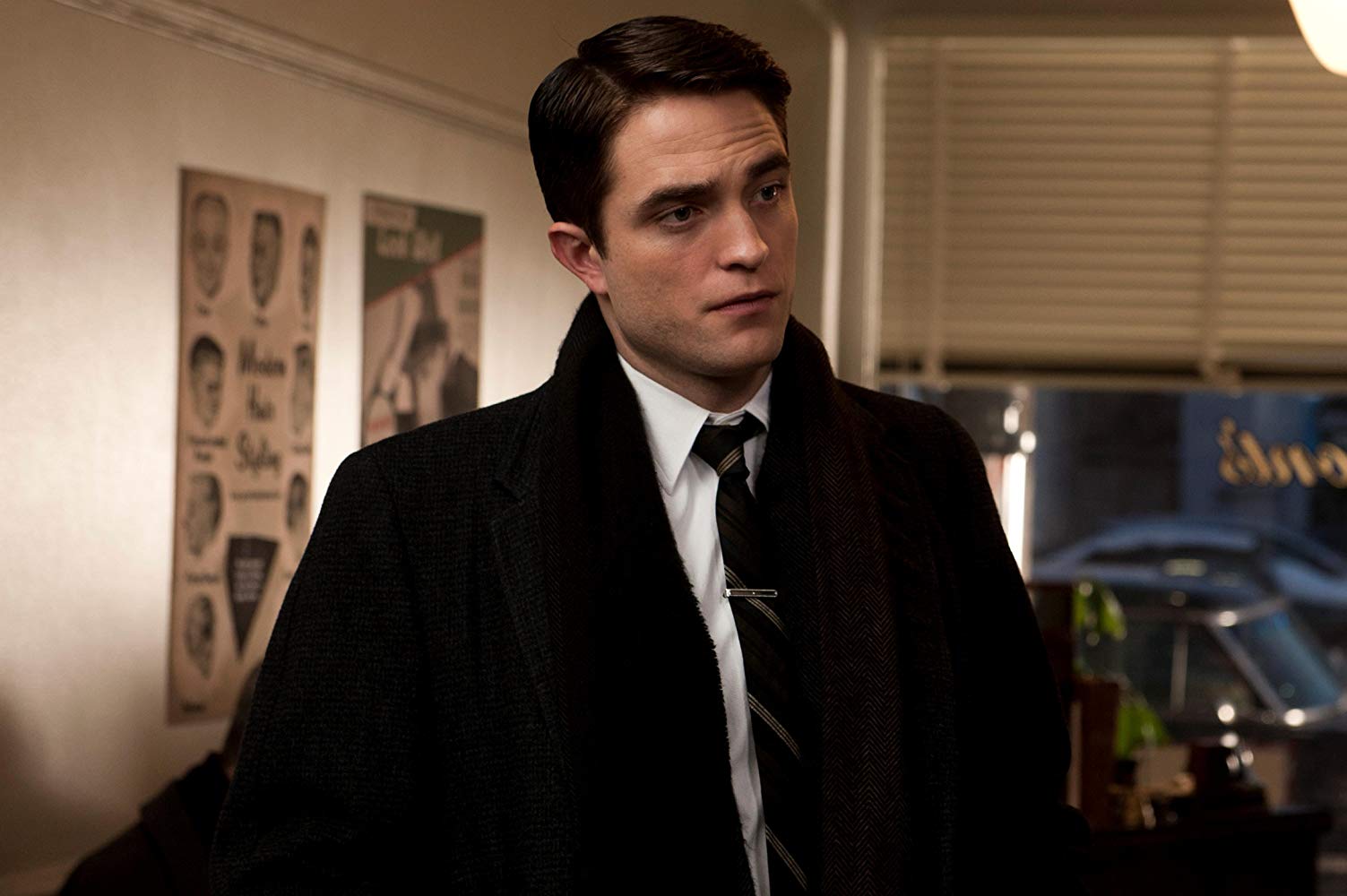 May 31, 2019 | 6 Comments
The next actor to take on DC's iconic Dark Knight has been decided and it will be none other than Robert Pattinson, best known for the Twilight series.
---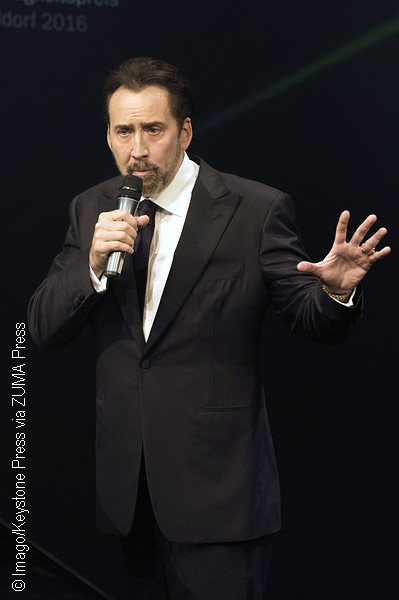 March 15, 2018 | 24 Comments
Nicolas Cage is finally getting the chance to play Superman in a DC movie. He was cast in Tim Burton's Superman Lives in the 1990s, but the movie was cancelled.
---