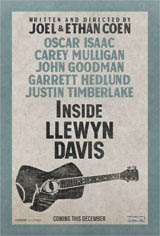 Watch the Canadian EXCLUSIVE debut of the new trailer for Inside Llewyn Davis, starring Oscar Isaac, Carey Mulligan, John Goodman, Garrett Hedlund and Justin Timberlake.
In the trailer, Llewyn Davis (Isaac) asks his friend Jean (Mulligan) if he can sleep at her apartment for the night and she refuses, revealing in a written note that she's pregnant. While talking to Roland (Goodman), Llewyn says he is a folk singer whose partner killed himself off the George Washington Bridge. He also talks to Joy (Jeanine Serralles) and says that without music, he would just exist. With no advance on his solo record, Llewyn has no money and does not even have a winter coat. After a discussion with Jean about not thinking about the future, Llewyn decides take his cat, ship off and try something new.
Inside Llewyn Davis hits theaters December 20, 2013.