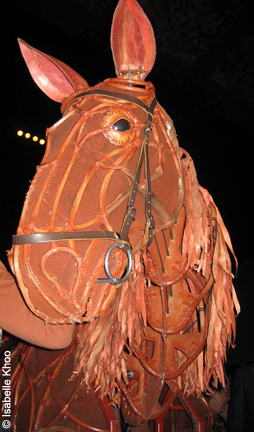 Yesterday, Mirvish Productions hosted Inside the Horse: Behind the Scenes with Joey, a one-time only event where fans of the stage production had the opportunity to get up close and personal with the central character of War Horse at Toronto's Princess of Wales Theatre. The presentation started with an overview of the production based on Michael Morpurgo's novel of the same name. It follows the story of a boy, Albert, and his horse Joey, during World War I. Led by Tommy Luther, who once played the front end of Joey and who is now the Associate Puppetry Director, audiences experienced an inside look at the creation of the play and its awe-inspiring puppets.
This once-in-a-lifetime event that showed the mechanics of the two main horses, Joey and Topthorn, was amazing, to say the least. With three people working each horse, the realness this production is able to achieve is outstanding. With everything from the tail to the ears moving seamlessly, it was hard to believe that it was in fact a puppet and not a real horse up on stage.
Luther described many games and activities that the actors used to prepare themselves for their roles, including having to move brown paper dolls as if they were specific characters and having to pretend that a stick was alive, in order to show that if you believe in what you're doing, the audience will too. This must have worked because one of the most amazing aspects of this presentation was the dedication the actors had to their roles. Almost as if they had been horses in some other life, these actors snorted and whinnied as if that was the only way they knew how to communicate. Moving each horse so naturally, these men and women manage to transform a puppet into a living, breathing thing.
The variety of people in attendance at this event was remarkable. From young to old, everyone was mesmerized and astounded by the magnificence of these horses. They are referred to as horses and not puppets because to this audience, they weren't puppets. They approached each horse as if they were on a farm, very carefully and calmly, and patted his sides with excitement.
This show has resonated with younger children more than any show since The Lion King and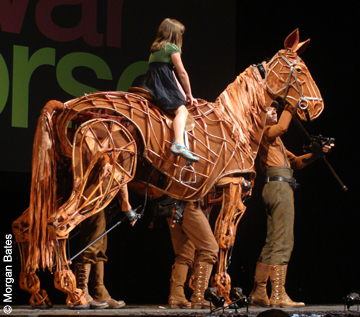 even led one small girl, Asia, to arrive with a handmade sign that read "I want to ride Joey." Her wish was granted, and she was allowed to go on stage and ride the amazing Joey as he walked, and then trotted around the stage. After the presentation, young and old alike pushed and shoved to get their favorite War Horse pin as well as a discount ticket coupon, even though almost everyone in attendance had already seen the show at least once. Clearly, the people at Handspring Puppet Company have done something extraordinary with these horses, and the actors inside them have brought them to life and allowed them to connect with the audience on a completely new level.
Overall, this behind-the-scenes look at War Horse reminded the audience that even though technology has started to take over most aspects of life, it can also be used to create amazing things like Joey and Topthorn and can be put on the back-burner long enough to escape into another world and experience the wonder that is War Horse. ~Morgan Bates, Isabelle Khoo. Video by Morgan Bates.