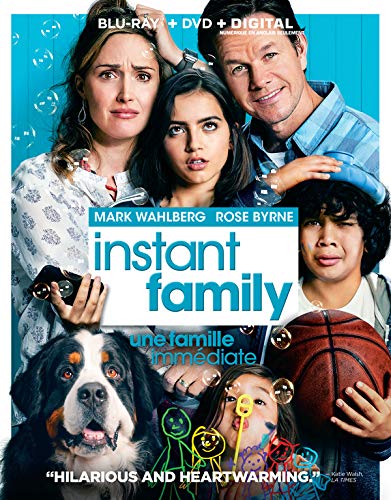 Instant Family is a sweet comedic drama, inspired by the story of writer/director Sean Anders' and his wife's adoptive parenthood.
Pete (Mark Wahlberg) and Ellie (Rose Byrne) are a successful couple who flip homes. When pressured to start a family, the two jokingly consider adoption, and then find themselves enrolled and sitting in an adoption course.
There they meet social workers Sharon (Octavia Spencer) and Karen (Tig Notaro). Through the adoption agency they are introduced to sassy, teenage Lizzy (Isabela Moner) and immediately want to adopt her. However, the couple get more than they bargained for when they discover Lizzy is a package deal with two younger siblings.
This is an adorable feel-good film, that makes you remember what family is all about. The film tells a beautiful story of adoption and also takes the audience through the trials and tribulations of the foster care system. Pete and Ellie, who start in a honeymoon phase with their new family, soon discover that with great power comes great responsibility.
Mark Wahlberg, who usually plays a macho role in his action movies, shows a sweet passionate side in this film. We were introduced to this fatherly side of Wahlberg in The Lovely Bones and in the Daddy's Home franchise, yet we see an even more sensitive side in this film as he plays a caring young husband with an undiscovered yearning for children. This is Wahlberg's third collaboration with director Anders, and the two have yet to make an unsuccessful film together.
Australian actress Rose Byrne delivers a hilarious performance as the adoptive mother. As the stricter parent, her character has a tougher time relating to 15-year-old Lizzy — the same way a mother would with her teenage daughter.
Considering the cast is filled with a superstar lineup, it is the child actors that make this movie a success. Young and talented Julianna Gamiz, Gustavo Quiroz and Isabela Moner each depict completely different characters that have so much chemistry, you would think they were family in real life.
Although the film does not tell the exact story of Sean Anders' life, it does hit pretty close to home. He did adopt three young Hispanic children with his wife Beth, and (like the characters in the film) had a difficult time adapting to the new family at first. The Anders' original plan was to maybe adopt a five-year-old — but like the movie shows, a couple can turn into an instant family. ~Emily Chavez
Special Features
Deleted and Extended Scenes –  Five bonus scenes are included, as well as audio commentary by director/writer Sean Anders and writer John Morris
Gag Reel – Behind-the-scenes goofs that had everyone laughing on set.
Mr. and Mrs. Fix it – Interviews with Sean Anders, Mark Wahlberg, Rose Byrne, and Octavia Spencer discussing the differences between Pete and Ellie, and the real life inspirations.
Kid Power – Meet the young cast, with auditions by the child stars and on-set behind-the-scenes footage.
The Anders Family: The real life inspiration and more – Showcases photos and stories of the real life inspirations, including Anders' family and other families.
And more! – Includes the music video by Isabela Moner "I'll Stay" and a surprising on-set wedding proposal from one crew member to another.
If you have seen Instant Family and would like to rate/review it, click here.