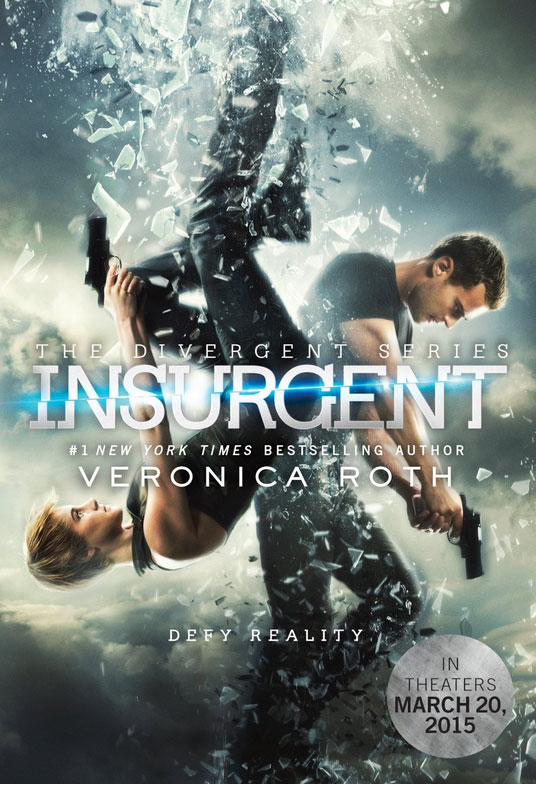 Insurgent is an exciting book – I first read it three years ago and didn't realize at first it was the second in a series. There is no explanation at the beginning about what happened earlier, so I recommend reading Divergent (which I eventually did read) first, but even without having read the first book, I couldn't put Insurgent down.
In this New York Times bestseller, Beatrice Prior, a.k.a. Tris, and her boyfriend Tobias, a.k.a. Four, have run to Amity (a faction of peace-lovers) with his father Marcus, her brother Caleb and fellow Dauntless member Peter to hide while they figure out how to proceed after Jeanine Matthews, the leader of Erudite, has a large number of people who belonged to the Abnegation faction killed.
Tris and Caleb were once members of Abnegation, along with their parents, both of whom were killed in Divergent, and Tris is haunted by her mother's death. She's also haunted by the death of her Dauntless friend Will. He was put under a simulation by Jeanine that made him act like a zombie in order to kill as many Abnegation as possible. When he turned his gun on Tris, she fired in self-defense, but because he was under the influence of a simulation, she now carries a great burden of guilt.
Unable to admit to anyone, including Tobias, what she has done, Tris goes through a period of self-loathing that puts a distance between herself and Tobias, who is in love with her and tries to protect her from herself.
Tris loves him as well, and wants to protect him from harm, but as she puts herself in harm's way, Tobias has no other option but to jump into the fray of whatever Tris gets involved in, even though she does it against his wishes.
There are a number of things that make the book different from the movie – there's no box that Tris' parents were hiding that holds secret knowledge that only a Divergent can open. In the movie, Jeanine has to capture a Divergent to get the box open. In the book, she wants to capture a Divergent (especially Tris, who has an aptitude for three factions) in order to study her brain, and then kill her like a lab animal who has outlived her purpose.
Tobias' father Marcus features prominently in the book, but is a relatively minor character in the movie. One major difference, especially if you watch the trailer, is that Tris uses guns with no problem in the film. In the book, she can't hold one without shaking and goes through much of the book without having one, which leaves her almost unprotected (she carries a knife some of the time), which is why Tobias worries about her getting into dangerous situations.
You'll have to read the book to find out the other changes, because discussing them here would reveal major spoilers. The new paperback features a cover depicting the film's stars, Shailene Woodley and Theo James as Tris and Tobias. It also provides an array of bonus materials, including a sneak peek at the first four chapters of Allegiant, the final book in the trilogy; an alternate beginning for Insurgent; Evelyn's speech to the Factionless; The Reality of Grief, in which author Veronica Roth discusses how she came to realize that losing her mother would be a huge loss for Tris and would affect her behavior and thoughts; Veronica Roth's faction playlists (songs that capture the qualities of each faction); and Insurgent Discussion Questions. This paperback edition Insurgent retails for $15.99 in Canada.
Click here to win a  copy of the book.
~Alexandra Heilbron