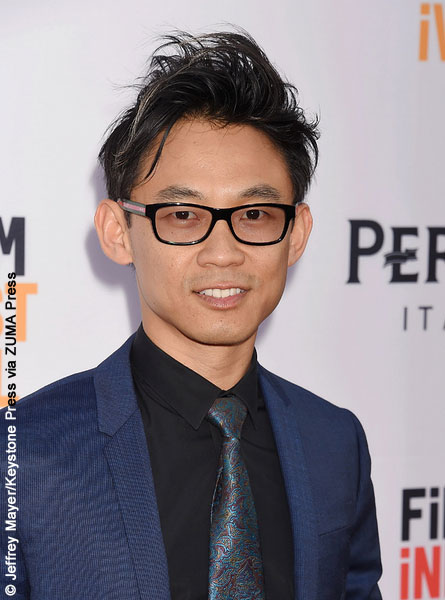 James Wan has become known as a master of the horror genre since his first feature length horror film Saw was released in theaters 12 years ago and gained a strong following.
Since then he's produced several sequels, as well as taking a break from horror to direct the action film Furious 7. He has also served as producer on a number of other films, including Lights Out, which opens this Friday (July 22, 2016).
We had the chance to talk to him about how he chooses his projects, what scares him and whether he believes in ghosts! ~Alexandra Heilbron
How do you choose which movies you want to produce as opposed to which ones you want to direct?
In the case of Lights Out, it was pretty obvious that throughout the short, the director was dying to direct that movie and part of the reason we reached out to him was to see if he would be interested to turn this short into a feature. The thing that attracted me to it more than anything was that how simple the concept was, and I loved the title. Then when I finally met with [the director] David [F. Sandberg], I thought, "You know what? This guy is smart, he knows what he's talking about, and he seems to get the genre," and so we took a chance on him. That was really the main thing and then it became a case of trying to find the right crew, the right people to surround this first-time director with the right kind of support and giving him the opportunity to do what he needs to do.
As a producer, how much input do you give on script or staging or is that left up to the director?
This started as a short, it was only like a two to three minute short, that doesn't really have any kind of story, it's basically just a set piece. So, you know that was something I was very gung-ho about, having more meat to the bone so to speak. We were very lucky to have someone like Eric Heisserer come on board to help flesh out the story. For me, the most important thing was the mythology of the character and hoping that Eric and David could pave a path and create a backstory that lives up to the concept of why the movie is called Lights Out.
The actors were great in this movie. What role does the producer play in the casting process? 
A very important role, you know, because David doesn't know the process and this is his first movie. Between myself and Lawrence Grey we were very gung-ho about surrounding the movie with actors that can really hold their own and, obviously the studio was very much in there as well, with wanting to give this movie a good caliber of actors that can make it really work. I had worked with Peter Safran on The Conjuring films and Peter had just produced a Nicholas Sparks movie with Teresa Palmer, and he told me how much of a genre fan Teresa was, and so when Lights Out came out, I was like, "Oh, let's give Teresa Palmer a shot and see if she'll be interested." Sure enough she was very excited for the project and she wanted to work with me and I'm happy she took this chance because she's amazing in the film.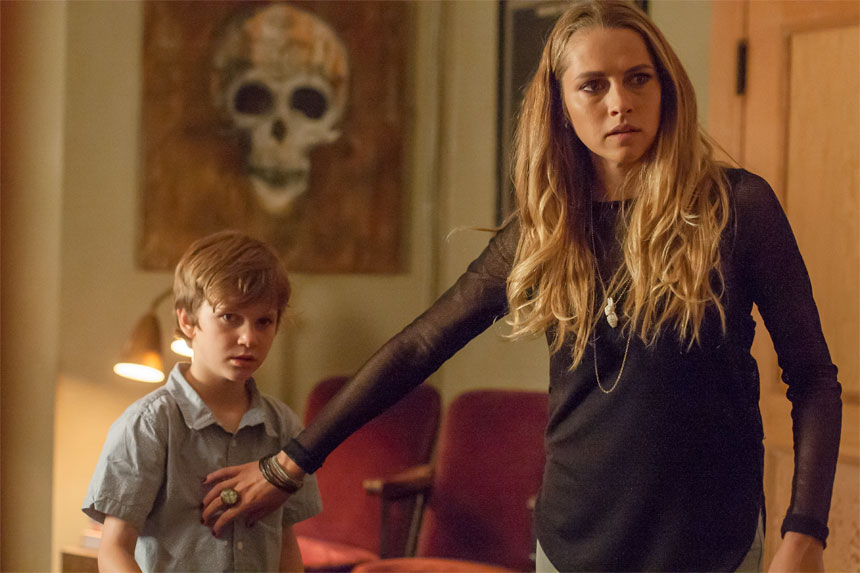 As a director or a producer, have you ever had to go to bat to get an actor that you really wanted for a role?
Yeah, you know if you really believe in the role, and you believe that an actor is perfect for it, I think you really have to. A lot of times you've got to sit down with them and as a director you explain your vision of why you think they would be perfect for the role and you sell them your vision and your idea and your concept for the film, and then your vision for that character. It's like with anything, you know it's like trying to get funding for a film, or trying to pick the best crew member. That's just part of the process. The actors are such an important part of the final movie.
How did you first get interested in horror?
I'm just a fan of the genre. I'm a fan of all kinds of movies, but the horror genre is one that I've seen that all of my idols have done at the start of their career. You know, you name it, from people like Martin Scorsese to Steven Spielberg, to James Cameron to Francis Ford Coppola, they all started out making horror films, and Sam Raimi, he's gone on record to say he did horror to break into the film business and so I thought, "You know what? If it worked for these guys, I'm going to give it a shot," and it's been very fruitful for me so far.
Do you have a favorite classic horror movie?
Oh, there's so many great horror films out there, I love so many of them for different reasons. I love the low budget ones, they're very creative. I love the classic big budget studio films that they used to make back in the '70s like Jaws. Jaws is probably one of my favorite horror films. Yeah, there are a lot of them, but I would say Jaws is one of them.
As a master of making horror movies, what is the secret to making an audience jump?
There is no secret to making an audience jump, but there is a secret to making great jumps. If you just want the audience to jump, you can even do it in a comedy, you can film them walking down the hallway and put a loud sound next to their head, and the audience will jump. But great jump scares are much harder to do and that is something people take for granted and that is something a lot of people are very dismissive of and they don't understand. They think that just to make something scary or jumpy, it's just cranking up the soundtrack. But there's a lot more art form to that, and true horror aficionado connoisseurs will be the first to point out the difference between great jump scares and just your generic jump scares. So I like it when people can differentiate between the great ones and not-so-great ones. For someone like myself, I pride myself on coming up with unique ones that we haven't quite seen before.
I wanted to ask you, because this one is about a ghost, have you ever seen a ghost yourself?
[Laughs] No, not really. You know, I've seen things that I'm not quite sure what I saw, or I don't know how to quite explain what it was, but never to the extent like the scary ghosts we see in the movies I make. And let me tell you I never want to see the crazy shit that I come up with. Yeah, that's the last thing I want. I get terrified very easily so something like that would be the last thing I'd want to see.
That's funny! So you do believe in ghosts?
I like to think I do, I like to think I'm pretty spiritual to some degree, and if you believe in the Holy Spirit, guess what? There are other spirits that are not as holy [laughs]. I like to think that I'm open-minded enough to believe in things that my eyes can't necessarily see. Just because they're not there doesn't mean they don't exist. I think that there are things that exist on a plane of existence, that are greater than what the human brain capacity can compute.
Can I ask about Aquaman? Has it started filming and what's the screenplay like?
I'm still in the early stages of that. It's a long process and it's something I do not want to rush into. I told a lot of people involved that if you want me to to work on this, I want to do it right and take time to make it right. You know, it's a big film, a very involved process, so you know, baby steps. I think it's important to get it right.
Definitely, that makes sense. Thank you so much for talking to me today and thank you for this movie, it was very enjoyable.
Oh cool, thank you Alexandra. Thank you so much.
Lights Out opens in theaters on Friday, July 22, 2016.