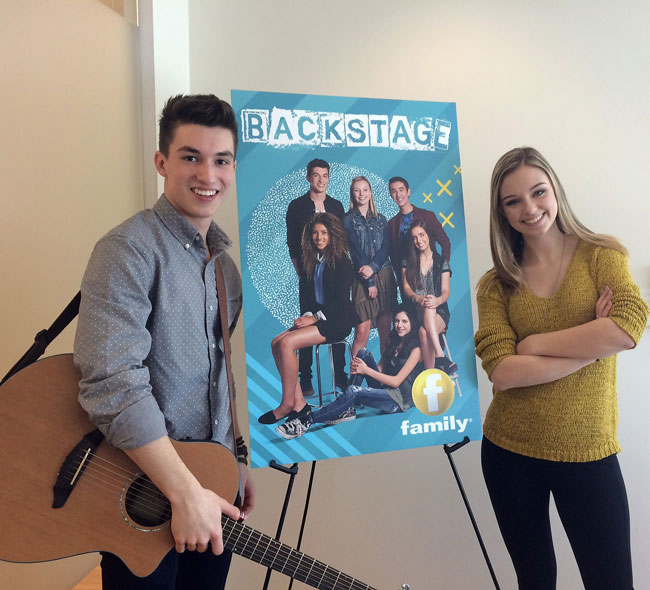 Set at the fictional Keaton School of the Arts, the new Family Channel series Backstage depicts the lives of a handful of very talented high school students studying various art forms, from singing to ballet to digital sound mixing, all while dealing with issues of friendship, love, rivalry, and, of course, just being a teenager.
Tribute sat down with the stars of this new off-beat teen drama, Aviva Mongillo and Josh Bogert, to discuss the upcoming season, their characters, and how their lives have changed since being on the show. ~Shelby Morton
What can you tell us about the Backstage world and what will draw young people to it? 
Aviva: Well this show, in particular, features a lot of art and all of it is real. All the kids in the show can really do everything that they're doing, and that's what makes it so awesome. And the chemistry between the characters is unreal. We all get along really well, just by chance. It was one of those flukes — we all just really play off of each other in a way that kids are going to be able to relate to, because it was just effortless.
Josh: Also, because it's so versatile. Whereas some shows will just focus on dance. The show encompasses so many art forms, that everyone has something to relate to. And also, these are real life situations.
Aviva: Yeah, it's just teenagers just going through high school and the real struggles that they go through. The real things that high school teaches you. So, I think a lot of kids will just be able to relate to going to high school and being like, "Everything is so new!"
I was creeping your YouTube channels, and you're both really talented. Tell us a little about your background with music.
Josh: Well, music has been a part of my life since before I could remember. I started taking violin when I was four. I played violin for a long time, seven years. And after that, I decided to switch to guitar. And then from there, it went to all the other instruments. And of course, singing has been a part of that for a very long time as well. I don't know, music is just, kind of, what I do now. It's a huge, huge part of my life. It's always been there no matter what, no matter what's happening.
Aviva: I was never really into music until I was about 10. Before then, it was acting, drama. That was, like, my thing. And when I turned 10, I went to this karaoke party with my friends, and some of them were like, "Hey, you can sing" and I didn't agree with them. I was just like, "Oh, cool, yeah, that's awesome." But then I realized that I actually just really liked to sing. So I started taking vocal lessons when I was 10, I started taking guitar lessons when I was 12. And then the ball was just rolling, I started to do all sorts of stuff with that.
That's what drew you to the show then? The musical aspect? 
Aviva: I audition for anything my agent can get me. I really just love acting. [After an audition] I'm so used to putting it away and not hearing anything. So this one came back. And I was so excited that there was singing on it, too. And I love my character. It was really cool.
Josh: The reason I really wanted to audition for this show is because the character was musical and that it sort of suited my comfort zone, while still presenting a challenge, because acting is so new. But it was still a place of comfort because there was still that music side to it. I find it easy to relate to Miles because we're both very dedicated musicians and it was a really good environment for me to be in for my first show.
You have won an award, though. 
Josh: I did, yeah, for a commercial. The Volkswagen commercial.
And how is that different? What's different being the lead of a show? 
Josh: Well, I didn't have to talk in that commercial. I kind of just had to sit in the car. But it was fun to film. It was fairly small crew. Two days to film that 30 second commercial. The TV show is so fast paced, but for a commercial, you do the same thing a hundred times. It's interesting the difference between what goes into making a commercial versus what goes into making a TV show.
Aviva: When I showed my friend a picture of me and Josh together, she was like, "That's Tiguan guy!"
The show is shot in Toronto, tell us about the school where you shoot.  
Aviva: I remember when we got the school, the first day, we did a table read. So we got a little tour. And we were like, "Oh, this looks pretty normal, it doesn't look like an art school." It was an older school. It didn't look like much. I was kind of disappointed. But then we came back two weeks later and it had completely changed. There was music all over the lockers, they had completely redecorated and moved everything.
Can you describe the experience of shooting there? 
Aviva: It was crazy. We shot like 30 episodes in a summer.
Josh: It was so fast paced, because we had two film sets going at the same time. And so you'd have to run back and forth, it was absolutely nuts most of the time, because we were trying to get so much done in such a small period of time. We only had the school when school was out.
Aviva: The way I can describe that summer, was just running. Always running. Always rushing. Always "go, go, go!"
Josh: It was so fun, though.
You mentioned that you have a lot of chemistry with your co-stars, did any of you know each other beforehand? 
Aviva: Josh and I met at Grayson Matthews, which is where they do the music for Backstage. We met a few days before. Most of us were just acquaintances.
Josh: Right away there was this connection. And then by the end of the two months, it was like we were a family. It almost feels like I've known these people for years. Almost my whole life, when really it's only been two months.
Aviva: At the end of the summer, it's crazy how it feels like we've known each other our entire lives but it also feels like it went by in a week. I spent most of my time with Josh, like more than my own family, it was so weird to not be with everyone when it finished.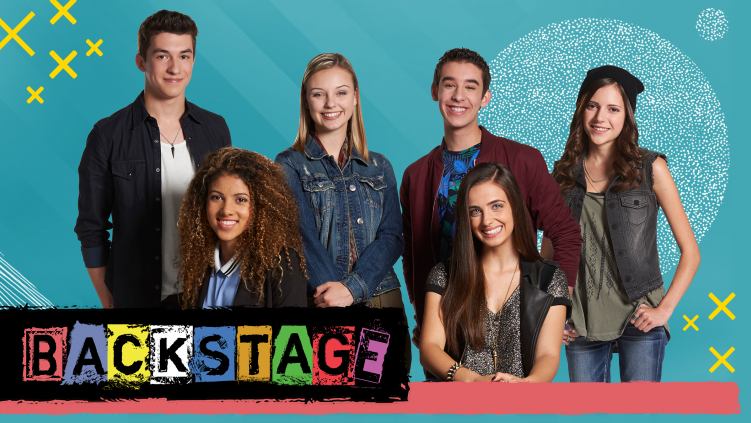 Aviva, what can you tell us about your character, Alya, and her trajectory throughout the season? 
Aviva: My character is learning things about herself just like the viewers will be. She's so painfully normal, and just terrified of high school and of making mistakes. She's going into this brand new environment and she's trying to find out who she is and where she belongs. And, like I said, the viewers are going to be able to see her go through everything at the same time she's learning about herself and learning about the people at her school and what she's capable of.
She's already got a target on her back, too. 
Aviva: Oh yeah, she's got a couple of those. There's definitely lots of drama, lots of comedy, and it's really entertaining to watch.
Josh, can you tell us about Miles? 
Josh: At the beginning, Miles has a big secret. At first, he comes across as really shy and quiet. He doesn't want to open up to people. He doesn't want to let people in. That's something that I've never really experienced before and it was interesting to be able to play that character, because Miles and I have so many other things in common. There was something there for me to experience as a new side to myself. Miles is a very dynamic character and by the end of the season, he's very different. The school sort of brings out different things in each character and the other people they're around bring out different things. And so there's a lot to see there in how the characters change.
You said you both spent a lot of time together off-screen. There's obvious chemistry between you two onscreen, specifically when you freestyle sang together, how did you create that chemistry? 
Aviva: When I met him, I just felt like I just knew him. When we first met, we sang "Home" by Phillip Phillips. I don't know, I just feel like I've known you my whole life.
Josh: There's a way of communicating what you want to say in that song without speaking. That only works when people know their craft and know that language. And we do. It kind of works that way. If Aviva starts singing a melody to a song and she knows what key she's singing it in, and I know, in my range, that I can sing a harmony to that, she knows that I'll do it. It's a sort of communicating that comes with experience.
Can you tell us anything about the possible budding romance between Alya and Miles? 
Aviva: I can say that Alya thinks very highly of Miles at the beginning of the season. He's very mysterious, he's a musician, he can sing, he wears cardigans. Who wouldn't like him, right? Alya has a little bit of a crush on Miles. It definitely becomes more obvious as the season goes on and I guess, you'll see what happens there.
Josh: No spoilers. You'll have watch and find out.
How have your lives changed since this all began, and what's next for you? 
Josh: Ever since I was little, the dream was to be a famous musician. I've been performing at cafes, restaurants, festivals. And then I got the show. And this is what all that has prepared me for. I get to use all this experience in a way that is the next step forward. So many things have come out of this — I've made contacts at Cardinal Point Music, a record label that both Aviva and I signed with. I'm working on my first single.
Aviva: Me too. We're going to have a battle of the singles.
Josh: Oh, it's on. But I'm grateful that I was able to have this experience, because it's changed my life completely.
Aviva: I've never felt a true connection to people. I really do think it's because I was so into drama and music. I'm also a very sensitive person. So in a normal kind of high school setting, a lot like Alya, I never really had a true connection with any of my friends. So meeting this cast, I was so surprised at how many people I could truly relate to and have a connection with. That kind of changed me and I became the best version of myself and I learned what that was. I'm just working towards always being that person and always being the best that I can be, for my friends, and for everybody. Another thing that's changed a lot is being at school. It's cool to have people come up to me and say they've seen the trailer and congratulate me, and it's nice to have the support of people who don't even know who you are. So that's changed, too.
Two fun questions, what's your dream role? 
Aviva: I love anything that challenges me. I was in a theater production of Pippin, and I was Pippin. I was a male, I was a prince, it was something that was completely out of anything I imagined that I could play.
Is there a male role you'd like to play? 
Aviva: I love the roles of jerky, rude jocks. I'd love to play a jock. Or Joey from Friends.
Dream role, Josh? 
Josh: Miles is, like, the ideal character for me. Anything that has music in it. Or Star Wars: Episode VIII, anything in that. It'd be cool to play a Jedi.
Who's your dream co-star? 
Aviva: Oh, Leonardo DiCaprio.
Josh: Excuse me?
Aviva: Josh Bogert.
And when are your singles coming out? 
Aviva: We have no idea. It's in the process.
Josh: There's no date yet. But coming soon!
Backstage premieres on Family Channel tonight (March 18, 2016) at 7 p.m. ET/PT.