You may recognize him as Rico from Disney Channel's Hannah Montana, but 19-year-old Moises Arias has moved on to bigger and more mature roles since the hit show ended in 2011. Moises, who can be most recently heard in the summer flick Despicable Me 2 and seen in the film adaptation of Ender's Game, caught up with Tribute to discuss his role in Despicable Me 2 and life after Disney.
What drew you to the part of Antonio?
I really enjoyed the first Despicable Me so getting a chance to read for the second one was a big opportunity. Not only that, but to really know the character. My parents are Colombian so I've always made fun of them and it was a prime opportunity to play with that in this movie.
In the movie, your character doesn't really get an ending. Do you have any idea where he went?
Actually, what's interesting is when I first the script and initially at the beginning it was a different story so you actually knew where the character went, but it kind of leaves it in a "no-man's [land]" and not knowing where he is. He's just Antonio, he's cool. He's somewhere out there getting ladies. That's what Antonio's about.
Were the voice recordings done individually?
Yes, so I never actually met anybody that was in the film prior to the premiere. At the premiere is when I met everybody and at the after party. At events like that you meet up with them and it's really cool. It's really funny to fall in love with Margo – with a person that you've never actually met.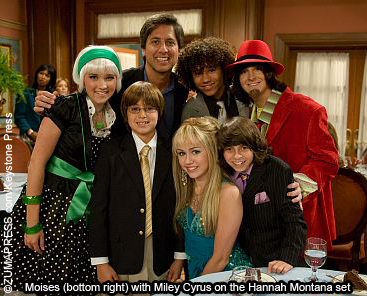 You've worked on several different Disney shows such as Wizards of Waverly Place and Hannah Montana, which was your favorite?
I mean I grew up on Hannah Montana so you could say that's been my favorite or most impactful. I was on that show from when I was 10 years old to 16 and in between that I got to do all those other great projects such as Wizards, Everybody Hates Chris, and just a bunch of other TV shows and films. They're all very different and really help you grow as an actor.
Growing up on screen, did you have some sort of personal life? Did you go to school?
I don't really think that school is a personal life. I definitely had a life but I went to school for maybe a month or two and it was horrible. School just sucks. I've been home schooled from sixth grade to finally graduating. I went to school all of elementary in Atlanta. I mean it wasn't much different. On set I had my friends, outside of the set I had my friends. I don't really look back and go "Aw man, I wish I had gone to school."
How did you transition out of the Disney image and onto bigger and more mature projects?
Well the main thing that people mess up on is denying the fact that they were on something like that. A lot of people were embarrassed or something. That's probably one of my favorite characters that I've ever done, to think that a lot of people have grown up with me. I think one of the biggest things is finding characters. I mean, Rico is a character. Biaggio, Bonzo and Antonio, they're all characters. I think it's really just quality over quantity as they say.
Do you have any upcoming projects?
Right now it's very difficult to find characters. I've gotten blessed with all the years that I've been acting. So it's really just waiting for that specific character that will challenge me as an actor and not only that but I've also been directing a lot. I directed a video for Miss Jada Pinkett Smith and that was really interesting, really fun. I've been making videos with my brother since I was ten and I never really thought of a directing career but now I'm kind of inclining towards that. Probably one of my biggest dreams would be a director/actor, but really I'm not planning anything. We'll see what comes my way and what creativity I am feeling at that moment.
What advice do you have for young, aspiring actors?
First of all, like anything, you have to love it and don't let the word love just go over your head, like really you enjoy it and you want to be there. It's actually very hard work. At 10 years old I worked 9 ½ hours a day for 100 episodes so it's a very, very difficult career. It challenges you, your mind, pretty much your psychology, it's a very difficult career but if you enjoy it and if you are really in it for the craft and the art and don't mind waiting because it's really a waiting game. Then I really think that everybody has an opportunity.
Despicable Me 2 is available on DVD and Blu-ray on Tuesday, December 10. ~ Brie Davis