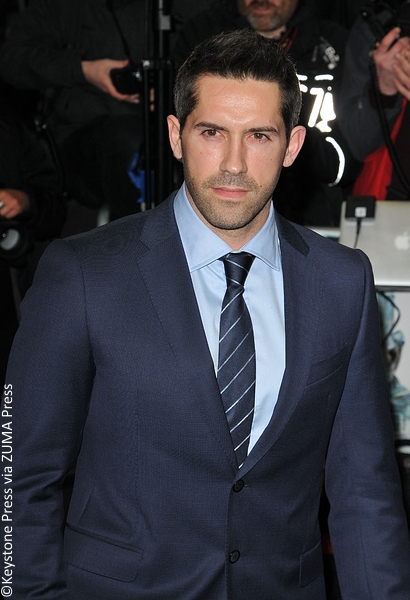 Hard Target 2 follows Wes "The Jailor" Baylor (Scott Adkins), an MMA fighter whose career is derailed following a deadly tragedy in the ring. He retreats into seclusion, only taking under-the-table fights in order to earn extra cash. When he's an offered a fight in Myanmar for $1 million by a mysterious man named Aldrich, he jumps at the chance. He travels to Myanmar ready to for a knock-down bout, but soon discovers that it's not a fight at all, but a hunt. Now he must run for his life through the dense jungles of Myanmar in order to escape a group of rabid human hunters.
With the release of Hard Target 2 on Blu-ray and DVD today, I sat down for a phone interview with its star, Scott Adkins, to chat about the flick, and some of the more memorable moments he had filming it. ~Shelby Morton
I really enjoyed the film! Great action and stunning visuals. Kind of a throwback to the action films of the '80s. I read that you are a fan of Jean-Claude Van Damme. What was it like rebooting another story that he made so popular in the 1993 original?
At first I was a bit resistant to do it because I've done it before, and I didn't want to be seen as someone who's trying to ride on the coattails of Van Damme. I was a huge fan [when I was a kid] and still am, and when Hard Target came out, Van Damme was my favorite action star, and John Woo was my favorite director, so I definitely was first in line for the film. I was a bit nervous about doing it, but then I read the script and I actually thought to myself, "If they don't get me for this then I really don't know who they are going to get because it was almost tailor made [for me]," so I decided to do it. And it's my first time working with [director] Roel Reiné.
And how was that?
It was a very pleasurable experience working with him. He's very prepared as a director. He needed to be because we shot it quite quick. He's very proficient with all the cameras, he's his own DP, he operates the cameras, he flies those drones and stuff so we had those really great shots of the jungle and of Thailand. It was a fun shoot! It was quick and it was hard but it was fun! I enjoy Thailand as well.
It looked like fun. The fight scenes were pretty stellar. I know you studied martial arts and kickboxing, so they must have been a piece of cake for you, right?
It's never a piece of cake — I can tell you it's hard work. Especially in the heat in Thailand, on that bridge, that was savage. We don't have as much time as you would want for these fights as well so it's very stressful. You know you're trying to get the shots before the sun goes down or comes up and it can be difficult, stressful work.
You did go a little Bear Grylls in the jungle, practicing survival techniques, as well as dodging bullets, explosions, and motorcycles. That must have been pretty physically taxing…
Yeah, Roel was like, "Scott, I really enjoy working with you because I've just been sitting on my a*s the whole film." But yeah, "You're welcome."
Your character went through something pretty traumatic early on in the film. How do you think this experience informed his determination to live?
That's an interesting one because actually the way we were approaching it, it's almost like he's a bit desperate and actually hasn't got a lot to live for. He's kind of wasting away drinking himself to death. He's doing these fights because he feels that he needs to do some sort of penance to atone for the sins of what he did to his training partner, his friend. But then he's put in this position where people are trying to kill him, and he actually realizes that he's a fighter through and through. When push comes to shove he's going to fight back, he's not going to throw his life away especially for these bad guys. So it was interesting in that respect.
Is there a moment that stands out to you while filming in Myanmar and Thailand?
There were a lot of moments to be honest, everyday was completely different. It was really hot, but it was very enjoyable because one day I was working with all these elephants. I have to jump into this elephant, and literally before they said "Action!" it took a massive dump then pissed all over where I was supposed to land. So that was fun. And then the next day I'm in this cave and these bats were shitting on me, and then the next day there were these pigeons and they were all shitting on me. So there were three consecutive days of animal shit and bird shit.
But there was a day I was in a speedboat and I was doing all the speedboat stuff myself. And I was up in the helicopter, [shooting] fight scenes on the bridge, rolling down the rocks in the jungle, running through the stream and everything, but it was good fun. I enjoyed it. Lots of memorable things… but mostly the shit.
That would be memorable for anybody. I think audiences will be surprised to learn that you aren't American, especially from this movie.
Does that mean I did a good job with the accent?
You did! How does one perfect that?
I've done it a few times now. If you're going to be an actor you have to nail that American accent pretty quick. So I've had many tries and each time I try, I get a little bit better. And I'm getting up to the 20th now, the amount of times I've done the American accent so, I'm glad to hear it's working out for me.
It is! I don't think audiences would have any clue that you are English.
I'm okay with that. I'm pretty good with accents!
But I'm assuming you do get to utilize your English accent in Doctor Strange?
You're fishing. You're fishing for stuff. Even if it's just an accent, "He's English!" It will be headline news. No, I can't saw anything about Doctor Strange at this point.
Haha, nothing at all? 
No, I'm not going to tell you what accent I have in that film.
Fair enough. But you are definitely in it, we know this. Are you excited for it to come out in November?
Yes, I am in it, and I do speak. I am very excited, yeah, of course. I was a huge fan of Marvel comics when I was a kid. My Nan, my grandma, would buy me Marvel comics from a very early age because she felt like I wasn't paying enough attention at school, so in a way to get me to learn to read better she would buy the Marvel comics. And I read them for a very long time. I didn't read Doctor Strange but it's really good to be involved.
Other than Doctor Strange, what's next for you? When can we see you again on screen?
Okay, so we have Eliminators, and I believe it's December. I'm really happy with this film. It stars me and a WWE wrestler called Wade Barrett, "Bad News Barrett." It's a WWE movie but we shot it in London with a British director, British crew, and it turned out really good. And I also have Boyka: Undisputed 4 coming out which is a really popular martial arts franchise that I lead. People love that character, Yuri Boyka, and I'm really excited about it. I think that's going to be early next year.
Excellent! Definitely have to check those out. Well, thanks for chatting with us!
Thanks for the interest, and I'm glad you enjoyed the movie. I worked hard.
I did!
Great, thanks a lot!
Hard Target 2 is available on Blu-ray and DVD today (September 6).