Interview with Hurricane Bianca star Bianca Del Rio and director Matt Kugelman
By Tribute on June 3, 2016 | 1 Comment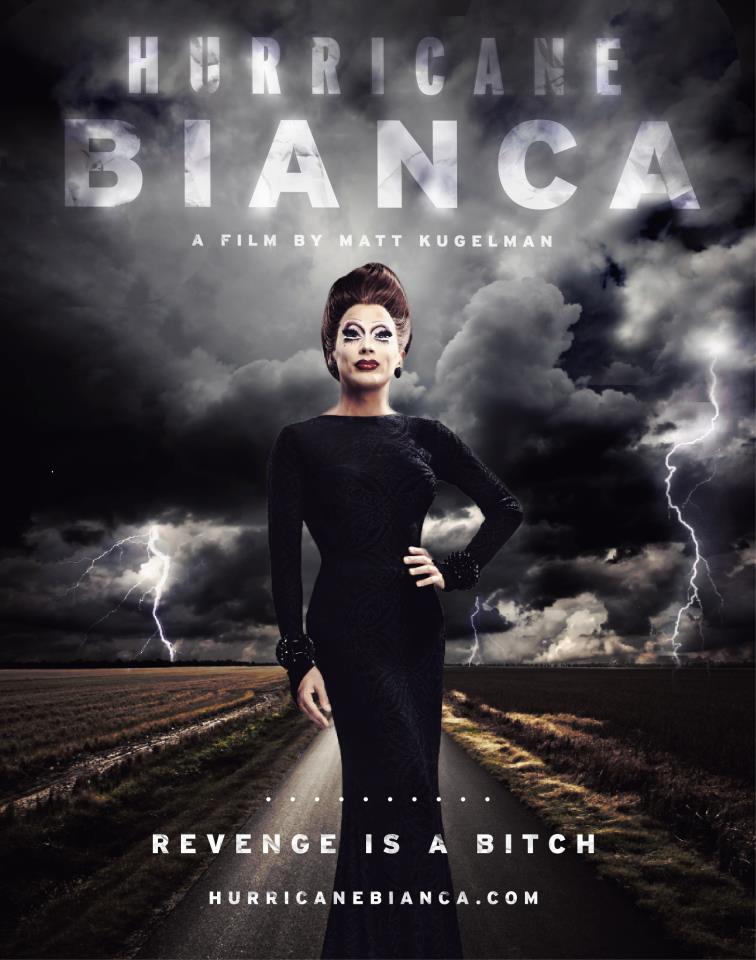 The highly-anticipated Hurricane Bianca tears onto the screen tonight at the TIFF Bell Lightbox in Toronto for its sold out world premiere.
As part of Inside Out, Toronto's LGBT film festival, Hurricane Bianca is a revenge comedy about a gay teacher named Richard who's relocated from New York to small town Texas for work. His time as Richard is short-lived, though, when he's fired on account of his sexual orientation. Not one to take discrimination lightly, he decides to make a sassy return as the sharp-tongued and utterly hilarious Bianca. Batten down the hatches!
Tribute's Matthew Pariselli sat down with the film's director Matt Kugelman and star Roy Haylock, whose alter ego Bianca Del Rio is the popular drag artist and season six winner of RuPaul's Drag Race. They chatted about the inspiration for the film, how Roy and Matt met, not having a $42 million budget to play with, astrology, and, naturally, The Golden Girls.
You met at a drag show in Chelsea. How did your first encounter unfold?
RH: I was drunk, but I do remember Matt talking to me.
MK: I messaged you on MySpace! (laughs)
RH: Right, MySpace! I got a message from him, just the usual gay meeting of, "hello, hello." But one of Matt's conceited friends was getting ready to celebrate his 30th birthday and Matt agreed to make a birthday roast video for him. His friend wanted the whole video to be about him and Matt thought, "Well, I'll do it as long as I can get some people here to make fun of him." So then he hired me to be his ex-girlfriend and I just went off on a tangent, we filmed this short thing of me being nasty and hateful. That was the start of our relationship. Basically he had me come to Chelsea while he filmed me saying hateful things. That's kind of been our theme.
Okay, Hurricane Bianca — what was the inspiration for the film?
MK: I was inspired by this one right here (looks at Roy)! I wish I had a better story, but I was new to New York, I had just come out of film school and wanted to make a movie. I met him — I was drunk — and was like, "Oh, this would be a good idea."
RH: What's funny is that everyone thinks it's my movie or it was my idea, but really it's all his. He was like, "I have this idea, let's do it." And I was like, "Okay," thinking it would never happen. And then here we are, it's happened and it's kind of nuts. But he's that sort of person, he makes shit happen. I will talk about it for 40 years but he'll actually make it happen.
Roy, what was your first initial thought when Matt pitched the idea of Hurricane Bianca to you?
RH: Well I'm the lead, so I thought it was magical. But no, I was very interested in doing it. I thought it sounded great. But in my brain, I also thought, "We're never going to get all this money. How is this possible?" Matt comes in and says, "Let's try it." And I'm like, "Oh, okay, like that'll work." But then sure enough it works, so I need to stop being such an asshole. I think that's my own thing. I think it's why we work well together. But I didn't think it would happen so quickly, so professionally, so soon.
Now that you're here and the world premiere of the film is tonight, how do you feel about finally releasing your work?
RH: It's a huge relief. For me, I was involved with the back and forth process of the writing and the different versions of the screenplay. I had 18 days to do all that I had to do because of my schedule. So I basically went in, did it, and got out. It was great for me, but daunting and I didn't have much time to think about it. I couldn't over analyze it. But all that was just the beginning of the madness for Matt because there was also the editing and color correction and all that kind of crap that I really didn't think about. So he's been living with it far longer than I have. But it's great. People can stop asking me, "When's it going to come out?" Everyone thinks we're George Lucas and had $42 million and 6,000 people working on it. So the process is a lot. But Matt's probably most happy.
MK: It's funny. Facebook gives you those memories that pop up, and our first fundraising party was exactly three years ago this week. It had been a process up until then, but that was when we kind of announced it to the public. "This is going to happen, no matter what scale we end up having, this is going to happen."
RH: (To Matt) You were also living your life. In between that fundraiser and the shoot, I went and did Drag Race, I was travelling, and you were dealing with the normality of it.
MK: Right. That was the week before you left for Drag Race.
RH: Yeah, I had just found out.
MK: No one knew at our party. We were having this big party, trying to fundraise, saying, "Help us make this movie!" And Roy's secretly packing.
RH: It's such a weird process because you can't say anything (about Drag Race) but you're excited. And then when you can say something, you don't want to say too much because you'll probably be the first one to go home (laughs).
How do you hope people will receive the film?
MK: We hope they laugh, for one thing.
RH: I've said it to other people, but it's a very serious topic that's done in a comedic way. For me, a lot of the films I've seen that are LGBT related are either completely heart-wrenching and too serious, or so insane that they're impossible to believe. But this falls in the middle. It's a serious topic that's happening in America and it's done in a fun, light-hearted way without being too preachy, without beating you over the head, going, "This is the moral!" It's not about that. It's not like an episode of The Golden Girls. You know, by the end you're like, "We know, we know!" It's done in a funny way and that's what I like about it. If it gets too serious for a minute, it moves on to something else. You're not sitting there with a razor blade going, "Ugh!" And it's got a lot of action too, which I didn't realize until I was there.
MK: We really put him through hell, especially in the last two days. It was accidental, but it was perfectly timed (laughs).
In a surprising number of states in the U.S., it's legal to fire someone based solely on their sexual orientation. Can you speak to that?
MK: I think it's 29 in total, definitely more than half.
RH: It's nuts. I didn't know about it until Matt brought it to my attention. It was interesting to find out about it. People's assumption of what our film is about comes from its title, and not that it's misleading, but people don't necessarily know what my motives are to become Bianca. When they find out, and they learn about what happened to my character, they're like, "Oh! You're shitting me. That can't be real!"
MK: People kind of live in a bubble. We live in New York or L.A. and it's not legal there, but for some people out there it is. They can get married but they can't have jobs and feed themselves and their families.
RH: It's insane! But it's typical, isn't it? Typical of America? In one state, this matters. In another, it doesn't. It's crazy. This isn't about whether someone can use a certain bathroom. These are jobs we're talking about! People have to work. And what if you're passionate about what you do? Which is the case for my character, who shockingly loves being a teacher. So he does want to seek revenge but he also wants to prove a point in the film.
People in Toronto are so excited about the world premiere that tickets sold out and an additional screening had to be scheduled to accommodate festival goers. What's your response to that kind of enthusiasm?
RH: I think they're tired of hearing us talk about it, so I guess they're just ready to see it (laughs). It's very flattering, humbling and I can't wrap my brain around it. It hasn't registered because I haven't seen the final cut. I haven't been in a room with a bunch of people, I haven't seen it on the big screen. I'm excited to present it to everyone who donated to it and who's been asking about it. It's exciting to hear that response.
What are your favorite memories from the shoot?
MK: For me, it was totally just hitting the ground and running, never stopping. It's the most I've ever worked, the hardest I've ever worked, but the most fun I've ever had. It was a blast.
RH: When you grow up and say, "This is what I want to do, I want to act in a film," it never really happens. Hardly anyone gets to be the lead in a movie. That's my brain, anyway. But then this moment arrived and I was just doing it, I didn't have time to think about it. I told Matt, I just assumed it would be me, him, a flashlight and someone else with a camera. But it was professional! People were there making sure it was right, asking, "Do you need anything?" And I'm like, "Yeah, to learn my lines!" But I was impressed. It takes a village to make something like this happen. And learning from Rachel Dratch was a riot. She's just as funny off camera. Alan Cumming, Margaret Cho, RuPaul, William Belli, Shangela, Alyssa Edwards — everyone was great.
MK: There was a moment on the first day, pulling up to a roller skate rink at 5 a.m. I knew what to expect having been there prepping, but I also didn't know what to expect. We pulled up and Roy was saying, "Why are there so many trucks here?"
RH: I thought the roller skate rink was still open, that we were going to film around all these people, and Matt's like, "No, that's the crew."
MK: It was that moment when I got chills. It was the coolest moment, like walking into battle and knowing we had a support system there to help us.
RH: It was insane. I didn't imagine that. I'd been on sets before, but it was fascinating that everyone knew the script, what needed to be done and even costumes. For me, as a drag queen, I usually bring my own stuff, make it all work, pin together something someone else created that's a nightmare. But everything was laid out, labelled. I thought, "This is amazing, I could get used to this."
Are there any things you're looking forward to doing or seeing in Toronto?
RH: I've been here a couple of times and I'm coming back for Pride soon, but this was just a nice surprise. It was great that it worked out with my schedule because I love the city. It's clean, the people are nice, they show up (laughs). I'm not picky, but that says a lot. You don't want to go to Akron, Ohio because none of that happens. Sorry Akron, I love Akron, Akron is amazing! But yeah, Toronto is a a fun town. Any crowd I've had here is great.
MK: I can't wait to see the finished product with an audience. We've tested it before, but it wasn't with final sound, final special effects, the credits were just stills, it actually said, "Use your imagination." So I'm excited to see the real thing with a real audience that's not just half of our friends.
RH: I'm scared to see my face that big.
Roy, you have a tour coming up with a stop in Toronto scheduled for October. Want can you tell us about it?
RH: I'm excited. It's my new show called Not Today Satan. I just started it in Australia. I did Melbourne, Perth, Adelaide, Sydney, Brisbane and Canberra, which is the capital of Australia. Apparently no one lives there. But it was the first show to sell out, and when I got there, people were like, "Thank you for coming. We needed some life." I'm doing Amsterdam and Norway and everywhere in the U.S. and then Toronto too. This time around, the dates were much closer together for the U.S. tour. And I'll be on a bus! That'll be magical (laughs). But my own bus, I'm not going to be on a public bus with my bags. Although that would be something to film.
Is there anything you're working on at the moment, Matt, that you can discuss?
MK: I've got some ideas for other projects, but I'm focused on Hurricane Bianca right now.
RH: And spending time with his drink.
What sort of preconceptions do you have of Canada or Canadians, if any?
RH: I always say Canada and Australia are very strict when it comes to customs and immigration, so I stand in a line much longer. I always expect to wait when I come to the airport. But people often say, "What's an audience like here, how is it different than say, Poughkeepsie?" And I always say, "It's three drinks. Three drinks for them, three drinks for me and everyone's laughing at the same shit." I don't have high expectations of anything, of myself included. So I'm always happy when people are pleasant and laugh. But people get hung up on finding out these differences. It's like astrology. "I'm a Cancer. I'm a Pisces." I don't know the difference. You're annoying and I don't care if that's what you're curious about. But I like Canada. It's clean, the weather's great, I'm happy. No complaints.
Hurricane Bianca screens at 7:45 p.m. on Friday, June 3, 2016 and at 8 p.m. on Sunday, June 5, 2016. The film has been acquired by Wolfe Releasing with theatrical, DVD, VOD and digital platform releases scheduled for fall or winter 2016.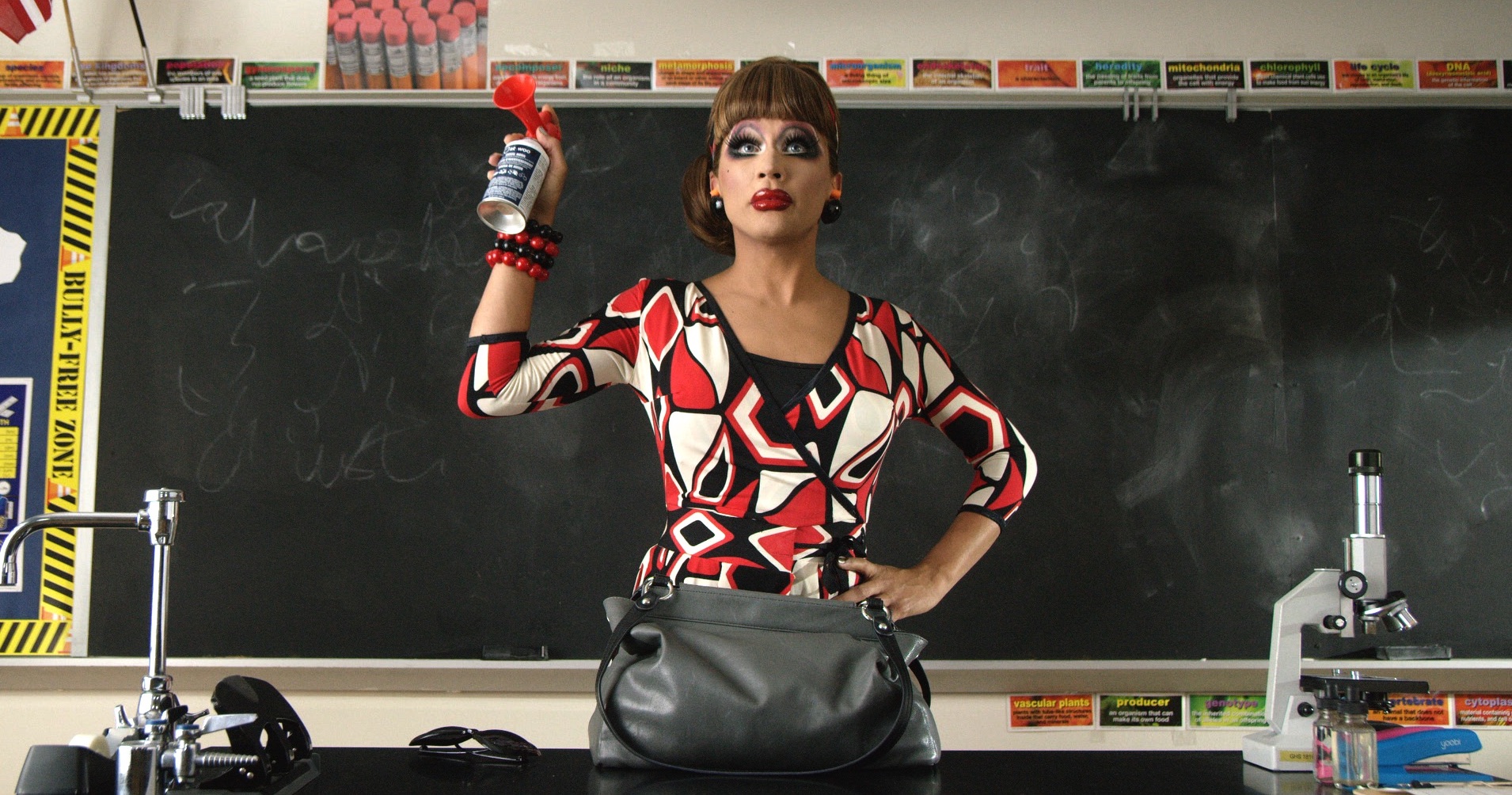 ---
---
---
---
Similar Articles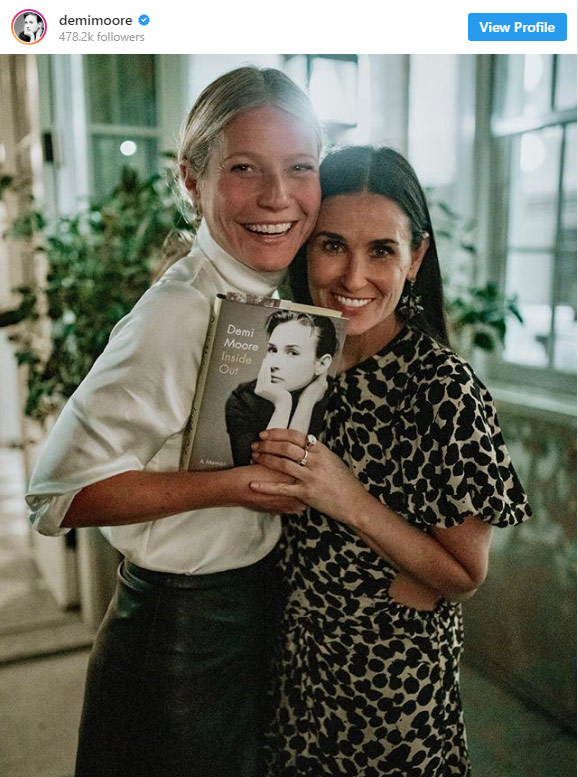 September 25, 2019 | 23 Comments
Demi Moore's memoir, Inside Out, released Tuesday. It offers revealing anecdotes about her life, including her alcohol relapse, blaming it on Ashton Kutcher.
---

May 25, 2016 | 4 Comments
With Inside Out on the edge of its 2016 run, we've reviewed a handful of films for you and picked five we think you'll want to catch in the 11-day festival. Read on and get in line!
---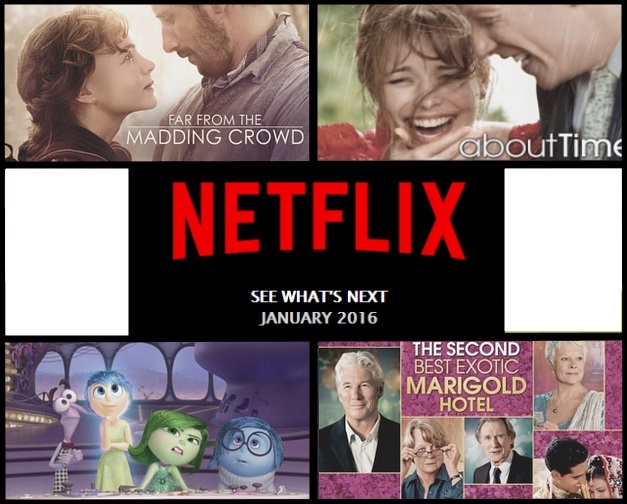 January 5, 2016 | Leave a Comment
Here's what's available on Netflix this January 2016 – more nail-biting drama, action packed thrillers and never-too-cheesy rom-com flicks, as well as over 16 new shows, including Marvel's Luke Cage and Fuller House.
---