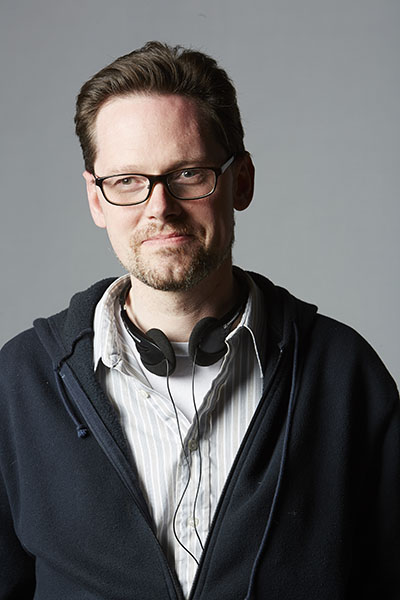 The Dark Stranger releases in Toronto, Calgary, Vancouver, and Halifax today. To find out more about the horror drama about an eerie spirit haunting a young artist through her graphic novel, we were honored to be able to talk to the film's director, Chris Trebilock, by phone.
He told us how the idea of The Dark Stranger was created, which scene is his favorite in the movie, about his love of comic books, and he discusses future upcoming films we can expect from him.
I'm a huge horror movie fan and also a huge fan of graphic novels and comics, so it was really cool to see a movie that revolved around both. Are you a fan of graphic novels or comic books yourself?
Oh yeah, a huge fan. Growing up I read more of the straightforward DC superhero stuff like Batman. But you know in the late '80s, there was stuff like The Killing Joke and Arkham Asylum, which made them really dark and compelling and more for grown ups than for kids in some ways. But over the years I also discovered the non-super hero stuff, like Daniel Clowes who wrote Ghost World and Jeff Lemire, who I actually went to school with at Ryerson. Really terrific, innovative stuff that could tell very grown up, serious stories in the comic medium.
The art in the film was great as well. Leah mentions in the movie she's inspired by Dave McKean's artwork. Were you trying to incorporate his style? Or was there a different inspiration?
The artwork wasn't intentional, it was just something that came up in the script where she mentioned Dave McKean's name. The artwork and the actual character designs in the film were by a comic book artist named Sean Schofield who I've worked with before in short film, and we asked Sean to design the characters and we gave the characters designs and backgrounds to be animated. We looked at many styles and we did look at Dave McKean's style, but other stuff as well just to find the right sort of look that we thought looks best with a darker, fairy tale style quality.
That's what I liked about it, it was very unique. I recognized Katie (Findlay) from How to Get Away With Murder, and her dad (Enrico Colatoni) from Veronica Mars. I was so excited because I haven't seen him in a movie before. What was it like working with them?
Oh, they were both terrific, and Katie as it turns out is a huge comic book nerd, so it was easy for her to understand that aspect of the story. They were both great and had lots of ideas for the characters and how to make the characters even richer, and it was a good time finding moments with them in the scenes on set. And Stephen McHattie — who was probably the most experienced of all of them — was a delight to work with.
Was it difficult for you or Katie to portray the extremely emotional scenes and mental illness in the film?
I think there were a lot of moments where Katie actually sort of reacted to stuff, like when something is supposed to be jumping out and scaring her. She wanted to make sure the reactions were a bit different so she wasn't just screaming all the time, but at the same time, you've got to hit some genre requirements. So it was trying to find a truth in all of those moments to make sure it was believable each time around. Not just being repetitive.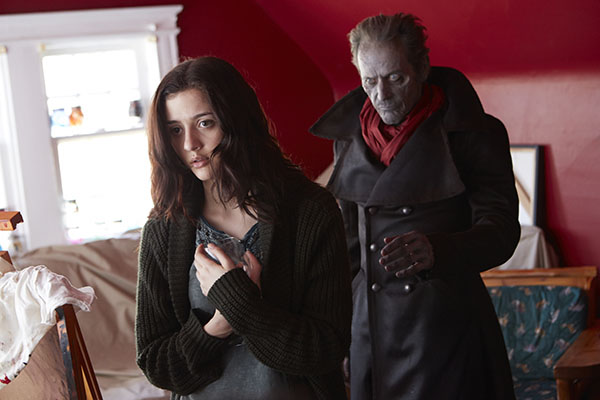 Where did the idea of The Dark Stranger come from? Was it just a random character you made up, or did you have a sort of Dark Stranger of your own?
Growing up I had issues around depression, and I always wanted to do a film that dealt with depression. Artists sort of famously struggle with depression, and I wanted to make a film about that, where the depression sort of becomes real. It becomes a tangible force that you have to fight, almost like a demon of the mind. So, that's where it sort of came out of originally.
Why do you think artists are more vulnerable to depression?
Oh I don't know if I'm qualified to answer that, but I think it's maybe that artists are just generally more sensitive people and aren't afraid to explore the dark and uncomfortable areas in their work, and in human nature. I don't want to speak in generalization, but I think that's probably part of it.
Did Leah go through anything in the film as an artist that mimicked any of your own experiences?
I think like every artist, you go through intense self-doubt. I've never gone quite through what she has in terms of a family member taking their own life, but earlier on in my life, there were times where I couldn't handle things as well as I could now. Like rejection, and bad things happening in your life that can really devastate you, and that's what I tried to channel into this, into that character. But also to show at the end of the film that she's become a much stronger person now and can deal with this stuff much better.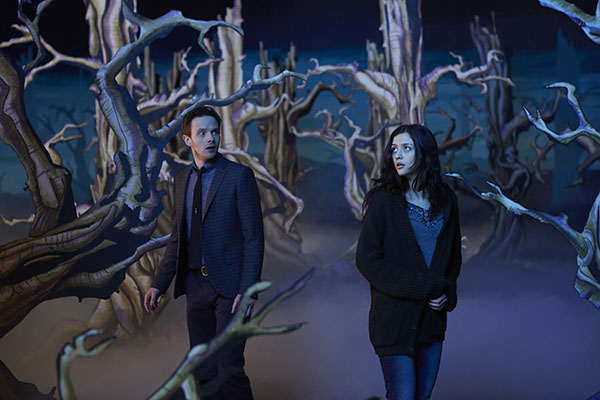 In the movie, Mark said he got his jacket at Kensington Market and I thought, "Oh cool, that's in Toronto!" So I checked and found out you shot the film in the house you grew up in. What made you want to shoot there and in Toronto in general?
After I got out of the Canadian Film Centre in 2008, I had another project I was trying to get off the ground called Beneath Planet Cronenberg, which is about an alienated teenage boy who becomes obsessed with David Cronenberg. But it was such a big script and so costly, that the producer I was working with at the time said I should develop something that could be done much more cheaply. So the original genesis of The Dark Stranger was sort of practical, like "Let's just write something in a limited location." But as the story developed, I became much more invested in it because it started to really become about those issues of artists and artists dealing with depression. It wasn't just, "Let's make a cheap film."
Did you have a favorite scene?
Hmm… it could be the first moment with the transition, from when Leah first goes into the comic book world. The first animated segment, I quite like. I like the scene towards the end when Randall Toth, Stephen McHattie's character, sits them down in the living room and then we have a little animated segment there. I quite liked that.
I enjoyed the animated fairy tale aspect too. Can you tell us about your future projects?
Well there's that Beneath Planet Cronenburg project that is still alive, and I hope that will eventually reach screens in the not-so-distant future. I also wrote another project called Hatchet Face, which is another horror thriller, about a down-and-out actress who comes to Toronto to shoot another horror movie in this series that made her famous, only to find that her onscreen nemesis has come into the real world. The last one is what I'm looking for a producer for, called The Winter Devil. It's about a troubled writer who returns to his hotel in Northern Ontario to battle this monster that killed his best friend growing up, like Steven King's It meets the The Fisher King. You know, it's tough getting films made, it took like six years to get off the ground.
Oh I can imagine! I can't wait to see your future projects. ~Natalia Makarski