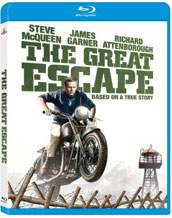 The Great Escape is coming to Blu-ray for the first time ever in celebration of its 50th anniversary. Tribute had the chance to speak with legendary Hollywood producer Walter Mirisch to celebrate the release. He started the Mirisch Corporation with his brothers, Harold and Marvin, in 1957, and produced not only The Great Escape but many other classic films, including In the Heat of the Night, Some Like it Hot, The Magnificent Seven, The Apartment, and the original The Pink Panther. Walter Mirisch was also the President of the Producers Guild of America three times and the President of the Academy of Motion Picture Arts and Sciences from 1973-1977. Here's our interview with the brilliant and legendary producer:
What exactly is a producer's role in the creation of a film?
Well, I can only speak for myself. Every producer, I would think, functions differently. And every producer, I think, functions even differently from himself on every project that he does because of the requirements being different and because the personal situations and relationships involved among the principal picture makers are different. I hope that's not too convoluted an answer to your question.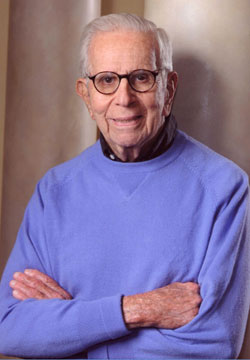 What's the difference between producing a movie like The Great Escape and working on something like a cartoon short about the Pink Panther?
You cut the pattern to fit the cloth. You're a picture maker. You hope to entertain and inform to the best of your ability with the materials that you're dealing with.
John Sturges had a difficult time convincing anybody to make The Great Escape. What appealed to you personally about the project?
Well, I felt it could accomplish that which it finally, I believe, did accomplish, and that's what appealed to me about it. I felt that it could be a vehicle for an extraordinary piece of storytelling in the multi-character form at the same time as it provides breathtaking suspense. That's what appealed to me.
I notice that a lot of the movies that you produced had some connection to the history of the time. The Great Escape was made during the Vietnam War and within memory of WWII. Do you think current events affect the type of movies that get made?
It isn't events that affect them, I don't think. I think it is the picture makers who seek to comment on events and consequently make their films more pertinent and relevant, and so I think some picture makers are interested in accomplishing that, whereas others may not be. I am one who was interested in that. And John was. John and I forged our friendship in The Magnificent Seven and we became very close collaborators and good friends and worked together. After The Magnificent Seven, we sought another vehicle we could collaborate on and when the idea of The Great Escape  appeared, it was a challenge that we both found irresistible. It's based on a book that is non-fiction. It's purely factual. And so, with the writers we employed, we developed a whole fictional story to impose on the historical fact of the great escape from Stalag III.
How much influence did you have on keeping the movie close to the true story?
Well, we were free to do what we chose to do. It was within our own control and we made it the way we wanted to.
Is there a film you produced that's closest to your heart?
[Laughs] I don't know. I have a half dozen or so that are close to my heart. I love In the Heat of the Night and The West Side Story and The Apartment and Fiddler on the Roof and – Pink Panther!
What was the reception like for In the Heat of the Night when it was first released?
Well, it was released in very pressured times. It was right in the teeth of the Civil Rights Revolution in America. Martin Luther King was still alive and speaking, and this country was very seriously divided on the racial issue, particularly in the southern part of the United States. And this movie made very direct comment on those relationships by trying to personify them through a couple of characters who would represent both sides of that issue, and of course we took a position on that. I hope the film had an effect on the audiences who saw it and that it helped lead a whole country's way through a new era of considering race relations.
Speaking as somebody who watched it many years after it was made, it still has a huge impact.
Well, [laughs] I hope so and, you know, the problem has certainly not gone away. It's certainly better than it was. But I think that film, like The Great Escape and other of my films in which I hope there are these kinds of comments on current issues, will still resonate with audiences.
Was Some Like it Hot as much fun to produce as it was for the audience to watch?
[Laughs] Well, I'll tell you that some of it was. Of course, you know, you watch those antics for the first time performed by actors on a stage and they were great! There were a great deal of production difficulties in the picture too, all of which have been written about ad nauseum, I guess, and they were very troublesome. It was a difficult childbirth but when the child finally did appear, it fulfilled all of our hopes.
You worked with Jack Lemmon again on The Apartment with Shirley MacLaine. That movie is often pegged as a comedy but it has a lot of serious content in it.
It sure has. How far will a person go in order to get a key to the executive bathroom? I think that situation and that dilemma is as true today as it was when The Apartment was made. And the ethics of it still face people just as it did then.
A lot of your movies are still socially relevant. It strikes me that some of them might have been ahead of their time. Do you see them that way?
No, I don't know, you do the best you can. I didn't feel we were out of our time. We hoped to lead our times, I think that may be true. We tried to influence our times, while at the same time in our films, in all these films, entertaining people, either providing suspense in The Great Escape or humor in The Apartment or a detective story in In the Heat of the Night. We tried to provide entertainment ingredients while also commentating, hopefully subtly, on the times in which they took place.
Was Peter Sellers as funny in person as he is in the movies?
[Laughs] Sometimes. Sometimes he was very funny and sometimes, like all of us, he was depressed and not funny at all [laughs]. He suffered like all of us humans do from reacting to what was going on in our lives at that particular time.
It's been great to talk to you!
Thank you!
The Great Escape 50th Anniversary edition Blu-ray contains hours of extras such as an audio commentary by director John Sturges and eight featurettes, including The Untold Story, The Real Virgil Hilts and more.
~Cassie Jasinski
In addition to The Great Escape on Blu-ray, other DVDs/Blu-rays releasing this week include Jack Reacher, Mama, and Safe Haven.