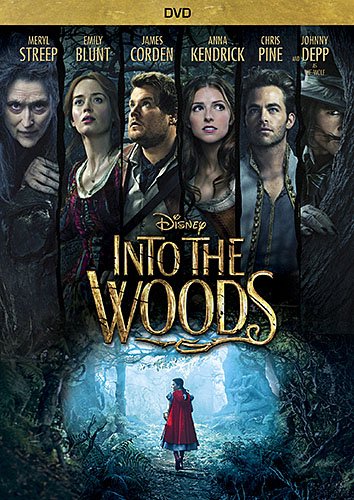 Into The Woods is a movie musical based on the stage musical by Stephen Sondheim. Although the main characters are from fairy tales and they all meld into one story, it's not meant for very young children.
This is a dark musical with adult themes. Cinderella does not live happily ever after. Something terrible happens to a married woman who contemplates an affair. A little girl finds out you can't put your trust in strangers. A mother finds out that when you smother your children, they want to get away from you. As the lyrics of one song say: "Careful the wish you make."
The first song, Into the Woods, features the characters making wishes. The Baker and his Wife wish for a child. Cinderella wishes to go to the Festival. Jack wishes his cow would give milk. Jack's mother wishes her son wasn't a fool, that her house wasn't a mess, that her walls were made of gold.
In spite of the dark theme, there are light moments, such as Red Riding Hood asking the Baker and his Wife for pretty much everything she's taking to her Granny. Not just baked goods (some of which she immediately samples), but she even has the cheek to ask for a basket to carry all the treats she's gotten from them (for free).
There are lessons to be learned from the mistakes made by the characters in this musical. These are delivered with songs that you'll likely remember long after the movie is finished. They're not as melodic or catchy as the songs in a musical such as Les Misérables or The Phantom of the Opera, but the phrases may pop into your head afterwards. For instance, Little Red Riding Hood learns that although the wolf (Johnny Depp) was exciting to meet, in future she realizes she should, "Take extra care with strangers… and though scary is exciting, nice is different than good… Isn't it nice to know a lot! And a little bit not…" We can all relate to the innocence of childhood, but once we know there's danger in the world, are we better off knowing about it, or was it was better when we were ignorant of evil. It's hard to say.
The cast members are all extraordinary and received numerous awards and nominations. Meryl Streep received Oscar and Golden Globe nods for her portrayal of the witch. Emily Blunt, was nominated for a Golden Globe in the role of the Baker's Wife. Daniel Huttleston, who played Gavroche in Les Misérables, received a London Critics Circle Film Awards and a Phoenix Film Critics Society Awards nomination for his role as Jack. Lilla Crawford won a Phoenix Film Critics Society Award for Best Performance by a Youth in a Lead or Supporting Role – Female for her work as Little Red Riding Hood. It was a treat to watch these two young performers, both of whom started on the stage, because Little Red and Jack are usually played by young looking adults in professional productions of this musical. As well, the entire cast was nominated for several best ensemble awards from various societies and film festivals.
Chris Pine performed his role as Prince Charming perfectly – he was clearly a charmer but a definite cad from the moment we saw him and though there was no proof (until later in the film), it was obvious Cinderella was not making a good choice. Anna Kendrick treated the audience with her superior singing talent, as did the rest of the cast, many of whom have stage musical experience, including Mackenzie Mauzy as Rapunzel and Billy Magnussen as her Prince.
Bonus features on the Blu-ray include: The Cast as Good as Gold – the film's stars share the experience of taking this epic musical journey; Deeper Into The Woods: From Stage to Screen – four pieces on the making of the film, including The Magic of The Woods; Filmmaker commentary, Music & Lyrics, which allows you to jump directly to your favorite songs from the movie and a Never-Before Seen Sondheim Original Song: "She'll Be Back."
Other movies releasing this week include: The Hobbit: The Battle of the Five Armies, The Intruders, Song One, Unbroken and the 30th anniversary edition of the hit 1985 movie The Sure Thing.
To watch trailers for these movies, click each link below:
Unbroken
The Hobbit: The Battle of the Five Armies
Into the Woods
The Intruders
Song One
The Sure Thing