Wisecracking billionaire inventor Tony Stark was originally based on Howard Hughes in the original Iron Man comic books created by Stan Lee. In the new Iron Man movie, opening May 2, 2008, Stark makes weapons to help the U.S. government win the war. While on a field test of a new missile, he's wounded and captured.
The evil Raza forces Stark to make missiles for the other side, but instead, Stark invents an armored suit to protect himself and makes his escape. He later revises and improves the suit to becomes Iron Man, the Armored Avenger!
In Theatres May 2, 2008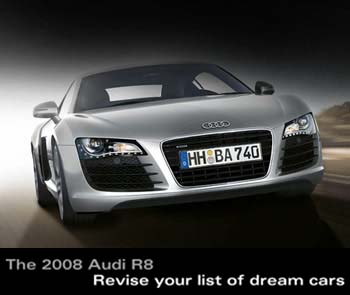 Car enthusiasts will bask in the glow of Iron Man's supercar
Audi's R8 supercar is the vehicle of choice for billionaire inventor and munitions mogul Tony Stark (Robert Downey Jr.), aka Iron Man. But only when he's not wearing his Iron Man high-tech suit.
Kevin Feige of Marvel Studios told Variety, "The car fit very well with the aesthetic the production designer was putting together." Certain features of the car are reminiscent of Iron Man's superhero getup. The car's headlights resemble the eye slits of Iron Man's helmet, while the engine housing glows at night, similar to the comic book character's chest plate.
In the movie, Stark is a weapons manufacturer who uses technology to fight evil. When not on the job, he's a playboy who enjoys the finer things in life. "With his ingenuity and passion for technology, Tony Stark personifies Audi's values," said Audi's Dirk Roder. "He's the kind of guy every girl wants to date and every guy wants to be."
"The R8 was the perfect car for Tony Stark," agrees Iron Man director Jon Favreau. "It's wonderfully engineered. It's fast, it's safe and it's flashy." In addition to the R8, the Audi A6 and Q7, as well as the new S5 sport coupe, will be featured in the movie.