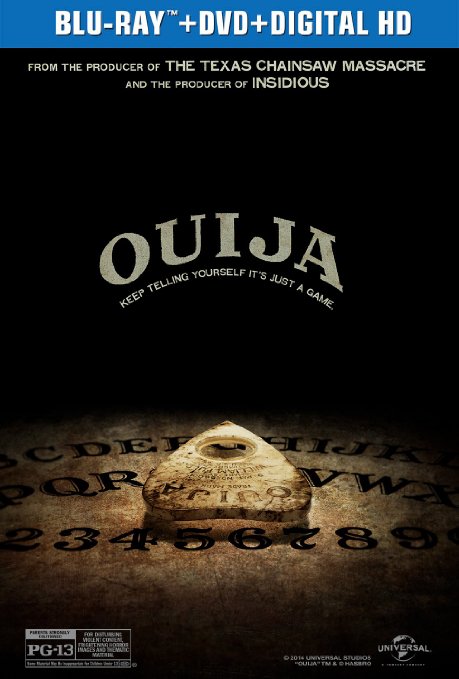 Ouija is a supernatural horror film that tells the story of five friends who awaken an evil spirit while trying to communicate with a recently deceased friend.
The film surrounds the suicide of Laine Morris' (Olivia Cooke) childhood friend Debbie (Shelley Hennig), and the suspicious details concerning her death. When Laine goes to the visitation at Debbie's house, she finds out Debbie had begun using a Ouija board, like the one they used to play with when they were children. When Debbie's mother leaves town on a trip, Laine is given the keys to the house and a box of old memories.
As Laine mourns over her friend, she questions why she would commit suicide. Enlisting her boyfriend Trevor (Daren Kagasoff), close friend Isabelle (Bianca A. Santos), her sister Sarah (Ana Coto) and Debbie's boyfriend Pete (Douglas Smith), they try to communicate with Debbie using the Ouija board. When they ask if there is a spirit present, it answers "Hi, Friend," but this spirit is far from friendly.
They then see "Hi, Friend" written in different places of their town, another friend dies and they discover the history behind Debbie's house. The friends realize they have unlocked a dark and angry spirit and it's not going to leave them alone.
Ouija offers some interesting plot points but fails to create a concrete storyline, because the characters seem to just know what to do at each plot point. The scene where Laine comes face to face with the spirit behind the Ouija board is part creepy and part interesting, but lacks in climax. Although the movie is not at the height of other horror movies, it was an interesting subject to explore.
A 5 out of 10, it could have been longer to explore more details of the story, it felt as though we just scraped the surface and then the movie was over.
Blu-ray features included The Spirit Board: An Evolution, Icon of The Unkown, and Adapting The Fear. ~Andrew Siwik