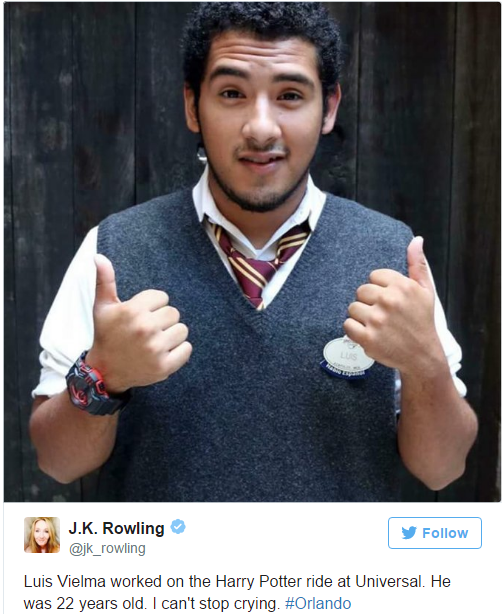 The deep sorrow sparked by the savage Orlando shooting is being felt around the world.
Following the naming of the victims in Sunday morning's vicious and hate-fueled attack, author J.K. Rowling took to Twitter to lament the loss of Luis Vielma, 22, who was one of 49 killed.
Luis worked at the Wizarding World of Harry Potter theme park in Orlando. According to his Facebook page, he was a production assistant on the Harry Potter and the Forbidden Journey ride while he studied at Seminole State College of Florida.
In a sign of mourning, the ride was shut down on Sunday. A message from the Harry Potter park staff went out on Facebook, which reads, "[Luis] will be missed by many and, along with everyone else, the HP fandom will mourn his passing. Rest In Love, sweet wizard."
J.K., who wrote that she "can't stop crying," is one of several celebrities to come forward and express condolences for the victims of the shooting.
Lady Gaga, Queen Latifah and Dwayne Johnson are among the many who have commented on the tragedy, which now stands as the worst mass shooting in U.S. history.
In the early hours of Sunday morning, Omar Mateen, 29, of Fort Pierce, Florida entered Orlando's gay nightclub Pulse during the venue's Latin night and opened fire on the crowd using an assault rifle and handgun. In addition to the 49 people he killed, 53 others were injured. Omar died in a gun battle with SWAT team members shortly after the massacre.
The atrocity came shortly before a man named James Wesley Howell was arrested in L.A. allegedly carrying an arsenal of weaponry. He was headed for an L.A. Pride festival.
Check out Tweets below from celebrities.
I pray for all the victims families 🙏🏽 during this shooting epidemic. That their pain be met with compassion and support from the world.

— Lady Gaga (@ladygaga) June 12, 2016
My❤️ Breaks for the LGBTQ community in Orlando!We are 1! You Touch one of us you Touch All of us! Freedom ain't Free! STAND UP AMERICA!

— Queen Latifah (@IAMQUEENLATIFAH) June 12, 2016
Sending strength to our #Orlando victims & their families. Very angry, but you can't break what you didn't build. We will rise & persevere.

— Dwayne Johnson (@TheRock) June 12, 2016
My heart goes out to the victims and their families. Our community has suffered a tremendous loss. We must stand together more than ever.

— Ellen Page (@EllenPage) June 12, 2016
A call for #guncontrol is not about politics. It is about retaining our humanity. Forget thoughts & prayers. Let's honor the dead w/ ACTION.

— zoe kazan (@zoeinthecities) June 12, 2016
Unspeakable. So much suffering today. My heart goes out to the families of the victims in Orlando. #Pride

— Mindy Kaling (@mindykaling) June 12, 2016
Email or call your Representative and ask them why they have done nothing to #EndGunViolence #Orlando https://t.co/GDvX9u3nKU

— Julianne Moore (@_juliannemoore) June 12, 2016
Sickening news. All my love to Orlando.

— Amy Schumer (@amyschumer) June 12, 2016
Our hearts go out to all the families and loved ones of those lost in Orlando. #prayfororlando #loveisthecure pic.twitter.com/nyfzJiyPma

— Elton John (@eltonofficial) June 12, 2016