J.K. Rowling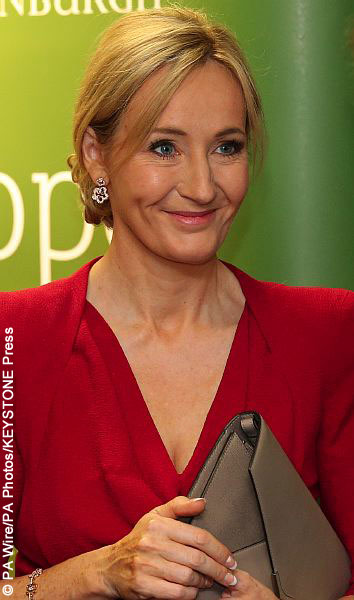 has been a vocal critic of Donald Trump and his radical policies in the past. In 2015, the author came forward and said Voldemort, the villain in her Harry Potter series, was "nowhere near as bad" as the Republican. But despite her unfavorable views of the media mogul, he has her support in one area.
Appearing at the PEN Literary Gala Awards in New York where she was honored for her humanitarian work, J.K. pointed to a 2015 petition penned to ban Trump from entering the U.K. based on his "hate speech." At the time the petition was put to the British Parliament, it had nearly 500,000 signatures.
When J.K. mentioned the petition in New York  on Monday, the crowd broke out in boisterous cheers. But she quickly  silenced them and said, "Just a moment. Now, I find almost everything that Mr. Trump says objectionable. I consider him offensive and bigoted. But he has my full support to come to my country and be offensive and bigoted there. His freedom to speak protects my freedom to call him a bigot."
Yes, breathe that sigh of relief. She's not changing her tune and supporting his offensive and bigoted views, just his right to voice them.
J.K. went on to say that if the Presidential hopeful was stripped of his ability to freely travel based on his belief system, she would have "no moral ground on which to argue that those offended by feminism or the right for transgender rights or universal suffrage should not oppress campaigners for those causes."
She added, "If you seek the removal of freedoms from an opponent simply on the grounds that they have offended you, you have crossed a line to stand along tyrants who imprison, torture and kill on exactly the same justification."
J.K.'s words sparked overwhelming support on Twitter. Scroll down to read some users' positive reactions.
#JKRowling defends #Trump's right to be offensive and bigoted. So do I. But letting him near the White House is a different kettle of fish.

— Geoffrey Randall (@RandallGeoffrey) May 17, 2016
The powers of #Logic & #reason prevail! #JKRowling is spot on w/both her points! https://t.co/IqPFM9e2tq — Patrick Carlson (@pzcarlson) May 17, 2016
#Trump candidacy is important to contest. 🇺🇸#JKRowling Defends Donald Trump's Right To Be 'Offensive And Bigoted' https://t.co/zBrbfAC7E2

— Da_Way_NE↗ (@DaWayne87) May 17, 2016
J.K. was introduced by Sarah Jessica Parker at the awards, who praised the themes of "honor, humility, dedication and resilience" in J.K.'s Harry Potter novels.
Jump to 1:40:40 in the video below to see Sarah Jessica applaud J.K., as well as J.K.'s acceptance speech in full. ~Matthew Pariselli