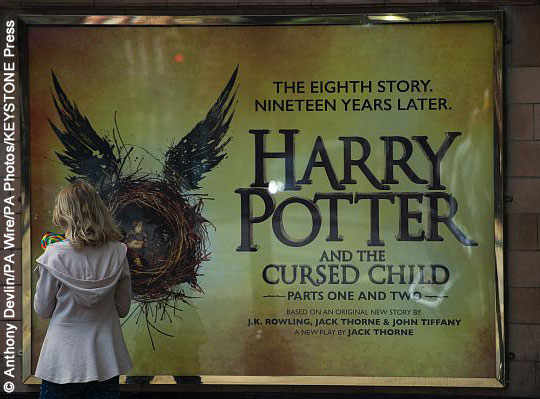 If a real life spell existed to silence select individuals, chances are J.K. Rowling would be casting it right about now.
The Harry Potter author has come forward to defend a black actress named to the role of Hermione Granger in an upcoming play.
When it was revealed that Swaziland-born, Olivier Award-winning British actress Noma Dumezweni would portray Hermione in Harry Potter and the Cursed Child, some fans of the franchise were vocal about their disdain for the choice. The casting call to have a black woman play the crafty witch Emma Watson, a white actress, had given life to in the films was not well received across the board.
In an interview with The Observer, J.K. said, "I had a bunch of racists telling me that because Hermione 'turned white' — that is, lost color from her face after a shock — that she must be a white woman, which I have a great deal of difficulty with. But I decided not to get too agitated about it and simply state quite firmly that Hermione can be a black woman with my absolute blessing and enthusiasm."
She added, "With my experience of social media, I thought that idiots were going to idiot. But what can you say? That's the way the world is. Noma was chosen because she was the best actress for the job."
Harry Potter and the Cursed Child is set 19 years after Harry Potter and the Deathly Hallows, J.K.'s last published book in the series. It unfolds as Harry Potter, now a father of three, struggles as an overworked employee of the Ministry of Magic and fights to keep his past where it belongs. His youngest son Albus encounters difficulties of his own as he carries the weight of a family legacy he never wanted.
The production begins previewing at London's Palace Theatre on Tuesday, June 7, 2016 and officially opens on July 30, 2016.
J.K. first came to the defense of Noma's casting in December, when she sent out the below Tweet.
Do you think the decision to cast a black actress in the role of Hermione is as controversial as it's become? Share your thoughts with us!
Canon: brown eyes, frizzy hair and very clever. White skin was never specified. Rowling loves black Hermione 😘 https://t.co/5fKX4InjTH

— J.K. Rowling (@jk_rowling) December 21, 2015