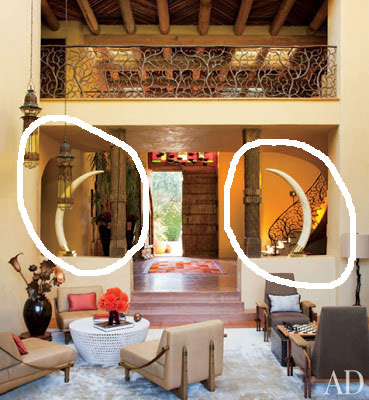 In what appears to be a cell phone video, Jada Pinkett Smith explained why she won't be attending or watching the Academy Awards ceremony (and apologizes to this year's host, Chris Rock), but several media outlets are astonished that there's an enormous tusk right behind her head.
It appears to be an elephant tusk, and it's illegal to hunt elephants for their tusks (or to remove them from living elephants).
Further investigation uncovered photos of the home that she shares with husband Will Smith, that appeared in the September 2011 issue of Architectural Digest. They show a zebra hide rug, a chandelier made of gemsbok horns topped with ostrich eggs, a chandelier made of Buffalo horns (could be African or American) and a table held up by what appears to be deer antlers.
Although Architectural Digest claims the ivory tusks are "resin" replicas, TMZ was told that the tusks are "ceramic and hollow."
Clashdaily.com took Jada to task for displaying elephant ivory "since it represents repressive Colonialism."
No explanation for the zebra skin or the other "pieces" that appear to be made of dead African and American animals. Cecil the Lion anyone?