Will Smith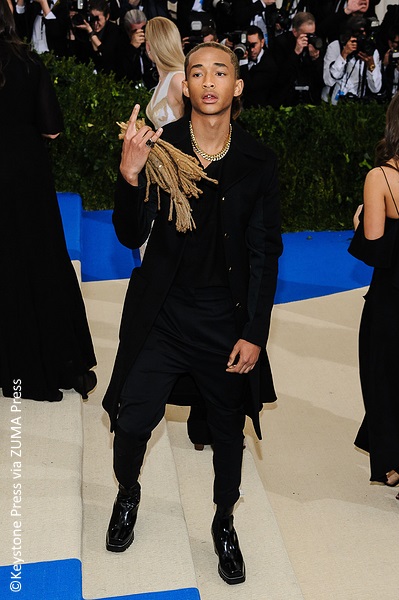 's son, Jaden, who has been staying at the Four Seasons in Toronto while working on a new movie, seems to be enjoying his time in the city. However, the actor may be looking for a new place to stay after voicing his displeasure over breakfast.
What could possibly be wrong with the star's meal? Well, according to Jaden, the hotel "spiked" his pancakes with cheese, before throwing him out. The Four Seasons is known to serve "Lemon Ricotta Hotcakes," a dish that is available at the hotel in Toronto.
Jaden took to twitter to sound off about his unfortunate experience at the luxury establishment, tweeting, "The Four Seasons in Toronto just made me want to throw up on myself." He then continued, "I hope the Four Seasons in Toronto puts me on the no stay list."
He further explained: "The Four Seasons In Toronto Spiked My Pancakes With Cheese, I'm Surprised I'm Still Alive." And then tweeted: "After They Kicked Me Out Of My Room."
It's unclear if the actor is lactose intolerant, but that could explain why he was so angry. Most people wouldn't exactly consider eating pancakes life-threatening. Maybe the hotel was unaware that the actor turned vegan in 2016?
Jaden is currently in the city shooting for the upcoming film, Life In A Year. He will portray a 17-year-old who finds out that his girlfriend doesn't have long to live and sets out to make her remaining time alive as perfect as can be. The movie will also star Cara Delevingne and Nia Long.
The establishment has yet to release a statement over the situation, but with everyone talking about their pancakes this morning, they decided to take advantage with a tweet of their own. ~Brenden Zerihun
The Four Seasons In Toronto Spiked My Pancakes With Cheese, I'm Surprised I'm Still Alive.

— Jaden Smith (@officialjaden) May 27, 2017