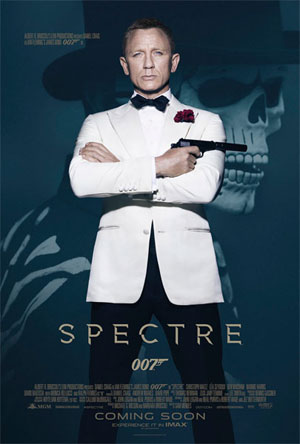 James Bond raced to the top of the box office this past weekend in Spectre, the latest installment in the spy franchise starring Daniel Craig, earning an estimated $73 million. Although it didn't top previous Bond film Skyfall's opening weekend take of $88.3 million in 2012, it was nevertheless a great debut for the film, and it's already the eighth highest-grossing Bond film domestically. You can read our review of this film by clicking here. Our Tribute.ca fans loved it as well, rating it 4.9 stars.
Debuting in second place was the long-awaited big screen appearance of Charlie Brown and his pals in The Peanuts Movie. The animated feature drew in adults who are long time fans of the Peanuts TV specials, as well as new fans in the form of their children, for an estimated take of $45 million.  Tribute.ca users were raving about this film, giving it 5 stars.
The Martian, which has enjoyed four weekends in the top spot, was bumped to third in its sixth weekend in theatres. Taking in an additional $9.3 million, it is definitely set to break the $200 million mark at the domestic box office before it leaves theatres. Audiences can't get enough of Matt Damon as an abandoned astronaut in this film, giving it a rating of 4.3 stars at Tribute.ca
Goosebumps also dropped two spots – from second place to fourth. The comedy for young audiences earned an additional $7 million in its fourth weekend and has a strong Tribute.ca 4.4 star rating.
Rounding out the top five at the box office this weekend was Bridge of Spies, starring fan favorite Tom Hanks. This is the 27th feature film that Steven Spielberg has directed, and it brought in $6.1 million. It enjoys the best rating of 5 stars from Tribute.ca viewers.
~Sharon Salsberg