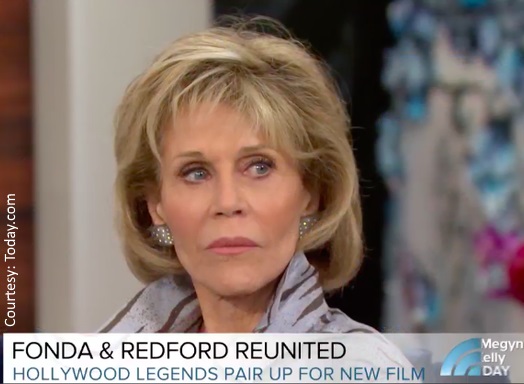 Watch out, reporters, Jane Fonda isn't interested in talking about plastic surgery.
On Wednesday's episode of NBC's TODAY show, Megyn Kelly sat down with Jane and her co-star Robert Redford to talk about their Netflix original film Our Souls At Night. Things got awkward when the host asked an ill-advised question about the Oscar-winner's plastic surgery over the years. Caution: Fonda's death stare will make you wince.
Kelly started: "You've been an example to everyone in how to age beautifully and with strength and unapologetically. You admit you've had work done, which I think is to your credit. But you look amazing."
She continued: "Have you… why did you say… I read you felt you're not proud to admit you had work done, why not?"
Jane replied: "We really want to talk about that now?"
Kelly rallied with: "Well, one of the things people think about when they look at you, is how amazing you look," to which Jane replied curtly, "Thanks. Good attitude. Good posture. Take care of myself."
After exchanging glances with her co-star Robert Redford, she added: "Let me tell you why I love this movie that we did, Our Souls at Night, rather than plastic surgery."
Robert joked, "Back to that, huh?"
The stars then jumped right into discussing their movie, with no help from Kelly. ~Marriska Fernandes
Watch the interview below.