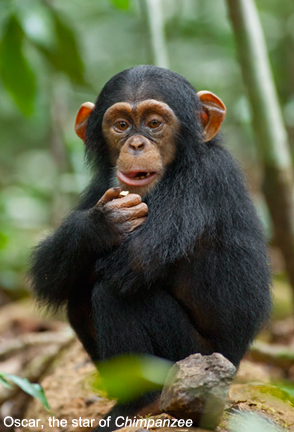 Jane Goodall's study of chimps in Africa that began in 1960 turned into a lifelong passion to save these wonderful animals whose DNA is almost identical to that of humans. She recently partnered with Disney Pictures for their new film Chimpanzee, which is donating a portion of the profits from ticket sales to the "See Chimpanzee, Save Chimpanzees" program. For every moviegoer who sees Chimpanzee during the film's opening week from April 20 to 26, 2012, Disneynature will make a donation to the Jane Goodall Institute through the Disney Worldwide Conservation Fund in order to protect chimpanzees and their habitats.
Though she wasn't directly involved with the movie, Dr. Goodall came to Toronto to talk about her ongoing efforts to save chimps. The filmmakers asked her to watch an early cut of the movie and she found it "very exciting." The story of the film was not manipulated by a script; instead, the filmmakers – a team she was well acquainted with and whose work she admired – found a tribe of chimps. She explained how the filmmakers chose the lead of the movie. "When they first began this film they were delighted because a mother had a baby and they called him Oscar and the whole plan for the film was built around watching Oscar develop and watching his relationship with the rest of the community and through that, getting to know the community members."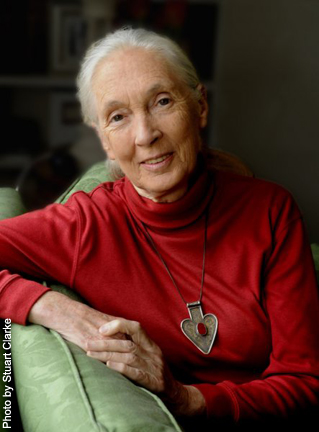 They filmed for approximately three months, then took a break and returned to film more when Oscar was a little older. "Shortly after they got back, the mother of Oscar was killed by a leopard and they thought, 'The whole film is destroyed, what are we going to do?'" Poor Oscar was too young to survive on his own and he was turned away by the other mothers when he attempted to bond with them. "Then amazingly, the top ranking male who was a crusty kind of guy chimp adopted this baby and his whole personality changed and he became very gentle, he became much less involved with his position as leader," she explained. There was even a concern amongst the chimps that with the alpha male now looking after Oscar, the neighboring group of aggressive chimps would be able to invade the territory.
Dr. Goodall revealed her reason for no longer doing the chimp study at Gombe, where she began her studies 52 years ago. "Right across Africa chimpanzees numbers are decreasing. Forests and habitats are being destroyed. There's the bush meat trade — that's the commercial hunting of wild animals to sell. Logging companies making roads deep into the forest. The hunters now, are not proper hunters, they're just in it for money, so they'll even kill mothers. In the old days you didn't kill a mother with a baby because the babies were your future. Sustainability was what the name of the game was back then, but now because they're shooting mother chimps, little tiny babies can't make it on their own so there are sanctuaries in Africa and JGI is caring for the largest of them in the Republic of Congo."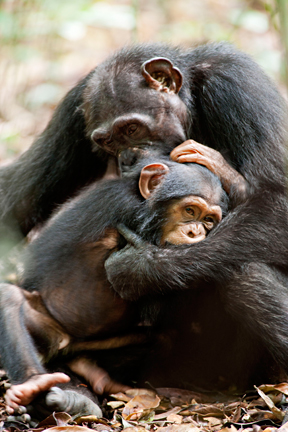 That's why Dr. Goodall spends 300 days a year on the road, telling people about her institute and getting children involved in Roots & Shoots – the Institute's global environmental and humanitarian education program. She says, "I get back to Gombe twice a year but it's literally two to four days…just because I have to be in the forest."
Regarding Chimpanzee, she hopes it will endear moviegoers to Oscar and his fellow chimps, saying, "This film, hopefully will really raise a banner — not about the dangers facing the chimps — it's about how amazing they are and how like us they are. And yes, we should be protecting them—so please help JGI to protect them." She adds with a laugh, "It doesn't say it in the film but I'm saying it." ~Alexandra Heilbron