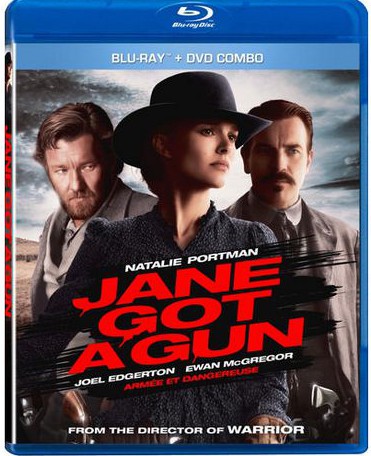 Jane Got a Gun is locked, loaded and out on Blu-ray and DVD today.
Set in 1871, it follows Jane Hammond (Natalie Portman), a resourceful pioneer mother determined to protect her wounded husband from a gutless gang of outlaws led by John Bishop (Ewan McGregor). She gets a helping hand from former flame and hard-drinking gunslinger Dan Frost (Joel Edgerton), and as the two prepare for a showdown with the gang, details about their pasts are divulged. This deepening of character lends the film a layer many Westerns lack.
For Jane and Dan, their shared and separate histories are revealed through frequent flashbacks, which, one at a time, reveal more and more of the back story and piece together the puzzle of what we are witnessing. With that said, Jane Got a Gun successfully hits its targets.
One of the film's best features is the character Jane herself. She's independent, strong-willed and more than willing to fire her own gun. She takes no prisoners and that in itself is a refreshing twist on the tropes of the genre. Natalie gives her an edgy verve, but thickens the role with a vulnerability that makes her more relatable. Both Ewan and Joel do their respective parts justice, but as the film's name suggests, this is Jane's story.
Although not a leading role, Boyd Holbrook's performance as Vic Owen, John's right hand man, is worthy of mention. He brings an alluring, albeit slightly sinister, streak to his character that satisfyingly unsettles. After a compelling turn in 2014's Little Accidents, Boyd shows range and promise here that is exciting for his future on screen.
The picture easily captures the arid, rugged harshness of the New Mexico desert where it's set. Replete with seducing shots of tangerine tinged sunsets and wide-framed images of horses running across the barren landscape while kicking up dust, viewers get a real sense of the raw and tantalizing terrain.
To pull the trigger on this review and wrap up, Jane Got a Gun shouldn't be shot down before given a chance. ~Matthew Pariselli
If you've seen the film, click here to leave your rating and review!