January Jones missed President meeting
By Tribute News on May 12, 2015 | Leave a Comment
January Jones had to miss meeting President Barack Obama because her son was ill.
The Mad Men actress – who raises three-year-old Xander alone – admits juggling her personal and professional life is a "challenge" and she is ready to make sacrifices when she needs to.
She said: "It's a challenge but I'm not the only mother dealing with it. I manage and make sacrifices. I was supposed to go to the Smithsonian museum to meet the U.S. president, but I couldn't go because my kid was sick."
Despite being content with her life, the 37-year-old beauty still wants to "do better."
"I want to be happy and I want to be a good mom but I'm also a fairly ambitious person. I want to accomplish things in life. I always have this urge to want to do better."
Since beginning her career on Mad Men, January thinks she has become a much better person.
She told Britain's OK! magazine: "I've become a better person and becoming a mother has opened up a whole new world to me. I feel like I've become a better friend too. When you do a TV show for so long, you live in a bubble so I've learned to value real relationships. I've been blessed. I have no complaints really."
---
---
---
Similar Articles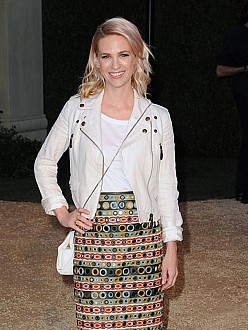 September 22, 2015 | 1 Comment
January Jones has split from Will Forte. The 37-year-old actress and her 'Last Man on Earth' co-star reportedly called time on their five-month relationship a few weeks ago, with the former 'Mad Men' star said to have decided she isn't looking for comm…
---
---
---