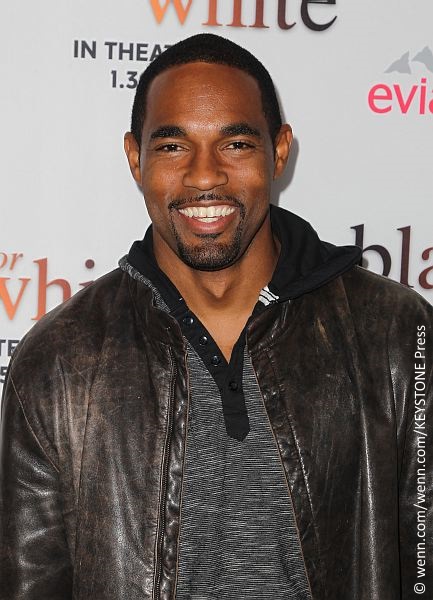 Jason George is best known as Michael Bourne on Sunset Beach and Dr. Ben on Grey's Anatomy. His long list of credits include Playing For Keeps, Mistresses and Off the Map. He can also be seen in With This Ring, which launched on DVD this week. Some of his co-stars in the film include Jill Scott, Regina Hall and Brian White. We caught up with the actor to discuss his role in the film as well as what's in store for Grey's Anatomy fans.
You seem to be playing the good guy and when I heard you were playing the baby daddy in this one I was surprised at first. What can you tell me about your character?
That actually is the thing that excited me the most, because normally the term "baby daddy" itself assumes there is no relationship there and somewhere along the way, at one point 'baby daddy' and 'boyfriend' started to almost became synonymous for some people and that's a problem, that's not great for me. So when I found out that I was playing Sean and he's Vivenne's baby daddy I thought, let's not go down the stereotypical path and the writer, director, did completely right by me and men everywhere. He is a good guy, he is still a good guy and they have a child and they had a relationship and they're human so they didn't think they were going to be together but they wanted to raise this child together and eventually Vivienne realizes Sean is what she wants in her life. When the three women make a vow to be married within a year, she comes for Sean and he's a little blind to it at first but you know, it's Jill Scott, she's a beautiful woman, you can't stay blind for too long.
What do you think about the concept of vowing to find "Mr. Right" and getting married within a year?
Oh, I think that's a bad idea. I think it makes for a good story, great comedy and great drama but I think at the end of the day, you have to find love when it crosses your path. If you set this random arbitrary time limit on it or restrictions on it, like you've got to be this, she's got to be that, they've got to be 6'2″, they've got to make $100,000 or more a year, they've got to do this, they've got to do that, then you will find a lot of disappointment as opposed to when your heart hears somebody else who's in sync, their heart will start talking back. Two hearts talking to each other makes music and eventually, even the dumbest person can hear that music when your heart is talking to you and saying "this is what you really want." It may not fit any of those descriptions, it may not fit any of those timelines and you got to be okay with that. That's my personal belief.
You're playing a doctor again after Grey's Anatomy. Was that intentional?
Yeah it was funny, when I found out he was a doctor I was like, "That's my day job, I was playing a doctor on Grey's," so I seem to not be able to get away from playing a doctor, which is fine by me because generally they are intelligent people, I'll roll with that, I'll take that hit.
What was it like working with Jill Scott?
I love me some Jill Scott. We had a great time. Chemistry is not a problem and she's a lot of fun. She comes to play and how well she sings, you could only be that good of a singer, sing that well if you are truly emotionally available to what's happening in the moment and what's going on in the world and that's the key ingredient. The scenes we had, it was game on, and that was a lot of fun and then we would just be silly outside of it and she's real down to earth and that's what I value. I'm not a real big fan of people who enjoy their celebrity too much. She's a real good person, down to earth, and that made it that much easier for us to hangout.
I just realized, you're surrounded by a lot of strong, talented women!
Yeah, you know it was funny, because a bunch of us just honored Shonda Rimes at the Feminist Majority Foundation. Kevin McKidd, James Pickens,  Jeff Perry from Scandal and Dan Bucatinsky from Scandal and I all got up and serenaded her, if you will, a little bit with a little song and dance number in her honor and wearing these shirts that said "This is what a feminist looks like." I am the son of a ridiculously powerful woman. There are people in my hometown who are afraid of my mother because she is such an intimidating figure. The result is, if you don't use some of the power you have just from being here on this planet then you gravitate towards people who get power just because they exist and then look to increase that. I'd like to think that that has brought me into the circle of some pretty fantastic people – Shonda Rimes, Chandra Wilson, Jill Scott, Eve, the director of this piece, Debbie Allen, who is going to be our producing director on Grey's Anatomy, she will be with us all the time now, working with the director. I need powerful women, they don't intimidate me. Dudes shy away from them. You're going to look at it as a confrontational thing when it's not, guys who think it is, view dating as a competitive thing. Don't you want a worthy opponent? Someone who can actually hang with you? And then when you actually realize that it's not a competition, don't you want somebody strong and powerful who will have your back? That's the whole point right? So yeah, I dig strong women, I dig strong people.
What message are you hoping for viewers to take away from this film?
I hope people will remember that love is one of the greatest things. There's a reason why virtually everything revolves around a love story somehow, even if it's an action movie and it is someone trying to save the person they love, love is at the core of so much, everything we do and it is out there. We lose sight of it, sometimes because we get distracted and we take it for granted, we start to get afraid that it won't come to us because it hasn't yet or at least something that has lasted hasn't yet, but it's out there, it just is. We have got to be open to it and patient with it and not so focused on what you think it should be, that you end up missing what it actually is. That's what I think happens with Regina Hall's character in the movie. She almost misses the guy that is probably her guy because she is so busy, focused on what it's supposed to be. I think that happens to a lot of us.
Is there a current role on film or TV that you would love to play?
Oh, you know I'll be honest, we just talked about all the love stories and powerful women and everything like that, but I'm a comic book geek, I didn't get one job when I was 11 years old, I got two jobs when I was 11 so I could support my comic book habit because my dad was sick of paying for them. So I would be down to throw some punches and kick a little ass here and there because I have not had many opportunities to do that. I've had minor ones, and I have friends who have created some superhero projects for TV and I was supposed to come through but we couldn't make it work out because of other commitments that I had, and that's still weighing on my mind. I was actually going to play a villain in one and that would have been a blast. I don't care if it's a good guy or a bad guy, I just need to throw on a costume and fly or go through planes or wield a sword, that would be a good time.
Will you be returning to play Ben on Grey's Anatomy?
I am the newest series regular on Grey's Anatomy. So there you go, you are not done with me, I'm going to be around for a little bit.
You will be on Mistresses as well for this coming summer?
I will be popping in a little bit on this, just like I was a series regular on Mistresses and recurring on Grey's Anatomy? Now that is kind of reversed a little bit.
Apart from that, what's next for you?
I did a movie with Halle Berry actually, speaking of powerful women, it just goes on and on right? In this one I am not necessarily a bad guy although I am definitely not the hero. It is called Kidnap with Halle Berry and it will be coming out in the fall sometime. She is trying to rescue our son, we are husband and wife who are estranged and of course, when I found out this was my first gig with Halle, I'm trying to divorce her, which defies logic from where I'm sitting but if that's what I have to do to hang out with Halle Berry then that's what I'll do. I will pretend to divorce her. It's a really cool flick, it is her, almost in real time, trying to rescue our child and most of our relationship happens in flashbacks so our entire relationship could end up on the cutting room floor if the movie runs long, but the point is we got to work together and that was a lot of fun. I spent a few days in New Orleans with her and she is, as advertised, a really good person.
Thank you so much for chatting with us!
Thank you!
~Marriska Fernandes