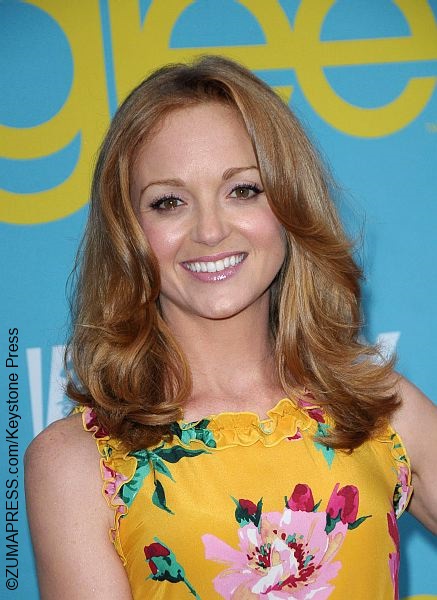 You may recognize Jayma Mays from the hit series Ugly Betty or the popular sitcom Glee. Adding more credits to her name, this redhead has now dipped into the world of animation and voice-overs. Her latest project is the Netflix original series The Adventures of Puss in Boots. She plays the adorable Dulcinea, Puss' love interest. The action-packed series also stars voice actors Eric Bauza and Laraine Newman and guest stars such as John Leguizamo, Maria Bamford and Danny Trejo. We chatted with the cat-loving artist about her role as Dulcinea and the animated character she would have loved to have played. The first five episodes of The Adventures of Puss in Boots are now available on Netflix.
I love your character Dulcinea. She's so adorable!
Thank you! I think so too. I love her so much and I'm a cat person. So this is like heaven for me.  I literally have two cats staring at me right now, judging every word I say to you. (laughs)
You've done such an amazing voice-over! It sounds so different from your other roles.
Thank you very much. This is my first big voice-over job. My first voice-over job period; so I feel like I'm learning a lot.
How did you land the role?
I basically just did an audition tape and how that's working now in this crazy business is – I put myself on tape on my iPhone. You can't even say tape. I digitally recorded myself on my iPhone and sent it in, threw my hat in the ring. I was lucky enough to get the job and I was really excited because I really wanted to do this job. I thought it was such a cool project, such a fun project and yes secretly because my cats are staring at me I wanted to play a cat. (laughs)
You just said this is your first voice-over, so how is this different from The Smurfs role?
In The Smurfs I was actually a live action character. So I was a real person in that movie. But I was working with animated characters, which is very strange because they're off recording their work and we're kind of reacting to nothing when we're doing the film. Someone is just reading the lines off camera. So this is obviously very different for me, I don't know if every actor would say that it feels different doing voice-over because of the amount of energy that you have to bring into the booth. I keep saying this but it's the only way I know how to describe it, is that every word kind of has more meaning. You have to give each word a lot of energy. Whereas when you're doing film or television you sometimes need to kind of back off and be more subtle.
What was the process of doing voice-overs for an animated TV series?
I typically go in once a week. Andrea Romano is our amazing director on this series and she's directing them all. So sometimes you're on your own and sometimes we're lucky enough to be in the booth with four or five people and usually in those sessions I'm in there with Eric Bauza, who plays Puss In Boots. He's so talented and so amazing, he can do absolutely anything with his voice. Those are the sessions that are really fun, especially if you're still learning like me and figuring out how to do this.
How did you approach voicing Dulcinea?
When I first read the sides for her when I was doing the audition she came across as being very innocent, very sheltered because she lives in this hidden city and she's always lived there. So I just felt like she's lovely and she's kind and gentle but just completely naive about the world really. So I wanted that gentleness and loveliness and innocence to come through in her voice. I mean I naturally kind of have a silly voice anyways, so I think that possibly helps but those were the kinds of things that I had in my mind when I first read the scenes for Dulcinea.
Which other actors did you work with?
Dulcinea often has her scenes with Puss so Eric Bauza is often in the booth with me because we have the most stuff together. Paul Rugg, who's amazing, is sometimes there. He plays Artephius. John Leguizamo did a guest role. He plays Jack Sprats. So yeah, thankfully I'm very blessed I get to work with lots of wonderful talented creative voice-over artists all the time.
How many episodes are there?
Well the first five episodes go on Netflix today. Then we've been recording quite a few more so I think throughout the year they're going to keep releasing more. The first season will have 26 episodes, but they will be parsed out in batches of five. Obviously 26 is not divided by five so there'll be one extra. But there will be batches of five episodes released throughout the year.
What's your favorite animated film or series?
I think it would probably be Muppet Babies. That's the one I watched the most growing up.
Is there a character you would have loved to have voiced from any animated film?
That's a good question. You know when you're a little girl you kind of gravitate towards all of the princesses and things. So when I was little, The Little Mermaid. Even though I can't sing like that so I would never have gotten that role, but for me she was a redhead and she turned into a princess and she was a mermaid. And I was a redhead obviously.
I totally see you as Ariel.
Well that was the one I kind of dreamed of being growing up, when I was little. Never going to happen but fun to dream.
Which animated character do you think would be the most challenging to voice?
I feel like every animated character has a challenge of their own. I think playing Puss is so incredibly challenging. First of all Eric's got the voice down pat but he also brings his own personality into it and it's so funny and he's so charming and he's doing so many different things with his voice. On top of that he's got this amazing accent that he's doing. So for me I don't know how he does it and he makes it so effortless.
Can you do different accents?
No, not really. I'm learning. Hopefully I can grow into doing more things with my voice. When you go into the room these guys can do like a hundred voices. It's amazing. I'm in awe of all of them. Hopefully I'll get better, maybe I can get up to voice number three. Baby steps. Baby steps. ~Marriska Fernandes