Jedidiah Goodacre, Mauro Borrelli dish on The Recall
By Marriska Fernandes on June 2, 2017 | Leave a Comment
The Recall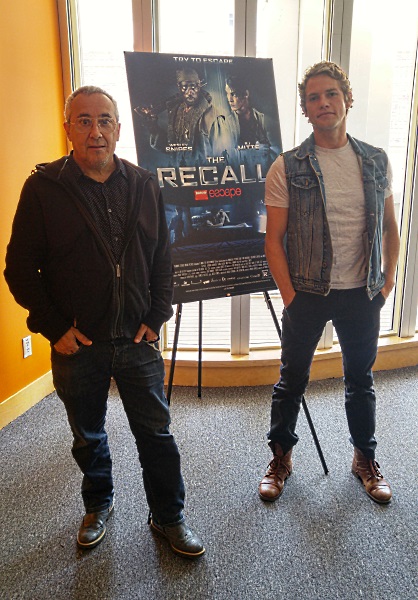 is the first film shot in Canada using Barco Escape — a multi-screen, panoramic movie format. It releases in Toronto tomorrow (June 3) and also plays on June 5 and June 7 for a total of three showings. It will receive a wider release in 2D on June 9.
The film stars Wesley Snipes and revolves around five young people who go on a trip to a cabin in the forest when some unnatural events start to occur.
We chatted with actor Jedidiah Goodacre and director Mauro Borrelli about this alien abduction film, the new immersive experience and working alongside Wesley Snipes. 

The Recall is one of the first films shot in Canada for Barco Escape. How different is the filmmaking process for this immersive experience?
Jedidiah: It is different, definitely. We were just talking about this. It takes a little more time to get all of your shots because you're shooting a wider frame so you have to clear out such a large area. It takes a little bit longer with more cameras.
Mauro: You have to have a separate unit and they will be doing additional preparation and shooting and occasionally we have three cameras. We spend more time on post-production, because we need another couple of months of editing. Once you edit the film for the regular release, you have to do another version for Barco Escape. Only a portion of the movie makes use of the three screens and it's not going to be chronological.
Do you think this is the future of theatrical experiences?
Mauro: From the test that they did and compared with 3D and IMAX, I think it outperformed all the others in terms of how the audience responded.
Jedidah: I think it's definitely the next step in viewing evolution.
Mauro: It goes towards the direction of immersive cinema — an immersive experience that you find in an amusement park.
Jedidiah: It's a lot more interactive for the audience. If you have one screen at the front, you have one place to look, but in Barco Escape there are three screens to look at. It's more active for audiences.
Mauro: We also have another type of experience — we split the screens with different images. They don't have to be part of the same panoramic. So your brain can read two images at the same time. For example, if you're in the forest and it's a scary moment with people hiding behind the trees at night, on the right screen I can have a macro image of a spider crawling, so you may feel that with your peripheral as you look at the image in the center. It's a new way to tell stories. It will have an impact on the writing and the storytelling and that's where I think this becomes a better tool than 3D.
Mauro, tell us about your inspiration behind this script.
The script was based on an idea I had about an alien invasion. We decide to do this massive invasion by taking an angle from the point of view of five young people in a forest who are on holiday.
Tell us about your audition, Jedidiah?
I walked out of that audition room thinking, "I'm never going to get an audition with them again." The audition scene was when Charlie and Rob get into a scuffle.  During the audition, a chair was in front of me and I made a movement and the chair went flying, knocked into the camera and these guys were sitting back there and there's silence. But then they called me back and said that they would love to work with me. As soon as I got that call I was like, "Let me get my script out and start working on this." I was watching other films that had similar feels to the film.

What was it like working with Wesley Snipes?
Mauro: It was amazing; a dream come true. It can be a little intimidating because of the fact that the guy is a superstar. And you hear stories about them coming with an attitude of Madonna, but he came in and was so professional and such an artist. He's like a Shakespearean actor, a classic actor who can do action movies.
Jedidiah: Yeah, and you can tell. We did about two-and-a-half weeks of filming before he got to set. As soon as he got there, he elevated everybody else's game, be it crew members or cast members.
Mauro: His first scene he had to beat up RJ. He threw him around. (Laughs)
Jedidiah: (Laughs) After everyone saw that, they were like, "I'm not messing with Wesley Snipes."
Did you have many scenes with him?
Jedidiah: Yeah, I do. It's a dream come true working with him. I grew up watching his movies. To sit there and act with him was surreal. I remember the first take of actually talking to him. I could tell in that first take — I was not sure if I was thinking about the scene. I was like, "That's Wesley Snipes right there." He's a very interesting, sensitive man, a caring professional, but he's intimidating to be around. He's such a strong presence, in a good way. I want to work with these guys again. I have to mention that I have to thank the crew. A big part of making the film is the people you don't see.
If you've seen The Recall and would like to rate and/or review it, click here.
~Marriska Fernandes
---
---
---
Similar Articles
---