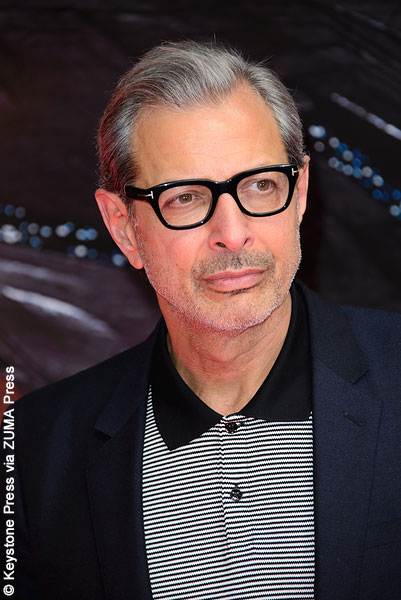 The Marvel Cinematic Universe officially welcomed Jeff Goldblum to its ranks last month and for the first time since, the actor is coming forward and speaking about his role in the upcoming Thor: Ragnarok.
Known for his diverse performances in films like The Big Chill, The Fly, Jurassic Park and Independence Day, Jeff will portray The Grandmaster in the threequel.
Opening up about his part to Empire, he said, "He's a hedonist, a pleasure-seeker, an enjoyer of life and tastes and smells. I thought, 'I can do that, I'll bet!'"
He added, "I'm working on my part every day. I'm a sponge, researching."
Jeff's details about The Grandmaster offer considerably more insight than the brief description Marvel Studios provided when they simply called the character "eccentric."
The 63-year-old actor took it further when he said, "[Director Taika Waititi] is encouraging me to improvise and make it my own, and that's what I'm trying to do. I hope he doesn't throw me out on the first day!"
Jeff also touched on his expected shooting schedule, which he predicts will last for "three weeks or a month" in Brisbane, Australia.
In addition to Chris Hemsworth, who has become the face of Thor, Jeff will star alongside Tom Hiddleston and Oscar-winners Cate Blanchett and Anthony Hopkins in the film.
The Grandmaster of the comics is one of the true Elders of the Universe, having been one of the first to evolve following the Big Bang. His central passion is games, having spent a large portion of his life studying them and creating his own tournaments.
Thor: Ragnarok is slated for a November 3, 2017 release.
For fans of Jeff who can't wait to see him in the film, he'll sooner appear on the screen in Independence Day: Resurgence. The sci-fi action film, which costars Chris Hemsworth's brother Liam Hemsworth, will hit theaters on June 24, 2016.
What do you think about Jeff's role in the upcoming Thor movie? Share your thoughts with us!