Jennie Garth dating drummer Jeremy Salken?
By Tribute News on January 16, 2013 | 1 Comment
Jennie Garth is dating drummer Jeremy Salken. The
Beverly Hills 90210
actress is reportedly smitten with the Big Gigantic musician and recently attended one of his concerts. A source told the
National Enquirer
: "They were all over each other. When Jeremy's band Big Gigantic took the stage, Jennie was as excited as a teenybopper, clapping and jumping up and down with the music. No question they're a couple - and it looks really serious. Jennie told me, 'I never thought I'd fall in love again, but it's happening, and I couldn't be more excited!'" Jennie, 40, was devastated when she split with husband Peter Facinelli last year and she subsequently dropped 30 pounds. She said: "Now I feel stronger and more confident in my body. I take my kids to school in my workout clothes. I'll think, 'I'm already in my clothes now, so I may as well work out!' I also weigh myself every morning. If I don't, before you know it, I'll be up 10 pounds. It creeps. This morning, it was up two pounds. That's OK. But if it's up six pounds? I need to make adjustments."
---
---
---
---
Similar Articles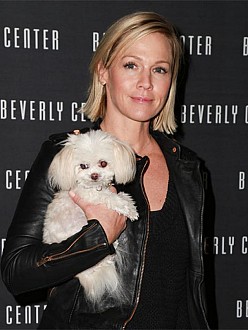 April 10, 2015 | Leave a Comment
Jennie Garth is engaged. The 42-year-old actress' boyfriend made the "perfect" proposal around her birthday on April 3 and a delighted Jennie had no hesitation in saying "yes." A source said: "Dave had been working on this for months, and rea…
---
---
October 25, 2013 | 4 Comments
Peter Facinelli credits his upbringing for the way he treats women.The 39-year-old actor believes his parents Bruna and Pierino taught him how care for people properly, and he insists since becoming a father to daughters Luca, 16, Lola, nine, and Fion…
---