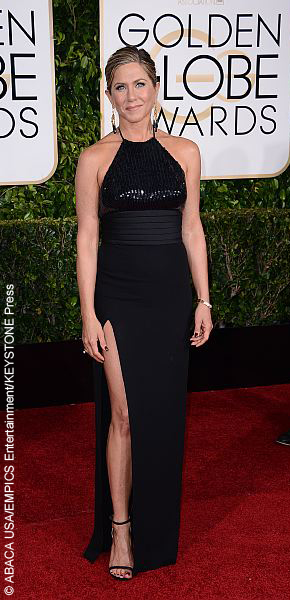 Jennifer Aniston looked stunning on the Golden Globes red carpet in a black, backless Saint Laurent gown with a long slit, jewelry by Neil Lane and her hair swept up. She was nominated for her stellar performance in the feature film Cake, and although she didn't win, both the role and her look were a departure for the actress.
The nomination was Jennifer's first Golden Globe film nod in her career (she won a Golden Globe in 2003 for her work in the TV series Friends). In Cake she plays a woman suffering from chronic pain who joins a support group. In the film, she was costumed in dowdy clothing and no makeup, a huge departure for the actress, who usually plays more glamorous roles.
Jen was out to have fun at the ceremony, grabbing Kate Hudson's butt while her friend was being interviewed by Ryan Seacrest on the red carpet. "I'm sorry, I had to do it!" Jennifer joked.
Later, hosts Tina Fey and Amy Poehler asked for a volunteer to present with Jennifer. Jennifer got laughs as she acted appropriately annoyed when Benedict Cumberbatch was "chosen," pretending she didn't know who he was. Benedict, for his part, went along with the pre-rehearsed joke, acting completely starstruck and telling Jennifer: "You're amazing. Wow, I feel like I've won a competition."
Despite not winning, Jennifer was all smiles after the ceremony with her fiancé Justin Theroux at the HBO and Warner Bros. afterparties, proving she's a class act through and through. ~Alexandra Heilbron