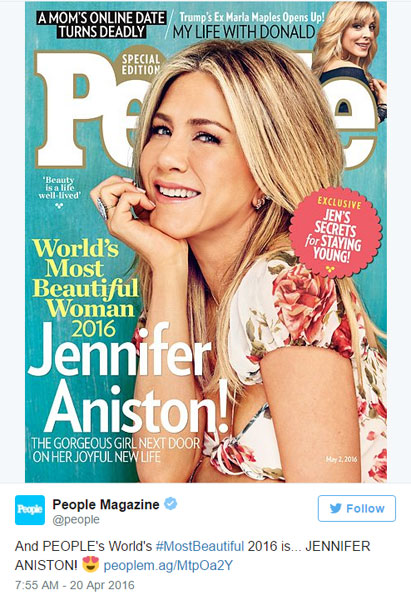 It was revealed this morning that Jennifer Aniston, 47, has been named the "World's Most Beautiful Woman 2016" by People magazine, landing on the cover of their most recent issue. This is the second time Jennifer has been graced with this honor — she was first given the title in 2004 at age 35.
She talked to the magazine about her beauty regimen, saying, "It's funny, it's a really quick transition from not a care and now all of a sudden, we've got to really be mindful of what we put inside our bodies. And how we sleep and take care of ourselves. You can get away with a lot in your 20s."
Other female celebrities named in the issue include Carrie Underwood, Christina Milian, Reese Witherspoon, Sofia Vergara, Keke Palmer and Selena Gomez.
Last year's winner and cover girl was Sandra Bullock, 51, who said at the time: "Real beauty is quiet. Especially in this town, it's just so hard not to say, 'Oh, I need to look like that.' No, be a good person, be a good mom, do a good job with the lunch, let someone cut in front of you who looks like they're in a bigger hurry. The people I find most beautiful are the ones who aren't trying."
Jennifer next stars on the big screen in Mother's Day, which debuts in theaters on April 29, 2016.