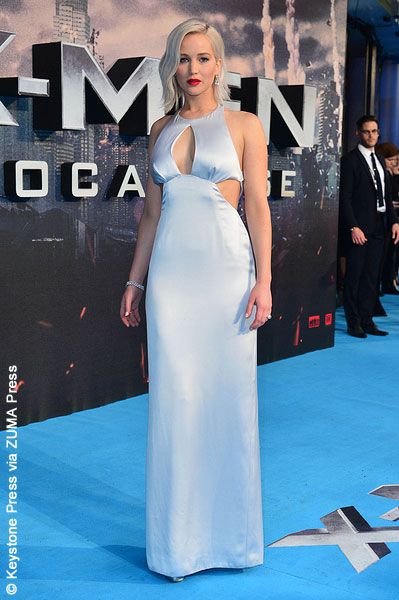 Jennifer Lawrence may just be able to call herself master of the red carpet mishap.
The Oscar-winning actress was in London Monday night at the X-Men: Apocalypse global fan screening, gracefully posing for glamour shots and graciously greeting fans.
However, her smooth demeanor lost its footing (literally) when Jennifer picked up her pace to escape a typical English evening shower.
As the rain began to fall, Jennifer ran for cover but tripped on her own heels. Luckily for her, and her exquisite Dior dress, there was someone next to her that she was able to use as support.
Clasping onto the bystander, she never hit the ground.
In characteristic Jennifer fashion, she laughed off the stumble and carried on with her evening.
The 25-year-old actress, who plays Mystique in the film, has demonstrated her clumsiness at public events where cameras were rolling before.
While ascending the stage to accept her Oscar for Silver Linings Playbook in 2013, her foot got caught in her lengthy gown and she fell to the stairs.
At the Academy Awards the very next year, she tripped over a traffic cone on the red carpet and had to be helped back to her feet by then-boyfriend Nicholas Hoult.
While at the Madrid premiere of The Hunger Games: Mockingjay – Part 2 in 2015, she collapsed while climbing the stairs into the theater.
It's safe to say Jennifer will be hoping X-Men: Apocalypse is sturdier than she is when it's released later this month.
Watch Jennifer's latest stumble in the video below. ~Matthew Pariselli