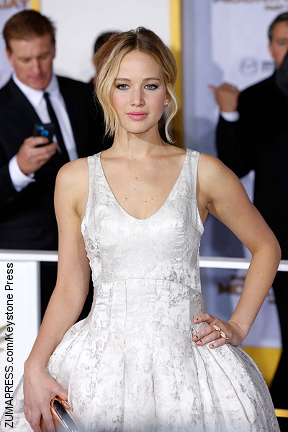 Oscar-winning actress Jennifer Lawrence has already made a big impact in Hollywood – now Hollywood is starting to pay her back by making history. Jennifer will reportedly make almost $8 million more than her leading co-star Chris Pratt for the highly anticipated sci-fi movie Passengers, due out in 2016.
Passengers is the story of a group of people on a mission to a far distant planet. When a man wakes up from his cryogenic sleep over 60 years early, he decides to wake a woman up to keep him company. While on their journey through space the two find romance and comfort with each other.
The film has a budget of $150 million. Sony agreed to pay Jennifer her asking price of $20 million for her role. Her co-star, Chris Pratt, fresh off the record-breaking box office smash, Jurassic World, will make $12 million.
Passengers has locked up the brightest stars in Hollywood right now in Jennifer Lawrence and Chris Pratt. Both are currently international successes with several hit movies over the last few years. Sony hopes that the science-fiction drama will reach the same levels of success that 2014's Interstellar reached.
Passengers is set to begin filming this fall. ~Greg Chisholm